This beautiful classic continues to win races and the hearts of offshore cruising sailors
Down below
The Pearson Rhodes 41 is basically a wooden boat design built in fiberglass. While the difference might go unnoticed from the outside, the interior of the fiberglass boat is much roomier. The hefty frames present in the wood version were unnecessary. As a result, the saloon and overall living quarters were given significantly more space.
The interior layout featured a compact head to port, a locker to starboard. The galley in most versions was split, stove to one side, icebox and sink to the other. Sleeping arrangements typically included a spacious V-berth forward that abutted the sail locker. Two single berths flanked the saloon, each designed with slide-out that added room for two additional crew. The boat lacked a chart table.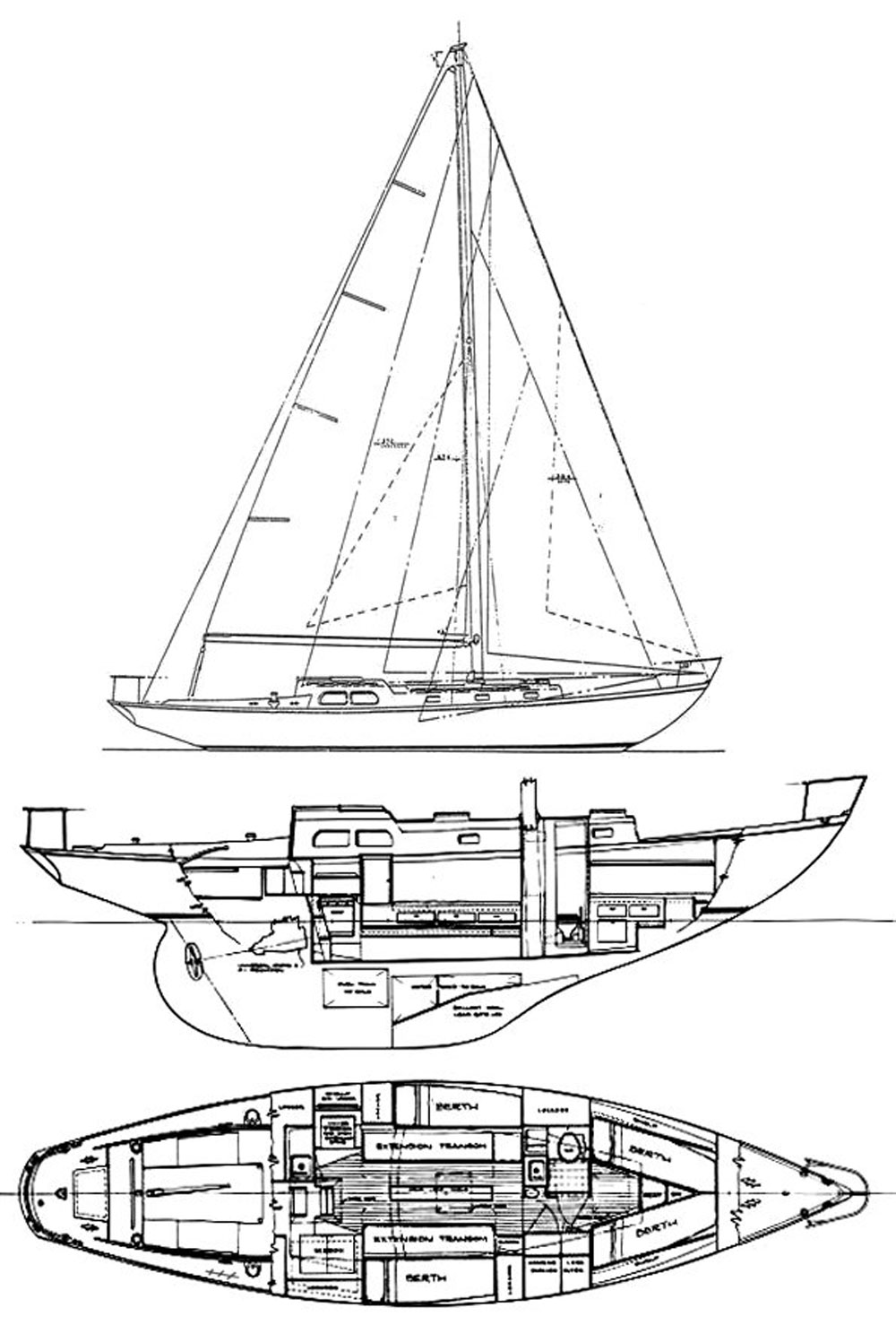 Although Formica is not typically viewed as high-quality finish material, the faux woodgrain pattern used for the interior blended nicely with the white gelcoat and was accented by teak trim. All joinery was professionally crafted.
The boat has 90 gallons of fresh water and has a wastewater tank that holds between 10 and 20 gallons.
Engine
Not every PR41 was outfitted with the same engine. Owners say that a significant amount of horsepower is necessary, with most using a 36- or 48-horsepower Perkins.
"For a boat that has an 18,000-pound displacement, the engine is a little underpowered," said Dunnigan, referring to the Westerbeke RD80 27-horsepower diesel.
The boat's 40 gallons of fuel is in tanks made of Monel, a durable, exotic metal that is no longer readily available.
Underway
Rhodes knew the boat's relatively short 28-foot waterline would immediately lengthen as she heeled, providing additional speed. And by all accounts, the rudder was perfectly balanced, offering the helmsman no unwelcome resistance.
The design complied with CCA rules. The CCA penalized boats with long waterlines, giving them less favorable ratings because they were faster.
"It sails beautifully and in comfort," Dunnigan said. "She flies on a reach. We can generally hit a speed of 6.5 knots and up to 9.5 on a broad reach."
Tom Willoughby, former owner of a 1958 Bounty II, praised the boat's performance. "That gorgeous spoon bow slices through the waves and that tapered stern lifts like a swan in a following sea. No twisting around, no hobby horsing at all. Tracks like a train. Steady on her feet. She locks up solid at 15 degrees."
Conclusion
The seakindly Pearson Rhodes 41 is an investment in history and an invitation to experience what has been described as the ultimate in classic plastic sailboats. Built tough, and ready for blue water.
---
Principal dimensions: LOA 40'10"; LWL 28'; Beam 10'3"; Draft 5'9"; Displacement 18,800 lb.; Ballast 8,075 lb.; Sail area 724 sq. ft.
---
General market price data: 1964 Maryland $45,000; 1964 Connecticut $78,000; 1966 Maryland $119,000
---
SAILING's Value Guide
(5-sailboat rating system)
PRICE: The price for a Pearson Rhodes 41 ranges from a low of $45,000 for a 1964 model to $119,000 for one built in 1966. A 1964 fixer-upper is also for sale in Pottsboro, Texas, for $9,800. 3 sailboats
DESIGN QUALITY: The Pearson Rhodes 41 was designed by prolific naval architect Philip Leonard Rhodes. He was known for designing boats with wholesome good looks and superb sailing qualities. An Ohio native and MIT graduate, Rhodes designs range from 123-foot motor yachts to 7-foot dinghies. His 12-meter class Weatherly won the America's Cup in 1962. 4 sailboats
CONSTRUCTION QUALITY: The 41s were built by Pearson Yachts in Rhode Island with solid fiberglass hulls and a fiberglass sandwich with a balsa core for the decks. All materials used through the construction were of high quality and the workmanship expertly carried out. 4 sailboats
USER-FRIENDLINESS: Owners praise the boat's ability to handle all sea conditions. If the lines and winches are suitably arranged the sloop can be singlehanded. Its a seakindly boat. 3.5 sailboats
SAFETY: These boats have been sailing the world's oceans for more than 50 years without major incidents related to their safety or construction. The heavy encapsulated-lead keel allows the boat to recover quickly from a knockdown. 3.5 sailboats
TYPICAL CONDITION: The 41 has attracted devoted owners who tend to keep pace with overall maintenance and upgrades. 4 sailboats
REFITTING: Due to age and changes in technology, refitting can be a costly undertaking. Replacement of the original engine, sails, standing rigging and electronics would be likely. Rewiring the entire electrical system is often on refit lists since the boat was originally designed with 12-volt DC, a battery switch and fuse box. Many owners have added roller furling. 3.5 sailboats
SUPPORT: Some information is available at www.pearsonyachts.org where an owners' forum offers discussion threads and advice. The cruisersforum.com website also offers opportunity to obtain information from other owners. 2.5 sailboats
AVAILABILITY: There were 50 boats made, and at least four were for sale in spring 2021. Most of the boats are still sailing. 3 sailboats
INVESTMENT AND RESALE: The Pearson Rhodes 41 continues to fetch good prices more than 50 years after being constructed. 3.5 sailboats
Overall rating: 3.5 sailboats