This racer-cruiser makes for spirited club racing and great family cruising
When Canadian-born naval architect Rob Ball talks about favorites among the dozens of boats he designed for C&C Yachts, he lists the C&C 34+ racer-cruiser as one his best. During an October 2021 discussion forum that was hosted online by the Robert Perry Fan Club and streamed on Zoom, Ball singled out the C&C 40 and the C&C 34+ as close to his heart.
"I would like to own a 34+ for myself," he said.
Ball, now in his 70s, formally joined the C&C Yachts staff in Ontario in 1969 when he was assigned to designing masts and other equipment. He had previously contributed designs to the company while still in school. By 1973, Ball had been named the company's chief in-house designer, a position he held until 1990.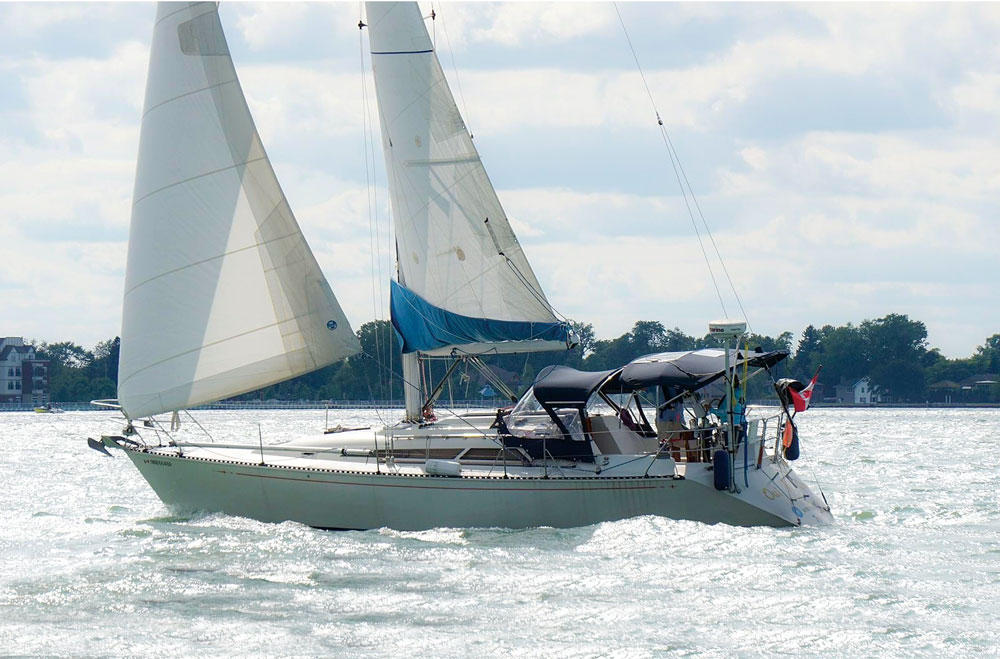 Founded in 1961 by mechanical engineer George Cuthbertson and aircraft designer George Cassian, C&C Yachts achieved rapid success and for more than three decades was celebrated for its innovative designs, included the balsa-cored deck and hull. Unlike a solid fiberglass hull, boats with core hulls and deck proved lighter, faster, and more maneuverable.
The original C&C 34, also designed by Ball and introduced in 1977, was primarily viewed as "a basic sailboat" that satisfied the needs of its many owners. The C&C 34 was eventually overshadowed in 1989 by the release of the C&C 34+, which was a dramatically transformed racer-cruiser with a taller rig, sleeker lines and a reverse transom. It was made from a combination of fiberglass and steel-strength kevlar. It was also closer to 36 feet in overall length, though still referred to as a 34.
The C&C 34+ was available in three versions and with different rigging preferences. The standard model was known as the 34+ or 34-Plus. The 34R was the racing version with a deeper keel, taller rig and larger steering wheel. The XL version combined the performance of the racing version with the cruising interior of the 34+. Buyers also had the option of purchasing a wing keel.
C&C designed the R version for the owner who wants to race, while the Plus and XL maximized cruising comfort.
First impressions
It's a race boat. It's a cruiser. It's both, depending on who is looking. Chuck Scheaffer owns of the 1989 34R Resolute and has spent years tracking ownership and news about the design. He noted for clarification that Ball's 1977 design of the older C&C 34 had a 26-foot waterline and 33-foot 6-inch LOA. The C&C 34+ with a 35-foot 6-inch LOA has a 30-foot waterline.
According to Scheaffer, 94 boats were made by C&C Yachts from the original 34/36 mold. Of those, 55 were Plus models, and about 30 were the racing versions outfitted with XL interiors. Some racing models were built as strictly race boats stripped of all interior non-essentials.
The 34R has been described as brash, racy, and a speedster in a variety of published reviews over the past 30 years. C&C marketing literature also implied at the time of launch that the boat was primarily designed for racing.
Construction
The C&C 34+ broke new ground in boatbuilding technology by using a biaxial fiberglass-kevlar hybrid laminate with unidirectional glass in high-stress areas, and a Hydrex isopthalic gelcoat. The molded hull featured an end-grain balsa core, basically a sandwich of modified fiberglass with a wooden inner layer.
The internally mounted rudder post extends through the cockpit sole. The steering quadrant is mounted atop it and is provided with an access panel for servicing.
What to look for
The earliest 34+ hulls are now more than 30 years old. Current and previous owners hired a marine surveyor to take stock of the boat's overall condition.
"You have to watch for the C&C smile," said Steven Wilson, owner of the 1990 C&C 34+ Last Call. "This crack is between the hull and the keel. Not serious, as I understand, but it would need to be repaired."
Also the holding tank may be undersized for some owners, he said.