Like a wolf in sheep's clothing, this small boat has a heart of an oceangoing cruiser
The Flicka is like Elvis or Prince, one word and you immediately draw a mental picture. Love it or dismiss it as a cutesy paean to tradition, it's impossible not to like the Flicka. A pocket cruiser with a big heart and impressive resume, it's a plodding beagle of a boat, small but adorable. And while heavy little boats like this drive performance sailors to quickly turn the page in hopes of finding a livelier boat reviewed somewhere else in this issue, cruisers and traditional boat lovers linger, light their pipes and admire this tiny ship.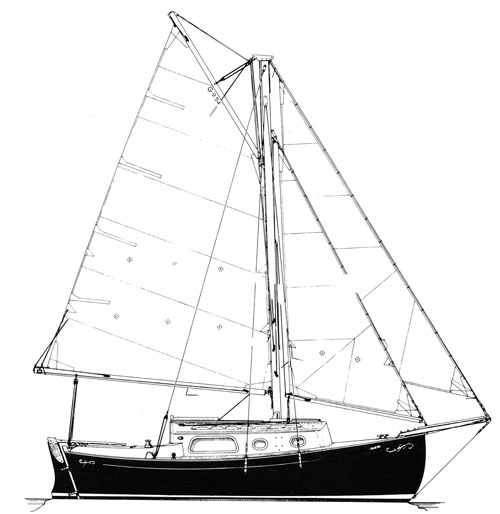 The Flicka is a 20-foot boat that is built and designed for bluewater sailing and extended cruising. But unlike other accomplished small cruisers like the folkboat, Cal 25, Contessa 26, or Albin Vega 27, the Flicka is really a big boat shoehorned into a very short waterline. And yet, it still looks good-it's salty, it's cool, it's a Flicka.
Designer Bruce Bingham submitted the original Flicka design to Rudder Magazine in 1972 and it was published in six parts. Bingham's plan was tailored for ferrocement construction, the choice of the do-it-yourself crowd in those drop-out-and-see-the-world days. Bingham was inspired by the small but tough workboats of Narragansett Bay. Bingham is a wonderful artist and a talented designer. His book, The Sailor's Sketchbook, featured brilliant, subtle, incredibly detailed and sometimes schmaltzy illustrations. As it turned out, just a handful of Flickas were ever built in ferrocement.

Nor'Star Marine began to build the boat as kits in 1975 and then later as completed boats. When Nor'Star failed in 1977, a fledgling builder called Pacific Seacraft took over the production. The solidly built Flicka and the cult following it generated helped Pacific Seacraft establish its proud reputation. Production remained steady into the mid-1990s, with more that 400 boats launched. Demand waned and Pacific Seacraft staggered out of business in 2007.
First impression
The Flicka's workboat pedigree is apparent when viewed in profile. The sweeping sheer, proud bowsprit, blunt bow, wide beam and low side decks were hallmarks of the Newport workboats of the 19th century. The relatively high cabintrunk may not be the most ascetically pleasing aspect of Bingham's design, but that's the trade-off for nearly six feet of headroom below. The full keel supports an attached outboard rudder and draft is just 3 feet, 3 inches. The rig came standard as a masthead sloop with an optional staysail stay.
Construction
Flickas built by Nor'Star and certainly Pacific Seacraft have stood the test of time. Most Flickas were laid up with polyester resin, although later in the production run Pacific Seacraft switched to vinlyester resins that are more resistant to osmotic blistering. The hull is solid fiberglass. The decks are balsa cored with laminated plywood backing plates where necessary. The hull and deck are joined on an inward flange that is then covered by a husky teak caprail. A molded, structural hull liner provides athwartship support. In keeping with the Flicka's overall philosophy, it's built like a small big boat, not a small boat.
What to watch for
There are very few reported problems with old Flickas. This reflects the seakindly nature of Bingham's design, excellent construction and sound engineering. The key things to look for are the owner modifications. Some of these changes, like converting the starboard settee to a dinette, or building in a cooler as a cockpit bridgedeck, are upgrades, while others are downgrades. Naturally, be wary of boats without a builder's certificate, and also check the engine. Several engine models were used over the years with the single-cylinder 10-horsepower Yanmar being the most popular. The Pacific Seacraft-built boats don't have aluminum toerails while some early boats do. And the boats built before 1984 did not have a cockpit bridgedeck.
On deck
You don't realize just how small the Flicka is until you step into the cockpit. Yet it, like the rest of the boat, is impressive and purposeful. The beefy tiller is mounted on the transom, offering good leverage for steering and freeing up cockpit space. Many Flickas have either a fixed mainsheet lead or traveler all the way aft. Engine access is through a hatch in the cockpit sole, which on boats with outboard motors turns into a large storage area. There are also cockpit lockers to port and starboard.
Naturally the side decks are narrow, but the stanchions are sturdy and the lifelines surprisingly tall. There is a teak handrail all along the cabintrunk. The chainplates are outboard, and they are impressive, as is the entire standing rigging. The mast is deck-stepped with an odd, off-center compression post below. The single-spreader spar has an air draft of 31 feet and can be stepped fairly easily. There are some unusual Flicka rigs out there so be wary. While it is fairly common for there to be either a mobile or permanent staysail stay, you will also find the occasional gaff rig and at least one boat was built as a yawl.
The bowsprit includes a beefy anchor roller, and the oversized mooring cleats would pass inspection for a Panama Canal transit.
Down below
Stepping down below is the opposite of stepping into the cockpit; your reaction is, "This can't be a 20-foot boat." There really is standing headroom throughout and the open plan without a full forward bulkhead opens things up. The teak joinerwork is quite nice. The galley is to port with an enclosed head opposite. This head compartment is small, yet the civility of a private head is worth tucking your knees up. Some boats have marine heads, others have porta potties. The galley usually includes a two-burner stove top, a good-sized sink and an icebox compartment.

The settee to starboard is relatively short, but it does make a nice seat if not a berth. The V-berth is large and comfortable. Two people, preferably young, agile and very much in love, can cruise long-term on a Flicka and maintain a standard of living beyond camping out. Ventilation is great with opening bronze portlights and a large hatch over the V-berth.
Engine
The majority of Flickas have inboard diesels engines, but there are also plenty of boats with an outboard. A deep-shaft 9.9-horsepower seems to be the favorite size engine, with the major drawback being the lack of an alternator to charge batteries. As noted earlier, the 1GM 10-horsepower Yanmar is a fairly common engine but you will also find Flickas with Betas, Vetus, Ferryman and other types of small diesels. The fuel tank, which is located up forward, holds eight gallons.
Underway

How does a Flicka sail? How can a boat that carries a total of 243 square feet of sail area and displaces 6,000 pounds along an 18-foot LWL sail at all? Better than you might think. The Flicka's hull speed is 5.7 knots. Sure, the boat needs a bit of breeze to gather way on, but it was not designed for light-air daysails. It may be small but it belongs on big bodies of water. And it's a passagemaker. Several Flickas have averaged 120 miles per day on trade wind crossings, and that's good going: 5 knots over 24 hours. The Flicka's history is filled with boats that have crossed oceans, and that's the ultimate statement about how it sails.
With its long keel and low-aspect rig it's not a great performer to weather. It heels early before stiffing and tracks well. Owners admit to a bit of weather helm. Like many cruising boats, the Flicka is at its best on a reach, and can carry sail in genuine Force 4 trade winds. One of the disadvantages of a small boat is the tendency to pitch in choppy conditions.
Conclusion
For many years buying a Flicka was for small boat eccentrics with plenty of money. It was a very expensive boat when new, and it also held its value on the used boat market. Ten years ago it was hard to find a Flicka for less than $50,000. Fortunately, the price is dropping. Today you can find a Flicka for less than $30,000. There are still late model boats for sale for $60,000 or more, but they are the exception. The Flicka has always appealed to budget-minded cruisers who want to set off this year, not save money for a bigger boat five years from now. Lin and Larry Pardey epitomize this philosophy: "Go small, go simple, go now." If that concept appeals to you, consider the Flicka. It is a small, strong, capable boat loaded with charm.
---
PRICE: While the price has definitely dropped, the Flicka is still a lot of money for a 20-foot boat.
DESIGN QUALITY: Whether you like full-keel cruisers or not, you have to give Bruce Bingham credit for creating a true cruising boat in such a small space and still have it look nice.
CONSTRUCTION QUALITY: Pacific Seacraft did a terrific job building the Flicka. It used techniques and materials that you would normally find in larger boats.
USER-FRIENDLINESS: The boat is easy to handle either alone or as a couple, and is amazingly comfortable for its size.
SAFETY: Size is a factor in safety and the narrow decks and pitching motion in a seaway must be weighed against the robust construction and general seaworthiness.
TYPICAL CONDITION: Most Flickas have been well maintained, and the quality construction has held up well. However, some owners have modified their Flickas, and this is rarely a good thing.
REFITTING: Small boats are harder to work on, but the parts are less expensive, so these issues wash. The production style construction limits access to the hull.
SUPPORT: Pacific Seacraft is no longer in business and the molds for the Flicka were not part of the bankruptcy sale when North Carolina businessman Stephen Brodie bought the company. Still, there is plenty of support online at www.flicka20.com and other sites. Download the original brochure; it's priceless.
AVAILABILITY: More than 400 were built and for some reason quite a few are for sale right now. You can find Flickas all over the country-to make the best deal be prepared to do some traveling.
INVESTMENT AND RESALE: Quality small boats really took a beating in the recession and while I suspect used Flicka prices will stabilize, I doubt they'll ever bring the dollars they once did.
---
LOA 24'
LWL 18'2"
Beam 8'
Draft 3'3"
Sail Area 250 sq. ft.
Displacement 5,500 lbs.
Ballast 1,800 lbs.
General Market Price Data $23,500-$39,500