Seaworthy IOR design makes this small cruiser offshore capable

The last few years I have been presenting a slide show at the Strictly Sail shows called "Twenty-five great boats to sail around the world." The list includes some of my favorite boats such as Contessa 32, Pacific Seacraft 37, Hallberg-Rassy 43, Tayana 52 and Bowman 57 among others. I often surprise people when I tell them of another boat that makes my favorites list-the diminutive but capable Pretorien 35. I can see a day in the not too distant future when I downsize to a more modest cruising boat, and the Pretorien would be near the top of the list of boats that I would seriously consider.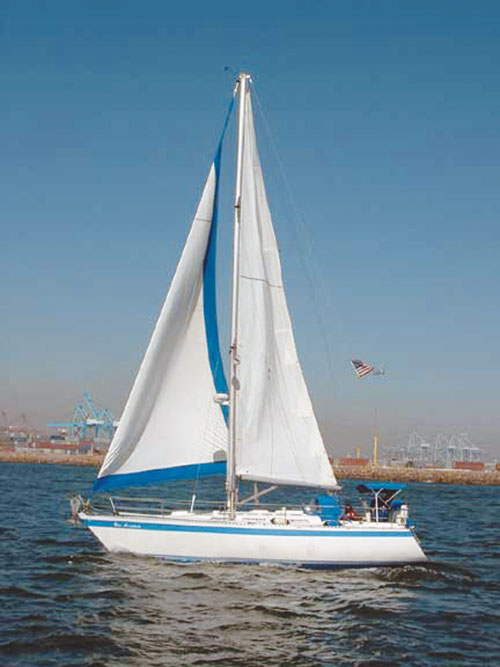 Built by Chantier Henri Wauquiez in Mouvaux, France, the Pretorien 35 was introduced in 1979. Although exact numbers differ, around 200 boats were launched before the model was discontinued in 1986. Designed by Holman & Pye (like the smaller Wauquiez classic, the 32-foot Centurion), the Pretorien seems more British than French. But that's not surprising. Henri Wauquiez, who died in 1999, admired English boats and in particular the designs of Kim Holman. Wauquiez purchased his first boat in 1964, the English-built, Holman-designed Elizabethan 29. Wauquiez liked its handsome sheer and steady bearing in a seaway. Soon he began finishing out Elizabethans for the French market and a passion for sailboats blossomed into a business.
First impressions
Certain features date a boat like rings on a tree stump. Pinched ends, extreme tumblehome and a high-aspect-ratio main are unmistakable marks of early IOR-influenced designs. The Pretorien came along when strict adherence to the rule was waning, but it still has the look of an IOR boat. However, the IOR was terribly maligned, and it's not the horror story of a rule its been made out to be. Many factors influence seaworthiness and another IOR-inspired creation, the Contessa 32, is the most seaworthy and seakindly boat I have ever sailed, and I have sailed a lot of boats.

A well-designed underbody is hard to find, and it is what's below the waterline that counts. The Pretorien 35, like a lot of old IOR boats, has a sweet hull shape. The entry is raked, and there's enough forefoot to keep the boat from pounding. A reverse transom helps deliver a long waterline of 30 feet, 4 inches. The fin keel is mounted on a deep stub and the draft is a healthy 6 feet. The deep rudder is mounted well aft for good steering control and incorporates a narrow but full skeg. The Pretorien displaces 13,000 pounds with 6,000 pounds of ballast, for a ratio of 46%. It is a stiff boat.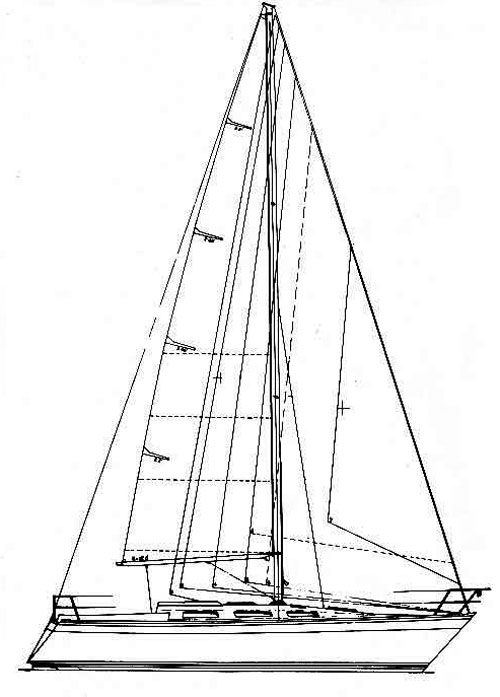 The wedge deck is low slung and blends neatly into the overall flow of the lines. This era of Wauquiez boats are sometimes referred to as French Swans, and there is merit to the nickname-they're great looking boats. The sail area/displacement ratio is just 15.6, typical of an IOR boat with a stubby boom, and it was designed to carry a big overlapping genoa. The Pretorien finds its stride when the wind picks up. The Pretorien 35's most famous owner was Hal Roth. The legendary mariner and his wife Margaret sailed their Pretorien Whisper around the world and across the Atlantic several times.
Construction
The Pretorien is built for ocean sailing. The hull is solid fiberglass and has six full-length longitudinal stringers that stiffen the panels and encapsulate the bulkheads. The bulkheads have the cleanest tabbings I have ever observed in an older fiberglass boat, and they're not going anyplace with the 18-ounce fabric that was used for better resin saturation. This lighter fabric meant that more of it was necessary-this is a less cost-effective way to build a boat, but it's the right way. A close inspection of the lockers will reveal tidy fiberglass work. The deck is balsa cored, but Wauquiez was careful to isolate the balsa with resin pockets and was one of the first builders to sculpt the core and use solid laminates beneath through-deck fittings. The use of a keel stub combines the advantages of internal and external ballast. The Pretorien 35 was built to Lloyds scantlings, which Henri Wauquiez considered the highest standards.
What to look for
Two items are potential issues for Pretorien 35 owners. First is the engine. There is nothing wrong with the Volvo Penta 28-horsepower diesel. It's the saildrive transmission that has to be closely inspected. Some Pretoriens were built with straight shafts, and if you can find one that's a plus. If you are looking at a saildrive model be sure to check the through-hull seal and the corrosion on the aluminum lower unit that covers
the gearbox.
The second item is the teak decks. This was an option, but unfortunately the original teak was too thin, and after a few rounds of refinishing they were shot, with exposed fasteners and missing caulk. Removing the teak decks, sealing the deck and applying a nonskid surface is a big job, and if you have a yard do it, an expensive job. Look for a boat that didn't have teak decks originally or that has already had them removed. There is a Pretorien here in Ft. Lauderdale with new teak decks that are adhered without any screws-the boat is stunning.
On deck
The Pretorien 35 cockpit, like the rest of the boat, is designed to be at its best in blue water. It is not the most comfortable cockpit for lounging around at anchor or in a marina. It is compact, and most boats have wheel steering that cramps things a bit further. There is a solid bridgedeck with the mainsheet traveler running across it. While this arrangement is nice for trimming, and gives excellent end-boom purchase, it is a pain to maneuver around when using the companionway. The primary sheet winches are well forward on the coaming, and this, combined with the mainsheet position, makes it difficult to fit a wraparound style dodger.
The side decks are quite wide, especially for a 35-foot boat, and making your way forward is easy even in a blow. Of course the Pretorien's soft motion also makes navigating the foredeck safer. A long teak handrail lines the coach roof, but it's low and difficult to reach. The headsail tracks are set inboard. A single pod chainplate supports the shrouds on each side and a babystay helps keep the mast from pumping and for shaping. Runners are a more effective way to quiet the double-spreader mast. There is a small chain locker forward and if you plan to cruise the boat you may want to beef up the anchor roller arrangement.
Down below
The Pretorien 35 interior will force you to honestly assess your sailing agenda. There is nothing wrong with it and it's finished very nicely, but it's just snug. If you really want to travel far across oceans, then you will come to appreciate the compact, practical layout with well-placed handholds and nice sea berths. If you hope to linger off beautiful islands or spend your time marina hopping, the lack of space may be frustrating.

The layout is predictable, but it works. There is double V-berth forward that is decently sized. There is a hanging locker to starboard. The head is next aft to port, and it's a tight squeeze. The saloon features a comfortable U-shaped dinette to port with a settee opposite. The nav station is also to port while the U-shaped galley is opposite and just to starboard when you drop below. The galley includes two small, round sinks (a single, larger sink would be better), a two-burner gas stove and a fridge compartment aft. Most boats have a ceramic tile surface, which looks nice but I have been told is hard to keep clean.

Aft of the nav station is a quarter cabin. The bunk is not really a double, but that's OK; this is a great spot for the off watch. You are close to the companionway, the motion will be easy and you have some privacy too. There is another hanging locker here, and I have seen this converted to a wet locker. The cabin is finished in a light blond teak. It's very nice and Wauquiez was ahead of his time in trying to brighten the interior woodwork. The original portlights were not opening and ventilation can be a problem. Consider swapping them for opening ports and make sure the fans are working.
Engine
Most Pretoriens were fitted with Volvo MD 11 C diesel engines. While this 28-horsepower workhorse is a good engine it has a few drawbacks. Replacement parts are very expensive, and at some point it becomes silly to spend real money keeping an old engine running. Secondly, as mentioned before, most are set up with saildrive transmissions. Corrosion is the curse of saildrives, and replacing the lower unit is expensive. Finding a used Pretorien with a new lower unit, or better yet, a new engine, is worth paying for. Also, some boats came with straight shafts and standard transmissions. Access is decent from behind the companionway and through the starboard cockpit locker. The fuel tank holds 21 gallons, which does not translate into a lot of miles. You will be carrying jerry cans on deck for long passages.
Underway
Like other boats of this era, including the Contessa 32, Rival 34 and Nic 35, the Pretorien's low sail area/displacement ratio of 15.6 is a bit misleading. The boat is a bit of a slug in light air, but that's not what you buy a Pretorien for anyway. It is a fine performer in moderate breezes and sails like a larger boat when the wind really pipes up. Those are the sailing qualities you look for in a true offshore boat. You will appreciate the 46% ballast/displacement ratio when it is honking and you're clawing to weather or forereaching in a deep a gale.

The high-aspect rig with a short boom requires a big genoa when reaching. And there is nothing wrong with this. Ripping along with a poled out genoa is a low-stress way to cross oceans. The main will spend many passages resting on the boom while the genoa does the work. Hal Roth was delighted with the Pretorien's ability to log 150-mile-plus days offshore, and that is good going in any cruising boat.
Conclusion
The Wauquiez Pretorien 35 is quietly attaining classic status. Sure it has its compromises, what boat doesn't, but its seaworthy design, quality construction and proven offshore capability make it a terrific small cruiser.