Nimble and quick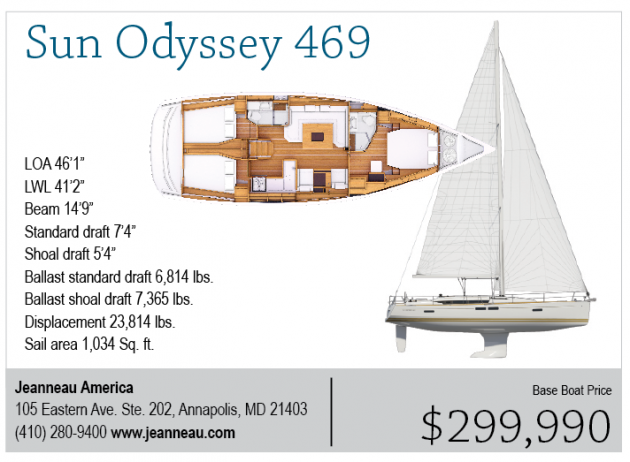 Intelligent engineering produces a great looking and efficient cruiser that's ready for the unexpected


There is no disputing that the new Jeanneau Sun Odyssey 469 is a very nimble boat. I had this demonstrated to me by Jeanneau America President Paul Fenn, who was at the helm during our recent test sail after the Strictly Sail Miami show. We were motoring out of the lumpy and busy Government Cut channel toward the sea when the engine suddenly quit. We were out of fuel. Fenn and Eric Stromberg, Jeanneau's director of development, didn't miss a beat. After sheepishly apologizing for not filling the tank, they quickly unfurled the main and genoa. We jibed and headed toward Miami Beach Marina. Fenn steered through the narrow break walls into the marina while Stromberg rigged the mooring lines. Luffing the main and furling the headsail at the last moment, we eased alongside the fuel dock like we were sailing a 47-foot dinghy. Nothing to it, fill 'er up please. I was impressed.
I confess that I've been impressed by Jeanneau sailboats for a long time. Thirty years ago my mother and her mate sailed around the world on a Jeanneau Gin Fizz, the same venerable model that carried 16-year-old Laura Dekker around the world just last year. This past winter I made three long Caribbean passages aboard Jeanneau Sun Odysseys, two on the 53 and one on a 44i, and the boats performed well and stood up to blustery tradewind conditions and 10-foot seas. Not surprisingly, I had high expectations for the latest addition to the Sun Odyssey fleet, and once we managed to get out to sea, we had a perfect day to put it through its paces.
The details
Designed by Phillipe Briand and the Jeanneau Design Group, the new 469 continues the low-slung, elongated hull shape that has come to define the Sun Odyssey line. The overall freeboard is moderate-a nice departure from many modern boats-and the raked aft chine is pleasing aesthetically and functionally efficient as it adds volume to the hull. Like the last year's 509, the 469 is designed as a one-level boat, and it shows in the sleek profile. Sloop rigged, the 469 has a deep 7-foot 4-inch standard draft, which of course I like, but I suspect the 5-foot 4-inch shoal-draft model will be more popular along our often shallow shores.
The 469 hull is solid fiberglass, a time-honored and sensible way to mold a hull, lets face it, this is the impact zone and you want it as strong as possible. The cored deck is injection molded via Jeanneau's trademark Prism process. This process produces a deck that is nicely finished on both sides, reduces unnecessary resin buildup and results in a lighter and stronger deck. It is also much kinder to both the environment and the crew in the plant as the Prisma process reduces VOCs by as much as 90% when compared to traditional hand layups. A complete inner molded liner stiffens the hull and supports bulkheads and interior facings. It is glued and laminated to the hull. The 469 carries a CE certificate that ensures standards for safety, structure and stability, as well as an independent certification from Bureau Veritas.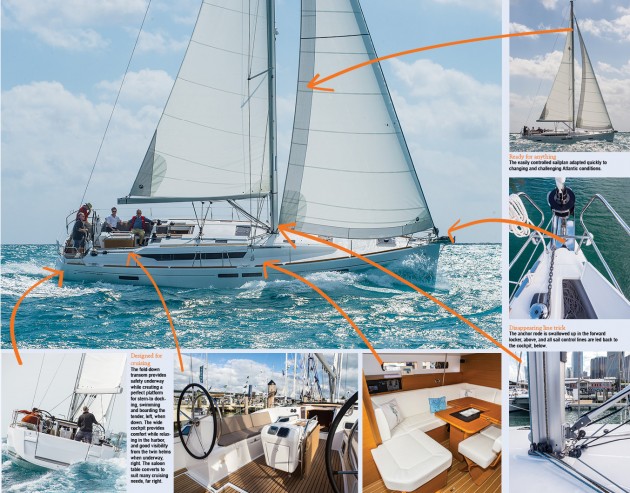 On deck
The cockpit features twin helms and a large fold-down transom that cleverly converts to a teak covered stern step. The table is huge and offers good leg support and also includes a robust stainless handrail. The aft end of the table houses instruments and the chartplotter. There are four lockers, including two deep storage areas beneath each helm seat that are perfect for swallowing up fenders, which can be a hassle to stow. The low-profile design results in excellent visibility from either helm. The engine controls are to starboard, and of course, Jeanneau offers its 360 joystick docking that makes close quarters maneuvering a breeze. The primary winches are positioned well aft, just forward of each helm and can be readily accessed from the helm.
All sail control lines are led aft, under deck, to winch and stopper stations on either side of the companionway. While I like the efficient and clean design concept, they can be tricky should you need access underneath the panels, which Jeanneau has made easily removable. I like that Jeanneau has gone back to long Harken travelers, a necessity with midboom sheeting arrangements. Our test boat was fitted with an in-mast furling mainsail and the standard 106% horizontally cut roller-furling headsail. A classic mast and lazy bag/lazy jack system is standard. The 469 is fractionally rigged and a self-tacking jib with a forward traveler is also an intriguing option. A removable inner forestay is a very sensible option for those that want to carry a staysail when heading offshore. The deck gear includes double stainless anchor rollers and a windlass that deposits the ground tackle into a deep chain locker. The stemhead fitting has a tack point for a Code Zero and asymmetrical chute.
Down below
There are three different interior plans: three cabins with two heads, three cabins with three heads and four cabins with four heads. All are beautifully appointed with light teak panels and white overheads. The result is a cabin bathed in light and the 11 opening ports and hatches provide plenty of ventilation. Our test boat had two aft cabins and a spacious forward owner's cabin.
The L-shaped galley is to starboard as you step below and features double stainless sinks, a two-burner stove and oven and a 175-liter capacity fridge with 12-volt refrigeration standard. Jeanneau also offers an optional version that includes a larger stove, a microwave, even a washer/dryer and wine cooler. There is ample storage in lockers above the counters. The best aspect of the galley is that it's incorporated into the overall flow of the interior space and the cook is not isolated from the rest of the crew.
Continuing forward into the saloon, the starboard side includes two lounge seats with a pullout table/bar between them. Opposite there's a large table draped by the settees and two additional free standing arm chairs for larger dinner parties. I like that these chairs can be securely locked in place when underway. There are lockers located above and outboard on both sides, and some storage below.
The forward cabin is elegant and includes an island-style double berth, a wide hanging locker to starboard and smaller one to port and a vanity/desk and seat. The en suite head includes a separate stall shower. There are LED overhead and reading lights. It would almost be a pity to divide this handsome cabin into two smaller double staterooms, but that is an option. The aft cabins include double berths, hanging locker, and enough floor space and headroom to stand and dress in style. The two head model includes one large head aft to port with a separate shower. The three head model has smaller heads just forward of each aft cabin and a straight-line galley instead of the L-shaped version, a compromise I'd try to avoid.
A four-cylinder 54-horsepower Yanmar diesel is standard and accessed from behind the companionway steps and through side panels. We sped along at 7 knots, against a stiff chop. The roto-molded fuel tank located under the aft berth holds 240 liters, or around 63 gallons providing a range under power of near 400 miles. The two water tanks, one under the forward berth and the other under the aft berth, are also roto-molded plastic and hold a total of 165 gallons.
Under sail
It was breezy, the east winds steady at 20 knots, gusting to 25. We headed north after clearing the channel and blasted along on a close reach at 8 knots. The 469 was dry, and considering the seas were in the 6-foot range, that was impressive. Although we had full sail set initially, tucking in some mainsail flattened the boat a bit and it responded by picking up speed. The helm was easy and well balanced, the 469 was in her element.
Coming through the wind easily, the benefit of the 106% headsail was obvious and we quickly gathered way on. Pinching up to 35 degrees apparent, we started to kick up spray but continued to make good speed and the ride was, for the most part, soft. Cracking off on a reach the 469 consistently topped 8 knots and occasionally 9. It was great sailing and Walter Cooper, who was heroically singlehanding in his small photo boat, had trouble keeping up with us.
Sailing back in the channel we ran before the wind, surfing occasionally before the seas quieted as we approached Miami Beach Marina, this time with the engine purring. We all joked that it was a typical day of sailing, with a few issues to make things interesting, but overall better than any day ashore. The new Jeanneau Sun Odyssey 469 is handsome, comfortable and capable-a nice combination of design innovation and intelligent engineering from a proven builder.