Encourage even hesitant sailors to jump on board by improving their sailing skills in the most beautiful places on Earth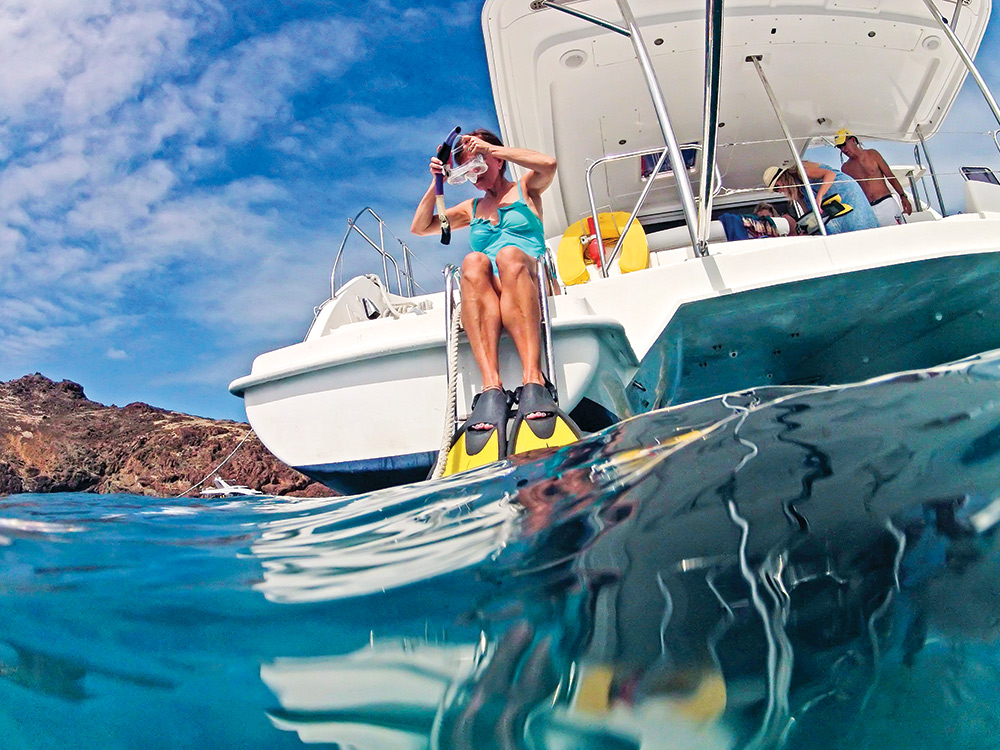 Bob Grieser photo
Mexico
Banderas Bay is a pocket of paradise on Mexico's Pacific coast, and J World Sailing School offers its unique sailing instruction program here in Nuevo Vallarta, November through March. Expect to spend six hours a day on the water with no complaint. Don shorts and T-shirts for classes aboard a 26-footer, for US Sailing's Basic Keelboat Certification; with Performance Cruising, Liveaboard Cruising and Racing options as well, on larger boats.
The thermal breeze kicks in like clockwork each day, as the inland valleys warm up and draw in the cool Pacific making Banderas Bay one of the best sailing secrets in the world. J World is based in the modern Paradise Village Resort; bookended by the cosmopolitan city of Puerto Vallarta on one side, and the authentic villages of the Riviera Nayarit to the north. You'll enjoy excellent cuisine, cold cervezas and warm sun—exceeded only by the warmth of the Mexican people—while learning or improving sailing skills.
As if that's not enough: the bay bubbles with marine life, including four types of sea turtles, whales, dolphin and rays, while frigate birds, tropicbirds and boobies circle overhead.
Caribbean
Does your flavor of paradise include tepid, gin-colored water and white sandy beaches?
Sail Caribe on the eastern end of Puerto Rico is the gateway to the exotic so-called Spanish Virgin Islands of Culebra and Vieques—think USVI or BVI, without the tussle for moorings. This family-owned charter company is based in Fajardo, less than an hour's drive from the airport, and is renowned for its superior level of customer service. ASA courses 101, 103 and 104 are offered on one of several spacious monohulls or catamarans; multihull bareboat certification ASA 114 is also offered. With a low student-to-instructor ratio, their goal is to get you not just certified, but totally confident and qualified.
"Puerto Rico is a magical place to sail with tropical fish, the sparkling bioluminescence, the interesting towns and bays to explore. There is no better place to get behind the wheel of a sailboat and learn the ropes," said Katie Davis, of Goleta, California.
For added enticement detour to the city of Old San Juan for a romantic weekend. Walk the cobbled streets, explore the old forts and churches, enjoy the seductive music and spicy cocina criolla. Puerto Rico is the world's leading producer of rum, so of course celebrate your certification with an icy cold rum drink.
ASA 114 is also offered in the Bahamas at Blue Water Sailing School. Liveaboard cruising classes take place on the 37-foot Island Spirit, in an "absolutely gorgeous location of small scattered islands, and secluded pristine anchorages," said BWSS' Monica Martin. "Anchor in 30 feet of water so clear, you can see the star fish in the sand below you." The school is based in Marsh Harbour and encourages students to do their coursework before hand so 100% of their time is spent enjoying the setting.
Or the trés chic island of St. Barth may be your carrot. Mowgli Fox runs a small private sailing school Lile St Barth, in the chief harbor of Gustavia. While not affiliated with ASA or US Sailing programs, Mowgli is licensed by the USCG, and his lifelong experience and passion for sailing are evident.
He introduces people to sailing is aboard a beautiful, classic 12-meter Lil'E, which has been fully restored. Learn to sail this lithe and sexy vessel around the picturesque island and outlying rocks by day; saunter along the lit-up quay at night, past a spectacle of dazzling mega-yachts. Stop at Le Select for the proverbial "cheeseburger in paradise" and you may even see occasional resident Jimmy Buffett.
If young adults (or the young-at-heart) are among your clan you can't deny them the tantalizing allure of the British Virgin Islands, where the Offshore Sailing School has two locations: Tortola, and the luxury resort at Scrub Island.
Their trademark Fast Track to Cruising course starts with two days on custom-designed 26-foot sailboats that are stable and easy to handle. Advance to a 40- to 50-foot monohull or catamaran, for a week guaranteed to get your sailing on.
Legendary bars await at every stop—Foxy's, Soggy Dollar, Sidney's Peace and Love and Bomba's Surfside Shack. Slap on a temporary tattoo at Willy T's and toast your newfound adventures with a painkiller. It's a ring-around-the-rosie of class in the morning, sail in the afternoon, party at night, all set amid heavenly scenery.
November through May is the ideal sailing season in the Caribbean.
Next: The Mediterranean and Northern Climes