Encourage even hesitant sailors to jump on board by improving their sailing skills in the most beautiful places on Earth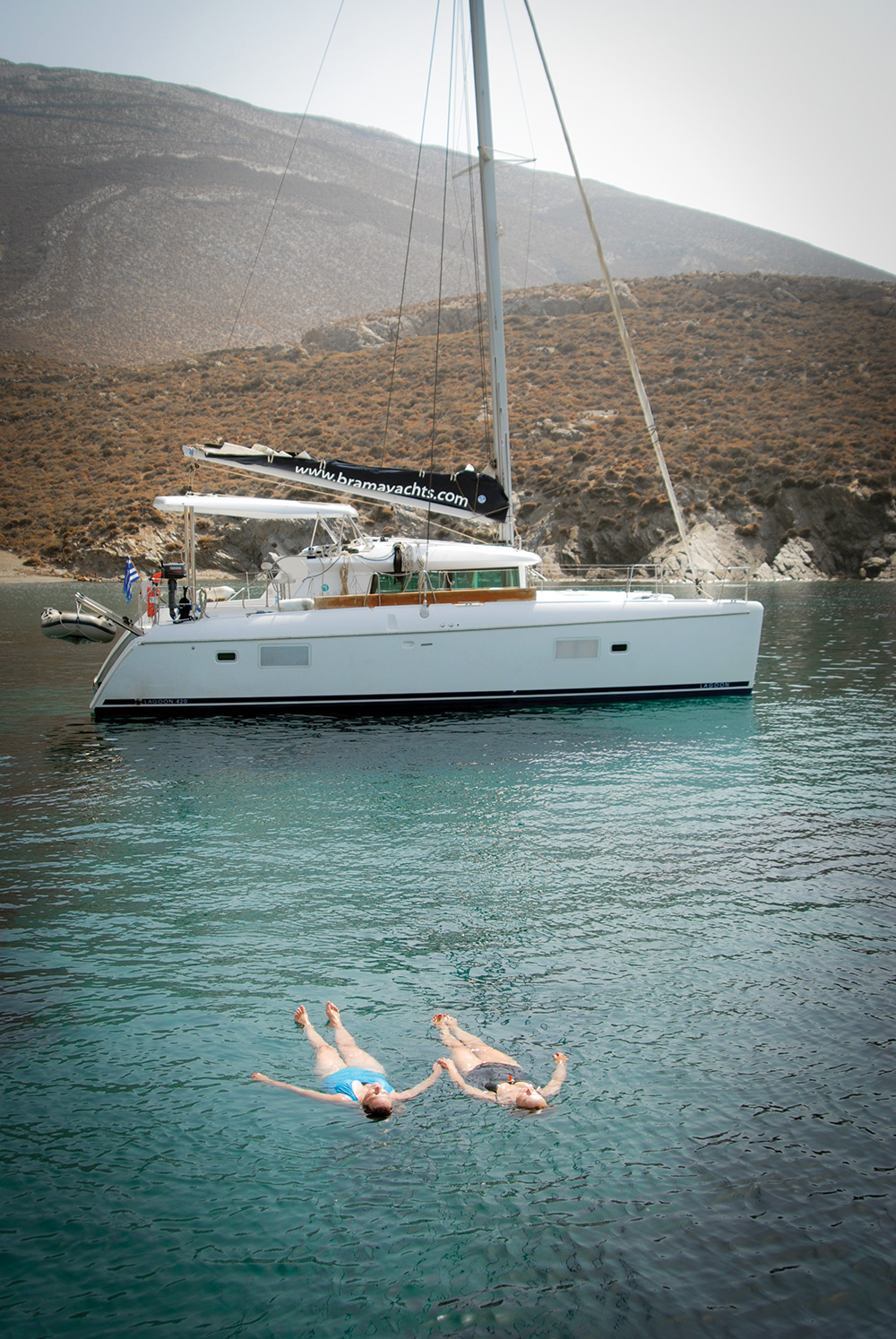 Bob Grieser photo
Mediterranean
History, vistas, culture, cuisine: Greece has it all and the Athens Sailing Academy offers English-language sailing instruction amidst this festival of the senses. ASA instruction begins with a three-day small keelboat course, then students graduate to a 54-foot Jeanneau racer-cruiser, and take on the Aegean Sea. Greece boasts more than 3,000 islands with countless bays, coves and villages, where the ancient harmonizes with the new. Visit April to October to enjoy warm temperatures and water, beneath blue skies. Meltemi winds, during the peak summer months, can be boisterous (more so on the Aegean, than the protected Saronic Gulf). But after a day of sailing in breeze that might range from seven to 40, reward yourselves with local wines and freshly caught fish at waterfront tavernas, and dance into the night.
If that's not enough inducement pay homage to "The god of the sea" and take an evening hike to the Temple of Poseidon, for a view of the skyline and sunset so breathtaking, spectators break out in applause.
Northern Climes
If your partner's idea of paradise is stunning natural beauty in a rugged and remote setting, Sail Superior in Ontario, Canada, might be the ticket. Based in Thunder Bay, on the north shore of Lake Superior, its seven-day Cruise and Learn package follows the International Sail and Power Academy curriculum, aboard one of two 40-foot sailboats.
Hopscotch through the islands to Isle Royale, "the jewel of the U.S. National Park System," according to Sail Superior owner Greg Heroux. This 45-mile stretch of volcanic rock and ridges is, "a gorgeous island in the middle of a freshwater lake, with shipwrecks, diving, wildlife and nature trails."
"Once you leave Thunder Bay, you're pretty much self-sufficient. You can sail three or four days and see one or two other boats. It's just you and nature," he said.
Heroux focuses on building a comfort level and confidence among new sailors. "Take them someplace they can enjoy and relax and get them involved," cautioning not to take a newcomer into rough conditions before they're ready.
Summer is best, between mid-May and mid-October, although Lake Superior creates its own weather systems, "so sometimes it's calm, and sometimes it's wild."
Bonus points: the U.S. dollar is currently very strong, so get more bang for your buck on a Canadian learn-to-sail vacation.
More scenic adventures and instruction can be found on the other side of the continent, in the Pacific Northwest, with San Juan Sailing. Based in Bellingham, "the doorstep to the San Juan Islands," said manager Danelle Carnahan, who goes on to describe it as, "A beautiful area for nature lovers; with wildlife, orcas and sea lions. Ashore there is great hiking among the evergreens, with marine parks and state parks too."
Instruction is held aboard 34- to 42-foot boats, with four students to a class. "Our protected bay is ideal for novices to get a feel for sailing and build confidence," Carnahan said.
In addition to ASA courses, San Juan Sailing also hosts women-only sessions and women's weekends with no emphasis on curriculum or testing, "just a hands-on, low key way for women to rediscover or build their skills," particularly after, "her hubby might have scared her in the learning process."
The cruising grounds balance isolated anchorages lush with native flora and fauna, with lovely historic resorts and marinas, where guests can stay in a slip, dine at restaurants, and sit in a hot tub admiring the night sky. The diversity is appealing, and astounding. "The islands really encourage and entice people to hone up on their navigation skills," Danelle said.
The best time of year for instruction is April through September, although July and August can be slightly more crowded than the shoulder months.
It's worth the effort to coax and coddle your friends and family into sailing. And then: the world is your oyster.
"In a culture where many of us find ourselves sitting behind computer screens far too much, we experience a type of sensory deprivation. We become voyeurs instead of adventurers. And it diminishes your sense of can-do," said Vicki Haak, who joined several friends on a learn-to-sail adventure in the Caribbean.
"Getting out of my element changed all that. It awakened my senses: the warmth of the sun, the beauty of the sea life, listening to the sails dancing in the wind. It was a call to action; to be a participant not a spectator, and to keep learning-to-sail at the top of my bucket list."