Six months after hurricanes ripped through the Caribbean, the annual regattas picked up the pieces and carried on
Gotta regattas: Mark your calenders for next season's must-do Caribbean races
If ever you have ever needed justification for indulging in the exciting Caribbean racing circuit, this is it. After last year's hurricanes ravaged several islands, our Antillean friends need our help.
"The best thing you can do is to come here, enjoy our fantastic waters, our fantastic people, our fantastic islands. That's the best way to support our recovery going forward," said BVI Gov. Gus Jaspert. The Caribbean boasts regattas for sailors at all skill levels, competition and fun-seeking. Bring your boat or charter one to race. Here are some to try:
GOLDEN ROCK REGATTA
Kick off your Caribbean racing and stretch your legs, with this cozy season opener. Small on size but big on mileage, the Golden Rock Regatta loops from St. Maarten to Anguilla, St. Barths, St. Eustatius and back, in five exhilarating days. Throw in a smattering of history and culture, and dance on the streets with the locals on Statia Day, as you mingle with the mostly Dutch fleet, and "we gaan zeilen." November 13 to 20, 2018, www.goldenrockregatta.nl
GRENADA SAILING WEEK
Sporty, spicy, safe and friendly. Grenada Sailing Week is big enough to be challenging, but not so large that sailors don't get to chat over rum at the bar each night. Race headquarters and venues toggle between Prickly Bay and Grand Anse, to whet your appetite with a taste of Spice Island sailing in both west and south coast courses; for racing, racer-cruiser, classics, J/24 classes and more. Plus, Grenada's reputation as a safe haven, with excellent marine facilities, makes it a favorite location to hang out when the racing is through. Spice it up in Grenada! January 27 to February 1, 2019, www.grenadasailingweek.com
Alastair Abrehart photo
RORC CARIBBEAN 600
If long-distance racing is more your style, you can't miss the 600-mile race around 11 Caribbean islands that starts and finishes in Antigua. This year, 800 sailors from six different countries were treated to 25 knots of solid trade winds with gusty squalls and a confused sea state. Run by the Royal Ocean Racing Club, the race draws such diverse boats as the maxi record-setters both monohull and multihull that share the race course with mom-and-pop racers and charter-boats. February 18, 2019, www.caribbean600.rorc.org
HEINEKEN REGATTA
Everyone should do the Heineken Regatta at least once. A huge regatta, with even huger parties, it's billed as three days of "serious fun," with a tradition of exceptional entertainment like the Black Eyed Peas, UB40, Wyclef Jean, Shaggy and more. Sailors from roughly three dozen countries have made the Heineken one of the more popular races, for 38 years.
"It's really thrilling to have a 20-boat start, which you sometimes do," said one enthusiast. "The around-the-island race is great, but demanding. It takes about five hours and you're beating to windward for about three of them … but the sleigh ride coming down the east side makes it all worthwhile." This roving regatta starts and finishes in different ports, to give you the full St. Maarten/Saint Martin experience. February 28 to March 3, 2019, www.heinekenregatta.com
ST. THOMAS INTERNATIONAL REGATTA
This annual event timed just one week before the BVI Spring Regatta is for the grown-up in you that just can't run away to the circus, but can run away to the Caribbean for two weeks of back-to-back regattas. St. Thomas Yacht Club's beachfront setting on Cowpet Bay has a "laidback, old-time Caribbean feel." Enjoy highly competitive round-the-island and buoy racing; rustle up your pals, and race organizers will even give you your own one-design class. March 21 to 24, 2019, www.stthomasinternationalregatta.com
BVI SPRING REGATTA & SAILING FESTIVAL
This regatta takes place in what many consider the most spectacular cruising grounds in the world. Headquartered at Nanny Cay, the start line is just five minutes away, meaning you can sleep off last night's pilgrimage to one of the many legendary beach bars, and still have a stellar start. The BVI regattas embrace everyone from novice to pro classes; in just the right numbers to balance competition with camaraderie. "We've made great friends, from all over the country, and even developed our own Tarheel vs. Crimson Tide Challenge!" Hard-hit by Hurricane Irma, the BVI warmly welcomes you to come be a part of the island nation's revival. March 25 to 31, 2019, www.bvispringregatta.org
LES VOILES DE ST. BARTHS RICHARD MILLE
Marking its 10th anniversary in 2019 and headquartered in the chic city of Gustavia, this French classic is billed as "the perfect mix of high-class, yet relaxed fun." And you never know when Jimmy Buffet might drop in to play a set (like he did in 2018). One feature is the midweek lay day, where Melges to maxi racers hobnob on chi-chi Nikki Beach. Note the new later dates, to help racers take advantage of low-season pricing. April 14 to 20, 2019, www.lesvoilesdesaintbarth.com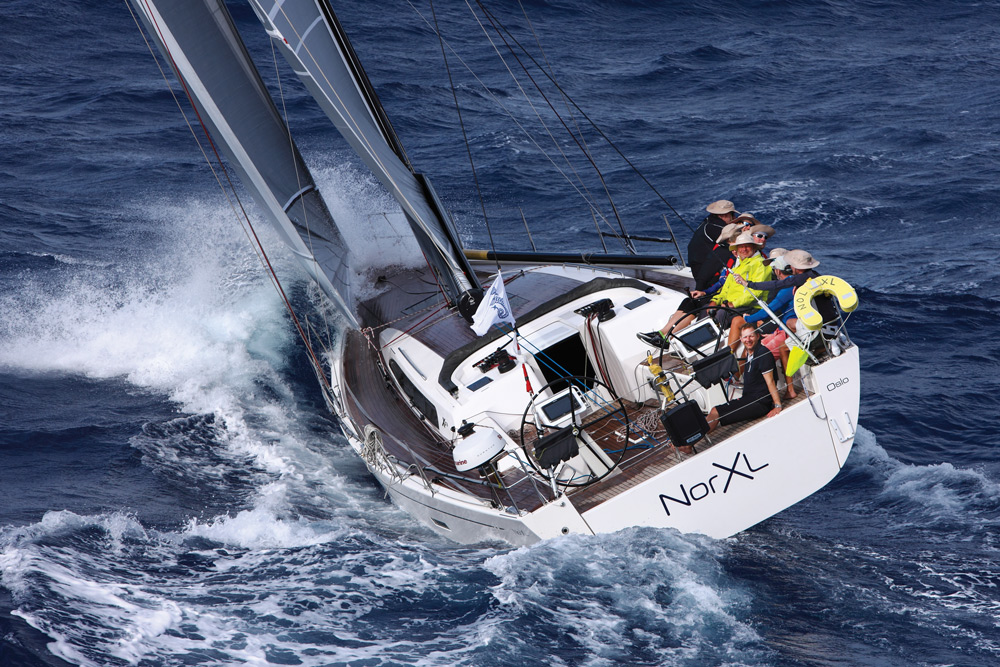 RORC Tim Wrigh photo
ANTIGUA SAILING WEEK
This event is the granddaddy of Caribbean racing, setting the standard for fun in the sun 50 years ago. It has a bit of something for everyone, on boats ranging from 20 feet to 100-plus.
"Out on the course, megayachts with 20 or 30 people on the rail, just blow by," said one racer. "But we all get to go to the same parties." And the parties are epic: like Tuesday night's Reggae in the Park. A max of four hours of racing per day guarantees you're rested up for all the revelry. The last hurrah of the season, the event also embraces community and youth projects. And if you feel you're sitting on the rail too much, try the Round Antigua Beat the Boat Bike Race. April 27 to May 3, 2019, www.sailingweek.com.
Make this the season you break into or return to Caribbean racing. Find the complete calendar of regattas at www.caribbean-sailing.com. --B.C.