A cruising crowd revisits their favorite Bahamas haunts and finds that much has changed, but the sailing, picturesque water and friendly people remain the same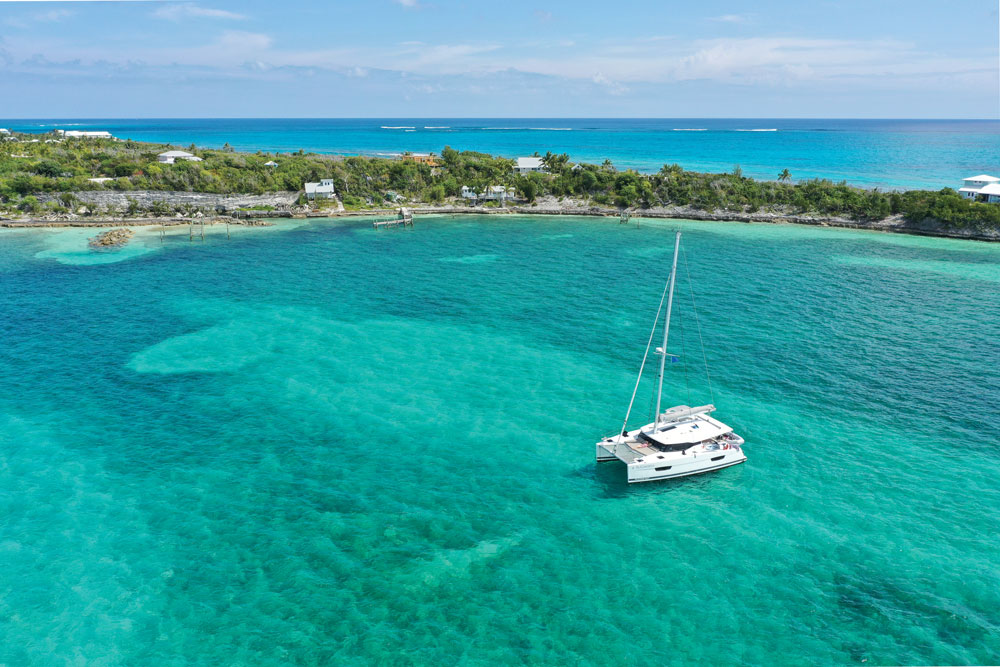 Ebley Creative photo
Cap'n Jack's restaurant has a new dock and offered up some of the best conch fritters of the trip. We relaxed as the sun set behind the lighthouse, with our boat just a few yards away. The winds continued to lessen, and the next day was warm as we returned to walk the beach and pick up a few souvenirs from a local artist. The town seemed to be humming with the constant background noise of saws and hammers, as blue tarps give way to new roofs and piers.
The next morning brought a beautiful breeze and we headed south a short way to Tahiti Beach. After provisioning in Marsh Harbor, we were prepared for a night on the hook away from town. We also wanted to connect with the Thirsty Cuda on a calm, sunny day. This mobile beach bar anchors off the sandbar at Tahiti Beach, weather permitting, and boasts a short but impressive menu. We enjoyed frozen drinks, cold beers, more conch (in the form of sesame conch bites and wraps) as well as burgers that rival any full-scale restaurant.
Hours of relaxing on the sandbar, ordering food in waist-high water, searching for shells and sea glass on the beach, and keeping a wary eye out for the shark that kept circling nearby was as near perfect as we could imagine. When we'd had our fill, we returned to the boat, where first mate Matt took a quick swim to go check the status of the anchor. A few minutes later, he threw his fins on the swim platform and scurried aboard, out of breath. I asked if he saw a barracuda. He nodded. How big was it? "Big enough," was the only reply needed. And yes, the anchor was solidly hooked.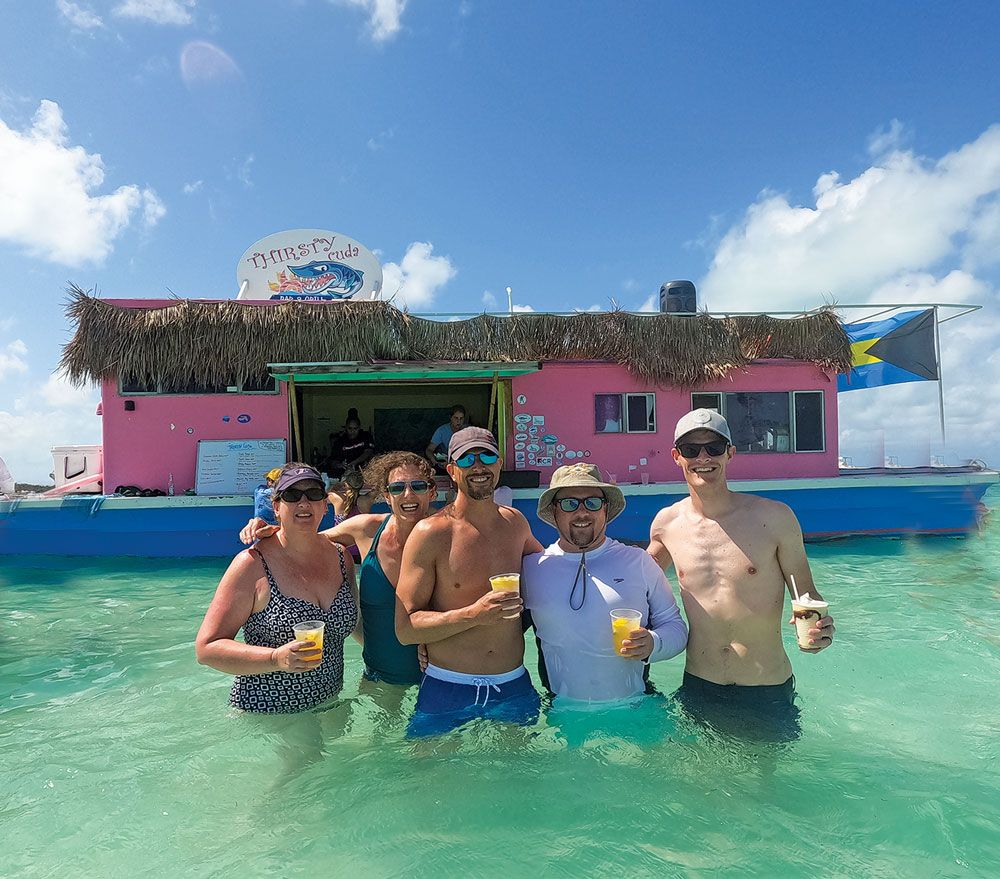 Ebley Creative photo
We learned not to trust the guidebook on this trip. The Steve Dodge annual publication is invaluable, but in this climate, things can change in a hurry. Our plans to head to Little Harbor pivoted when we reached out to make a dinner reservation at Pete's, only to find out they were closed that day. Instead, we decided to head to Man-O-War, which is certainly not a compromise, only there are no liquor sales on the island and we had planned on having access to provisions that night. When Chad, the Cruise Abaco owner came by to retrieve our trash and bring us a new set of binoculars, he asked if we needed anything else. We jokingly replied, "Rum!" Chad came through, handing over his premium stash from his private collection, resulting in cheers from our crew and a very pleasant evening on a mooring at Man-O-War with delightful cocktails and dinner aboard.
The Man-O-War community is extremely tight-knit, and has developed around the boatbuilding industry that can be traced back to the late 1700s. Man-O-War is also on higher, rocky ground, so it did not sustain the flooding that other low-lying islands did. Everything is just as lush as I remember from years ago. The waterfront is completely changed, however. The marina, dive shop, and other facilities were completely wiped out. Touring the shoreline, one notices the majority of the docks have been rebuilt, but many bare pilings remain. Walking the streets, black spray-painted numbers mark the sidewalks or tag actual buildings, if they are still standing. Immediately after the storm, volunteers from Samaritan's Purse and other organizations needed a way to identify which properties were in need, and as there are no house numbers marking the addresses, this crude but effective system was engaged.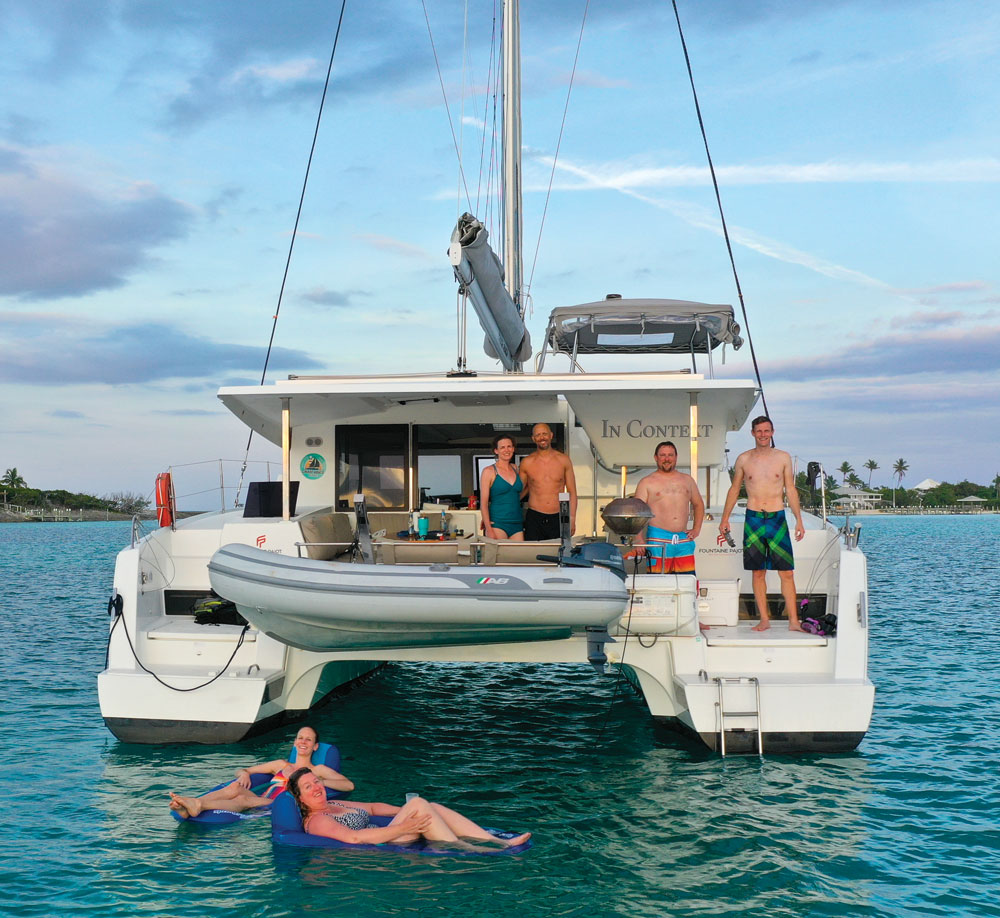 Ebley Creative photo
As of our visit, there were no restaurants open on the island, but a coffee shop, incorporated into the Heritage Museum offers breakfast treats, baked in the homes of the employees and brought in to the shop each morning.
We lingered for several hours over coffee and enjoying homemade quiches and scones, hearing how Tesla donated solar panels and people went 10 to 18 months on generator power in the aftermath of Dorian. We imagined the baseball field that we'd walked past, being used as a helicopter landing pad to ferry in supplies. Over the last few years, the population did drop from about 400 to around 250, but most full-time residents have returned and are working to rebuild their community. Many residents work elsewhere, taking a ferry to work or school in Marsh Harbor.
Although we loved Man-O-War, and the people there, after a full day and a half exploring, we reluctantly left our mooring, where we had noticed dozens of turtles breaking the surface regularly. On our previous trip, we only saw one or two turtles the entire time. We wonder if the lack of tourism has impacted the turtle population in some way.
Our next stop was just north, as we headed to Guana Cay. The wind was light, but from the east, and we managed to sail for the first hour, then as it lightened up and clocked, we motorsailed, comfortably, as the apparent wind moved forward.