The nooks and crannies of Panama's San Blas archipelago, made accessible aboard a family's catamaran, are paradise found
There are 360 or so islands in the San Blas archipelago of Panama, roughly one for each date on the calendar, which explains why George, Melinda and Joshua Salley have made this spectacular Caribbean setting a yearlong destination.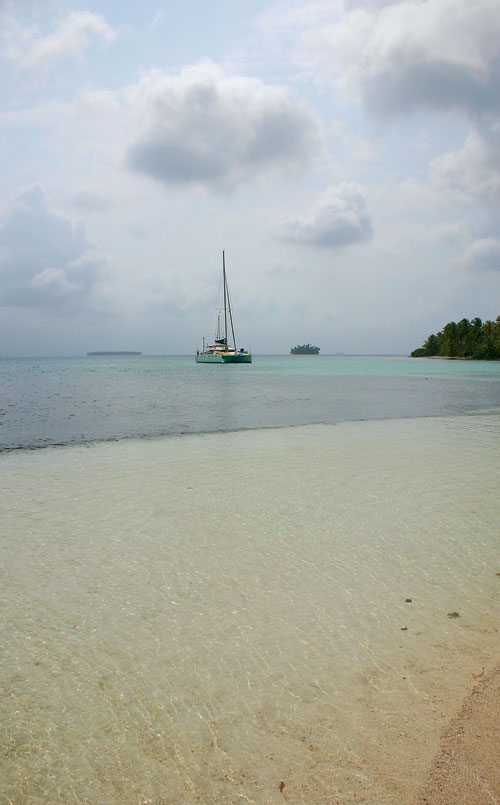 "This is the closest thing to paradise that we've come across," Melinda said. "The islands are unmatched-beautiful, unspoiled, not littered with high rises and resorts. The water is clear, the reefs are beautiful and the people are friendly."

I needed no further enticement to schedule a visit. The Salleys' only prerequisite is that I bring the groceries. Kuna Yala (as the San Blas Islands are locally known) is barely 60 miles from the urban capital as the crow flies, but mountains upward of 13,000 feet make the trek an adventure of its own.

Soon I was in Panama City, squeezing into a beat-up SUV already stacked and packed with luggage and eight other riders. The driver surveyed my mountain of groceries and began heaping suitcases ever-higher on the roof, then distributed the sacks that didn't fit in the trunk amidst the feet and laps of this sardine can of people.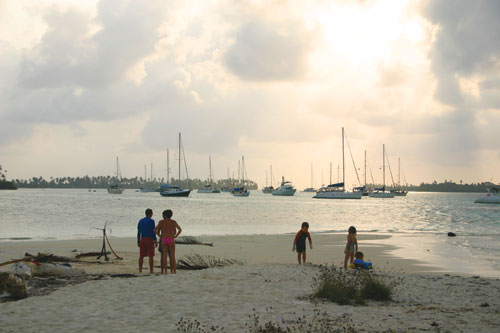 Our journey took us out of the city, past the tidal flats and rocks of the Pacific, along highways, then through rugged streets where we picked up yet another passenger. Continuing on we detoured a final time to collect even more plastic bags of stuff. At last we began our journey over the mountains and across the narrow isthmus to the Atlantic side. The overladen vehicle strained, ever higher, on narrow twisting roads freshly cut into recent landslides; along muddy and rutted paths slick with rubble and scree and rimmed with giant leafy plants that disappeared down ominous grades. I gulped, knowing that one bad skid would shoot us off the edge, but hopeful that the cram of luggage, groceries and warm bodies might work like "air bags" and protect us in a fall.

We then drove through the river, a 20-meter flow of opaque brown water, to the other side where, after four sweaty hours, we arrived in Carti. Here Southern Belle was peacefully anchored and awaiting amidst button-sized islands of lanky palm trees and sandy beaches. Heaven!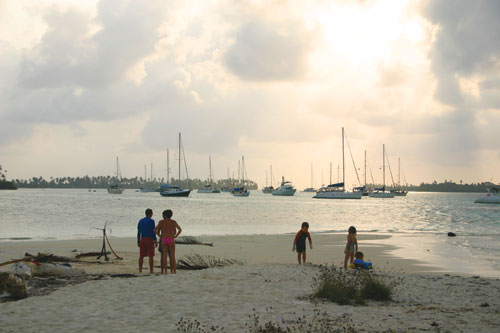 I had last seen Melinda, George and Josh in 2006 when they commenced their big cruise with the Baja HaHa from San Diego to Cabo San Lucas. Four years later they're experts at the cruising lifestyle. Melinda fixed breakfast while Josh, 9, swung like a monkey on a rope off the rig; and George ran the 8:30 a.m. Panama Connection Net. Check-ins included a request for line handlers for the canal and a summary of the America's Cup race going on at the time, but mostly insect reports dominated the transmissions, as no-see-ums had chased several cruisers from their anchorages. Thankfully, fantastic trade winds kept most bugs at bay and made it unexpectedly cool-not the blasting equatorial heat I had anticipated.

We heard some friends were nearby and arranged a rendezvous for the kids. Helen, John and their youngsters Jess, Zoe and Tyler were on their way home to Sydney, Australia, from Croatia, where they bought their 46-foot Bavaria sloop Nika secondhand. In the winter, Melinda said, San Blas is a crossroads of European cruisers en route to the Panama Canal, South Pacific islands beyond, and sailors starting their migration north from South America. Kuna Yala is a popular stopover because of its proximity to the canal and also because it's outside of the hurricane belt.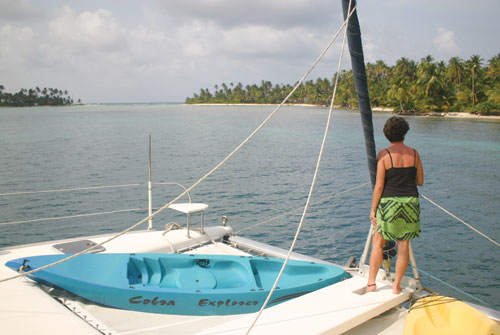 Most of the visitors were aboard multihulls, both because of the European influence and because of the ease with which they skirt over shallow sandbars and coral reefs. George and Melinda have been multihull enthusiasts since buying their first Hobie 16 in their 20s. For years they slaved to refit the 36-foot Cross trimaran Iko Iko, but in 2003 decided to fast-forward their cruising dreams and bought Southern Belle, 42-foot Venezia by Fountaine Pajot. They were cruising within three years.

"We wanted a larger boat, something more comfortable, and over 40-feet for ocean travel. After talking with a number of people and looking at a number of designs, we felt this was a good compromise of sailing performance, space, layout and affordability," Melinda said.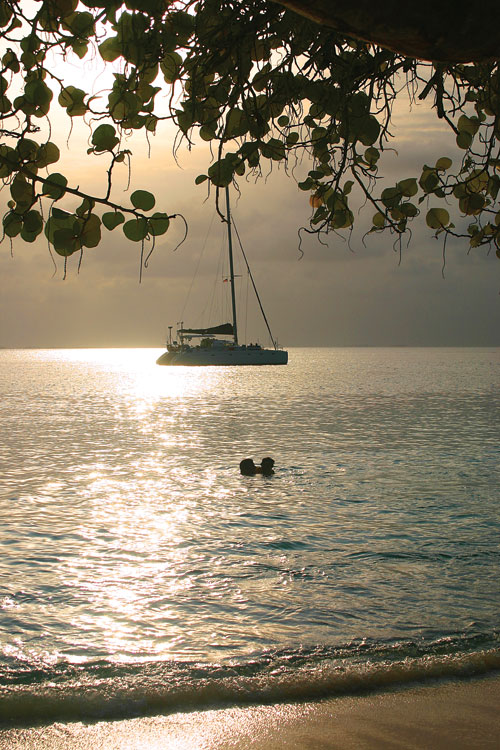 "There was not a whole lot of room for guests on the 36-footer," George said. "Southern Belle is big enough for us to invite family and friends for a visit, and accommodate the occasional sleepover with other cruising kids."

The pace of life aboard Southern Belle was easy. After breakfast, Josh's schooling and a few chores, Melinda and I went for a swim around the boat. It felt good to stretch my arms and legs and enjoy the refreshing water, while looking for signs of life in the sand and grass bottom. I saw bright orange sea stars and teeny blue and yellow fish and enormous sea cucumbers that reminded me it was almost time to make the gazpacho for lunch.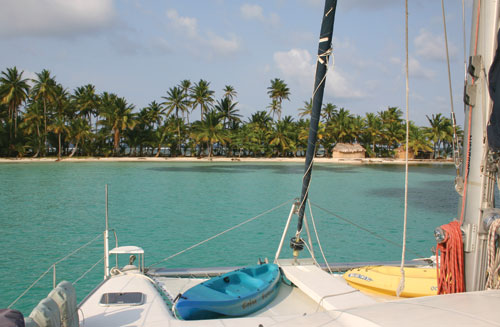 Afterward we pulled up anchor and headed toward Dog Island to snorkel the site of a Colombian cargo ship that sank in shallow water in the 1950s. The tiny island and day anchorage were packed, by Kuna Yala standards, with campers and visitors playing in the sandy beach and exploring the wreck just yards off the shore.

The snorkeling, in water just four to 20 feet deep, was spectacular. The myriad of colors, forms and patterns on the wreck were breathtaking. With the vertical walls of the ship as a canvas, the various corals, vegetation and fishes were dabs of colors and textures in an impressionist painting. We circled the length of the wreck, her ribs and structure still discernible and intact, and surveyed countless species bursting with hues and patterns. At one point I was overtaken by a school of tiny fish, shimmery bits of tinsel flowed around me in the turquoise sea. We went around again. Later we sailed to West Lemmon Island and anchored alongside Nika, then headed over to the island where a local gentleman, Alberto, sold cold drinks and the adults socialized while the kids played volleyball. A diminutive Kuna woman served the beer, her fine features accentuated by the colorful native dress and beaded ornaments (wini) wrapping her arms and legs.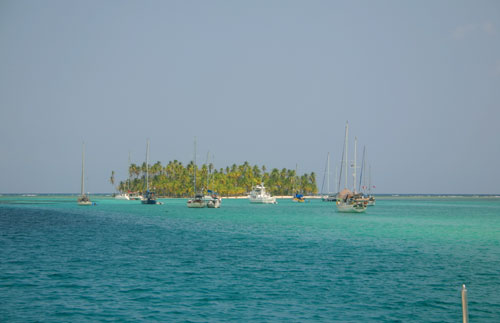 The next morning, after an enormous breakfast, I grabbed the kayak for some needed exercise. Bearing off into the stiff breeze I circled the anchorage and bid a final farewell to Nika. They were off to Chichime, a popular jumping-off point for cruisers on their way to transit the canal. We're getting ready to leave too, but just to nearby Holandase Cay, roughly eight miles away. Islands in Kuna Yala are so close-set, there's always a new, keen destination just an hour away.

Seasonal winds stray from the northeast to the northwest, so we neatly close-reached across the short channel to the island. The trade winds prevail December through April, with the dry season tucked in during January through March. The rainy season is June through November, with squalls that are called torrential.

Melinda said they prefer to make their passages midday when the sun is high, so coral heads are easy to see while navigating and anchoring. George dove on the anchor to make sure we were secure, then it was "everybody in!" While Josh kayaked, Melinda and I snorkeled the reef that runs the length of the island. It was chock full of more different species I can ever identify, or even imagine. I swam among a school of dory fish a la the movie "Finding Nemo" and shadowed a ray while watching comical parrot fish crunch on coral. The fans and corals pulse with the rhythm of life, thousands of up-reached fingers swaying to "We are the World." I might jest, but it was truly a spiritual feeling.

Later we landed on a small island and walked through the coconut palms to huts occupied by a Kuna family, where the matriarch pulled out her stash of molas. Selling this native art is part of their livelihood so we each bought one of the thickly layered and vividly appliquéd panels of fabric.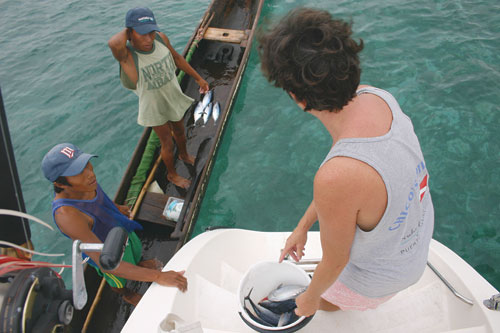 But Kuna are entrepreneurial and will also come to your boat in an ulu, a carved out timber canoe, to sell their crafts, as well as beer, chips, seasonal fruits and veggies, seafood and chicken. By comparison, the rare grocery market had slim pickings when it came to palatable looking produce.

Monday night brought the weekly Cruiser's Happy Hour at Barbecue Island, so we made plans to pull up anchor after we had our fill of snorkeling. With local names such as "Narrasgardupdummat" and "Whichubdupbipi," it's no wonder the islands have been supplanted with Anglicized monikers such as "Moron Island" and "West Coco," respectively.
At 5:30 p.m. the anchorage, a turquoise haven aptly named The Swimming Pool, had filled and cruisers poured in on their dinghies to enjoy a potluck of appetizers, BYOB and a book and DVD swap aboard the tiny pristine island. Reylyn and Dan, who are friends of friends from Dana Point, California, sought us out. They've been cruising their 50-foot Gulfstar Sailmaster Tropical Dance throughout the Caribbean, and plied me for news of home.

The next afternoon, after Josh completed his home-schooling assignments and we had snorkeled ourselves to pruney delight, we returned to the island to play a few games with Ralph, Cheryl and Greg of Fortuitous from Vancouver, British Columbia. A rip-roaring challenge of cruiser's bocce ball was followed by monkey golf, neither of which I excel at, but as darkness fell early, as it does here near the equator, we beat it home for Tabasco-marinated chicken, peanut butter noodles and squash.

Josh was finishing up the fourth grade in his Calvert Schooling program. He had his own cabin, and enjoyed an enviable collection of video games that draws opponents young and old from other boats.

"I like being here because I have more freedom than I would have back home," Josh said. "Meeting kids from all over the world is cool, and I like hanging out with my parents a lot, too. It's more special, not a lot of kids get to do this."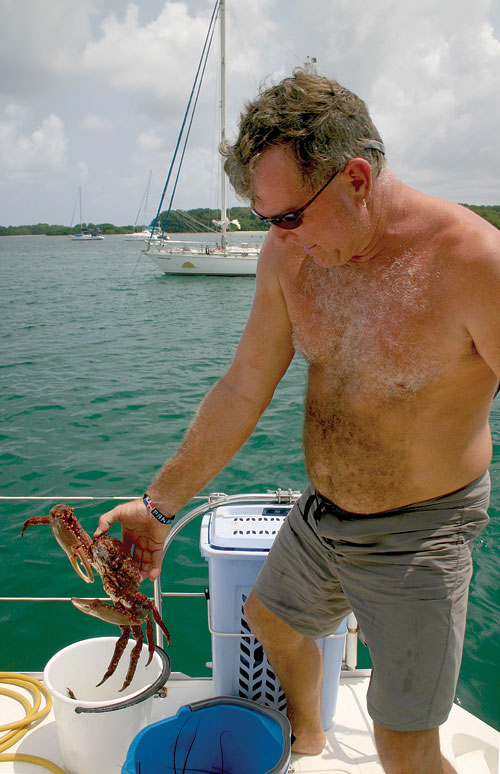 The next morning we were on the move, on an eight-mile reach for the town of Nargana, where Kuna Yala's only bank is located, in addition to a clinic, police station, school, Internet café and few very small grocery stores. Unlike the other settlements constructed of thatch and refuse, several of the buildings are made of concrete, and the women wear modern clothes instead of traditional Kuna garb and jewelry.

Alas, it is the morning after Mardi Gras, celebrated in Kuna Yala as The Festival of the Sardines and on the heels of Carnival weekend, and the store was slow in opening. Juan was finally summoned from afar and opened the door to the dim interior, where he sat and listlessly pointed in response to our queries for butter, cucumbers and so on. Somewhat replenished, we return to Southern Belle and headed off to the island of Canbombia. We had a wide stretch of open reef-free water ahead and furled out the jib and hoisted the main. Southern Belle made an easy 6 knots on the flat sea, with the lofty green mountains of the isthmus on our bow.

We anchored at yet another bucolic sandy isle, fringed with palm trees, in turquoise and azure water, where George scored some crabs and lobster from a passing fisherman. Meanwhile, Melinda and I snorkeled over to say hello to their friends Lila and Aaron on Blow Me Away. Lila handed us Jell-O shooters as we surface and invited us to dinner, as Aaron had speared a massive snapper. With our shellfish and Aaron's fish, it sounded like a massive potluck in the making, so they put the word out on the radio and invited a few others. Hours later the cockpit was crammed with cruisers, enjoying the various delicacies brought by the crowd, beneath a starry sky streaked with the Milky Way.

Early the next morning we rendezvoused with a local tour guide, Lisa, at the River Sidra on the mainland. Lisa was picking up other hikers at Salardup, but, put off by the last time when they did the five-mile crossing in a small ulu with low freeboard in pitching seas, George and Melinda decided to skip the ride and we waited just offshore until Lisa arrived. When she did we doused ourselves with mosquito repellent and began our trek to the waterfalls.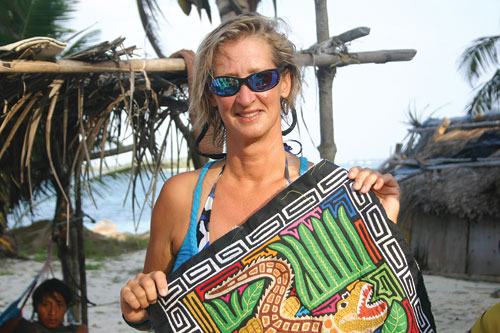 The trail was at times narrow, steep, slick or all three. We traversed streams, open grassland, a dank canopy of jungle and graveyards. Lisa armed us all with small crosses the muchachos hack out of greens before we entered the cemetery: a minute village of well-kept huts with mounds of dirt covering the deceased, and topped with their few possessions. One soul has just been buried and the dirt rise was covered in rush fans and ornaments. Lisa showed us her mother's grave that eerily marked not just the date of passing, but the exact hour and minute.

We arrived at last at the overlook of the falls, and Lisa dropped her knapsack and leapt in. We all followed, some more boldly than others, stepping, leaping or cannon-balling off the rocky ledge into the cool fresh water below. We passed the time swimming the length of the pool, or hiking up the falls to sit beneath the surprisingly frigid cascade. To return, we tracked down the river bed: a long, slippery passage on moss-covered rocks, through gravel and sandy bottomed trickles, swimming through large pools so deep your feet didn't touch bottom, butt-sliding down rocks, and jumping off more ledges.


All told, it was a six-hour adventure, which left us with the satisfaction of having done a little leg work. Regardless, when we returned, we dove in for a swim in the cool shallows at Salardup. Each anchorage has its curiosities, and here the white sandy bottom was thickly strewn with bright orange and yellow sea stars, sand dollars and small conchs. Translucent fish schooled by, and a skate tried to hide in the sand.
We grilled some dinner and turned in exhausted. On the net the next morning we heard the island was buffeted with 40-knot winds overnight. The waves on the distant shoal crashed and the wind generator whirred nonstop, but we were oblivious, tucked close in to shore, enjoying a sound and well-deserved slumber.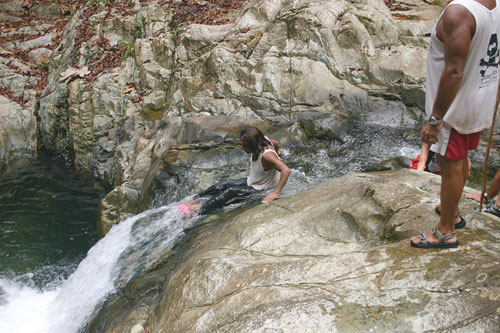 The week passed too quickly and my last day with the Salleys was spent doing more of the same: swimming, snorkeling and playing bocce ball with other cruisers. Life in Kuna Yala is Cockaigne; a beautiful, peaceful existence. But it wasn't always. In the 1700s the Kuna were forced from the rainforest to the coasts and mouths of the rivers and islands, and suffered years of attempted repression. Finally, in 1925, the Tule Republic was proclaimed by revolutionary Kuna, who five years later were finally granted autonomy over the 1,200-square-mile strip of coastal land and isles.

"This is like the South Pacific, but with only hours or minutes between anchorages instead of days," Melinda said, while George added that Kuna Yala is outside of the hurricane belt "and the rainy season is not so bad."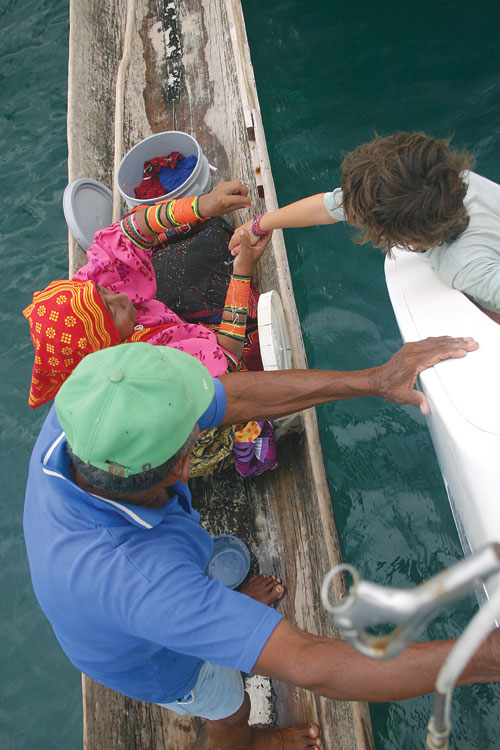 "While you feel so remote here, it's not that far from anywhere in the mainland, and you actually have relatively easy access to services, food and medical care in Panama City: it's just 30 minutes by plane," Melinda said. "And you've got cell phone service."