When the cruising bug bit hard, my wife and I dreamed enough about sailing away from it all to actually go boat shopping. The problem was we had very limited funds. A brand-new boat was out of the question, but a perusal of used-boat websites indicated that finding the right full-keel heavy displacement pocket cruiser might be possible.

Ultimately, we decided on a Bristol 24, also known as a Bristol Corsair, an overbuilt hand-laid fiberglass sloop displacing 5,920 pounds. It had 3,000 pounds of lead-encapsulated ballast in the full keel. With a draft of 3 feet 5 inches, the boat was suitable for gunkholing in shoal waters. A roomy 5-foot cockpit, 6-foot headroom in the saloon, two cabins, six fixed ports, a marine head, and nearly 300 square feet of sail area were major pluses. The satin-finished mahogany bulkheads and trim as well as the fiberglass headliner made the interior warm and inviting, and the upswept bow and graceful sheer gave the 24-footer a yacht-like appearance.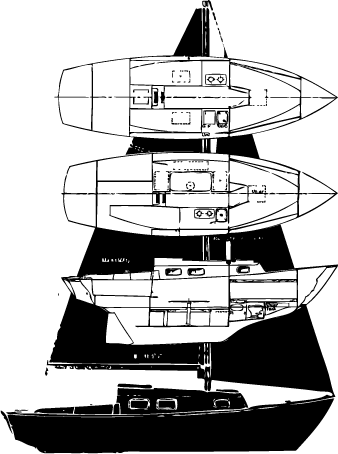 The Corsair is seaworthy but slow, like its predecessor, the 24-foot Sailstar. The Sailstar Boat Co. in Bristol, Rhode Island, turned out hundreds of hulls until the company folded in 1969 and the plans were sold to Bristol Yachts, a Bristol-based boatbuilder founded by Clint Pearson of Pearson Yachts fame. Bristol Corsairs went into production in 1975 and continued on until 1983 when the line was retired. A total of 726 were built, according to Bristol Yachts literature.

The majority of Corsairs were powered with an 8- or 9-horsepower outboard situated in a well, though an inboard engine (usually diesel) was an option. Some of the boats were powered with Atomic 4 gasoline engines. Of all the power options, we wanted a Corsair with an inboard diesel in good condition-a tall order, we knew.

One problem is the chainplates, which run through the deck and are mounted on the mahogany bulkheads in the forward cabin. Leaks are common and inevitably lead to rot. Since the mast is stepped on deck, losing a shroud due to a failed chainplate would obviously ruin our day. I paid special attention to the chainplates during our boat search.

Prices for Corsairs cover a wide range: $1,200 or less for a standard model with an outboard and $7,000 to $10,000 for a dinette model equipped with an inboard diesel in good shape. At the end of our search, we found a 1976 Corsair with a roller-furling headsail and a rebuilt 8-horsepower Yanmar YSB2 diesel with about 2,500 hours on it. We forked over $7,000, and then we got to work.

The first order of business was correcting problems that could sink or dismast us. The ancient gate valve on the through-hull for the engine's raw-water intake hose creeped me out. Gate valves don't belong on boats because they often fail, usually when you need to close them. While loosening the valve, it broke right off due to years of galvanic corrosion. Fortunately, the through-hull itself was fine, so all I had to do was buy a 70-100 Series Apollo marine ball valve. All the seacocks required disassembling for a generous lube job with Pennzoil multi-purpose grease.

Not surprisingly, we found minor bulkhead rot due to leaking chainplates on the starboard side. The sealant was mostly gone, allowing water to get below. Happily, the wood around the chainplate bolts was solid. All I had to do was reseal the deck fitting with 3M marine-grade silicone. I bought some BoatLIFE Git Rot penetrating epoxy and liberally applied it to the problem area of the bulkhead.

The manual bilge pump, a Whale Gusher 10, wasn't working properly. I purchased the rebuild kit for it and replaced the diaphragm and the vital innards. The Raritan Compact head also needed rebuilding. While I was at it, I replaced the holding tank black-walled wire-reinforced hoses-you're not supposed to use them for heads-with proper Dometic OdorSafe Plus sanitation hoses, a real bear of a job, I can tell you that! I also replaced the hoses from the freshwater tank to the galley sink with Shields Series 150 clear PVC tubing, adding a 6-inch SHURflo inline water filter as well.

A Bristol should look like it's in Bristol shape, which ours didn't. The varnished mahogany cockpit coaming and handrails were peeling. The unsightly mess had to go, so we sanded the coaming down to bare wood and applied several coats of Pettit 1015 Captain's Varnish.

The mast, spreaders, and standing and running rigging had checked out well during the survey, but the mainsail was worn and needed replacing. After some checking around, we ordered a sail kit from Sailrite, which is based in Columbia City, Indiana, specifying a mainsail made of 6.4-ounce Supercruise Dacron from Contender. You can either finish the sail yourself, if you have an industrial sewing machine, or have Sailrite do it, which adds labor costs. We opted to buy the completed sail with two rows of reef points.

The dodger was in pretty sorry shape and we wanted to replace it. Island Nautical Canvas in City Island, New York, quoted us a price of $1,125. We debated about spending so much on one item, especially since we spent big on the mainsail and still needed to buy electronics. After some soul searching, we went for the dodger anyway.

Next, we shopped for electronics. We wanted a fancy fixed GPS/chartplotter. However, we settled for a handheld Garmin GPSMAP 78 Series that would be adequate for our needs. For a depthsounder, we went with a Faria Digital Depthsounder from Jamestown Distributors in Bristol, Rhode Island. We liked the unit because it didn't have features we wouldn't use, and I could purchase it with an in-hull transducer. Long hours at the helm don't appeal to us, so we splurged on a Raymarine Autohelm ST-2000 tiller pilot, also from Jamestown Distributors, that I installed myself.

There were many other things on our wish list, but the bank was pretty much busted by the time we finished with the basics. In the end, we found and retrofitted the right pocket cruiser for us for just shy of $11,000, and we've since gotten years of happy memories to show for it.
Project list and cost summary
1976 Bristol 24 Corsair $7,000
Project list:
1. Ball valve $13
2. Seacock grease $9
3. Penetrating epoxy $19
4. Silicone sealant $13
5. Whale Gusher rebuild kit $55
6. Raritan rebuild kit $68
7. Sanitation hose $44
8. Freshwater hose $8
9. Varnish $33
10. Mainsail $1,345
11. Dodger $1,125
12. Handheld GPS + mount $325
13. Autopilot $575
14. Depth sounder $130
Total retrofit work: $3,762
54% of the purchase price
Grand total: $10,762.61