The Morgan Out Island 51 has a reputation it does not deserve. Many sailors think of it as something of a tub, a glorified houseboat with masts, a dockside condo at best, and just a bigger version of the original and much maligned Morgan Out Island 41. This misconception makes the Morgan OI 51 a terrific value on the secondhand market. The OI 51 is a roomy, capable cruiser that performs decently, especially when reaching, and you can find one in fair condition for around $100,000. With this in mind, we'll look at retrofitting a late model OI 51 for a cruising sabbatical in the Caribbean.

We will assume that we paid $120,000 for a nice version of this classic cruiser with the hope of getting it ready to head for the islands relatively quickly. Sticking to our tried and true retrofit formula, we are going to try to limit ourselves to spending 20% of the purchase price on upgrades, or in this case, $24,000. By parsing priorities, and doing much of the work we should be able to prepare our Out Island 51 for the breezy conditions of the West Indies, to sail in style and comfort.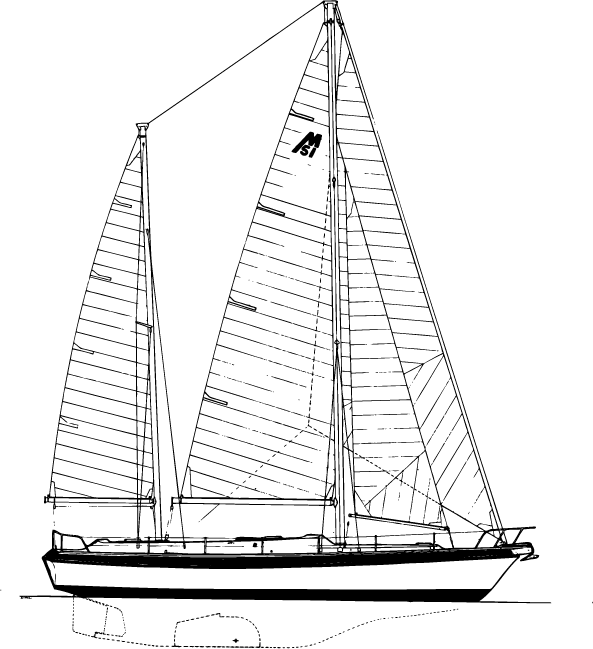 Naturally the first place to start is with the sails and rig. The previous owner had purchased sails a few years ago, so instead of investing in new sails, we decide to have the main, genoa, staysail and mizzen fully serviced. We drop the sails off at Nance and Underwood Rigging and Sails in Fort Lauderdale. A thorough inspection of the sails reveals that several need stitching here and there, the main needs a new headboard and the genoa needs a new clew ring. The total charge for sprucing up our sail inventory is $1,000 and this is money very well spent.

Next we turn to the standing and running rigging. Keeping the mast upright is job one, and replacing the standing rigging is a big job on any boat, but especially on a ketch-rigged cutter. The OI 51 has a total of 18 stays and shrouds. Wire diameters range from 7/16-inch for the forestay and main uppers, to 3/8-inch for the lowers and split backstays to 5/16-inch for the mizzen shrouds. Brooks Jones of Sailing Services in Miami recommends that you replace the wire rope with time-tested 1 x 19, 316-grade stainless steel wire rope. The wire is only part of the equation. The terminal ends are the critical component of standing rigging and also the most expensive part of the puzzle. Although simple swage fittings would save money, Jones recommends Sta-Lok mechanical terminals, especially because they can be assembled on site without the need for a hydraulic swaging tool. The cost of 780 feet of wire comes to $3,100. The cost of 36 Sta-Lok terminals, a mix of eye and stud terminal ends of various dimensions, comes to $2,160. Last but not least, you need new turnbuckles. Jones suggests classic open-body turnbuckles in chromed bronze that are both strong and flexible and come complete with a T-bolt, toggle and clevis pin. Eighteen turnbuckles add another $1,200 to the rigging bill.

Now of course, you have to build a new rig and you hire Bob Pingel of Custom Line Splicing in Milwaukee. To save money, he suggests that you leave the masts standing, and replace one wire at a time. You will serve as his helper to further control costs. Pingel will need two full days to complete the project, and his hourly rate is $70, translating into $1,000. Pingel also convinces you to replace the old headsail furling system while you're at it. You decide to add the Harken MKIV Unit 3 model. The cost of this unit, including the foil extrusions and toggle assembly, is $3,900 but it is always a good feeling to add a Harken system to your boat.

You know that you will do plenty of reaching in the Caribbean, and while the thought of a new cruising spinnaker or Code Zero-style furling spinnaker/drifter is enticing, it's not only a budget buster but not really practical either. The trade winds are strong, often too strong for casual spinnaker sailing. A robust whisker pole that allows for the headsail to be poled out is a more practical solution for effective downwind sailing through a wide range of conditions. Forespar Inc. is the leader in whisker poles and Bill Moser recommends the heavy-duty line control, telescoping aluminum pole model 405200 that can be extended to 27 feet. This pole is available through Defender Marine for $1,800. Shipping will cost another $60.

The last on-deck item to check is the running rigging. While the headsail, staysail, main and mizzen sheets are still usable, the halyards are stretched out and well worn. They need replacing. You decide to use Sta Set X by New England Ropes. This well-proven double-braid polyester line has a parallel core design that reduces stretching, making it ideal for halyards. You decide to go with 7/16-inch for the main and jib halyard because it's easy on the hands, and 3/8-inch for the mizzen. You order the halyards from West Marine, complete with a shackle splice and whipped end on each halyard. Total price is $500.

The next project on your list is to purchase and install a new autopilot. You know that reliable self-steering is one of the keys to happy cruising. The Morgan OI 51 has hydraulic steering, so you will need to use a hydraulic drive unit. You opt for the Raymarine Smart Pilot X, that requires three main components, the corepack, the drive and the control head. You choose the new P 70 compact control head, and Smart Pilot X 30 core pack, which is the "brains" of the system and includes the rudder sensor and fluxgate compass. Finally you choose the Type 3 hydraulic drive that will provide plenty of power to effectively steer the OI 51. Defender Marine will sell all three components for $3,795.

Buying an autopilot is one thing, installing it is another. You bring the boat to Spring Cove Marina in Solomons, Maryland, for the installation. General Manager Don Reimers estimates that it will require at least eight hours to properly install the new pilot, a cost of $720. Spring Cove has a crew of top-quality mechanics and you decide to use their expertise to also upgrade your out of date sailing instruments. Since you have chosen the Raymarine autopilot, Reimers suggests you stay with Raymarine for easy integration and consistency. The popular ST 60 Plus Wind, Speed, Depth instrument series is hard to beat. Stand alone, or fully integrated, they are easy to see day and night and highly reliable. Reimers can sell and install this package, including a tri-data repeater below at the nav center for $2,400.

We will be spending plenty of time on the hook, that's a big part of what makes Caribbean cruising affordable. You chose the Rocna anchor, confident that the company has put its recent manufacturing issues behind it. The Kiwi designed Rocna features a unique roll bar that ensures that the anchor lands blade down and ready to penetrate the sea bottom. The concave blade provides plenty of surface area and natural resistance to dragging. Erring on the side of caution, you select the Rocna 55-pound model, it costs $700 at West Marine.

The last item on your list is a life raft. You know that you want a Switlik raft because of its combination of quality construction and innovative, proven design. You also know that most of your sailing will be within the Caribbean basin, usually not terribly far from land. With this in mind, you choose the Switlik MD 2 Offshore six-person life raft. This raft includes a convertible canopy, a toroidal stability ballast device that was developed for Switlik's famous Search and Rescue raft, the MK 1, and a twin-tubed boat shape hull. Purchased at Landfall Navigation in a soft valise pack, the raft costs $4,600. This puts you over budget but also buys a lot of piece of mind.

Your retrofit is complete and you are ready to shove off for the islands. After a year of cruising you will find additional items that will need to be replaced or updated, but that's fodder for another retrofit issue.
Project list and cost summary
Budget
Morgan Out Island 51 $120,000
Project list:
1. Sails service $1,000
2. New standing rigging,
wire, terminals, turnbuckles $6,460
3. Labor for rig $1,000
4. Furling system $3,900
5. Whisker pole $1,860
6. Halyards $500
7. Autopilot $3,795
8. Labor for AP $720
9. Sailing instruments Installed $2,400
10. Anchor $700
11. Life raft $4,600
Retrofit total $26,985
22% of the purchase price
Grand total: $146,985