A flotilla charter to the Caribbean islands of the Grenadines is filled with camaraderie and playing pirate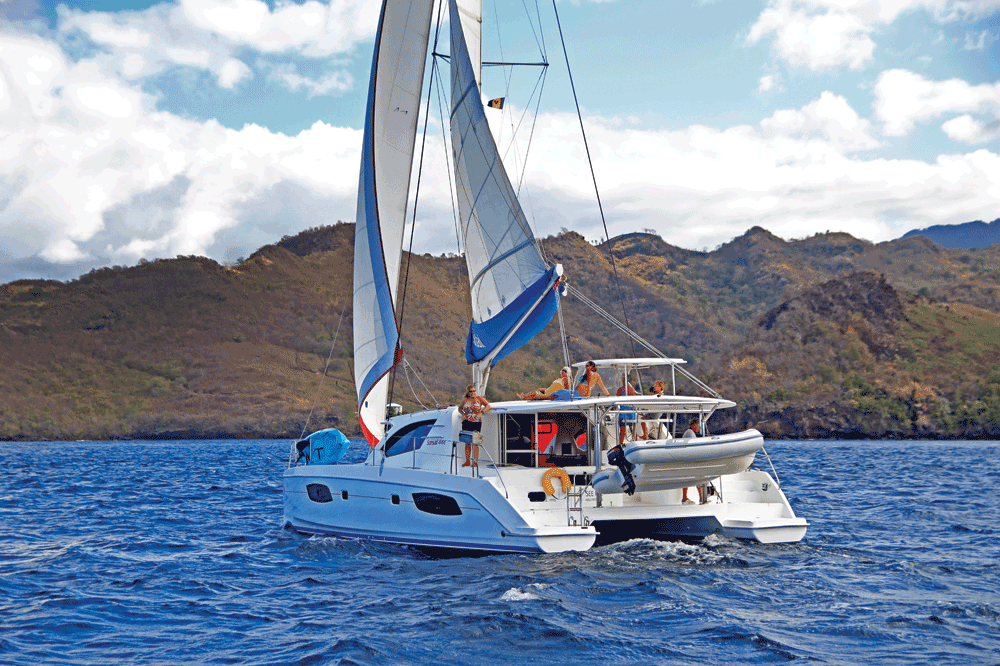 Bob Grieser
Digging deep into a wooden chest filled with doublets, waistcoats, sashes and breeches I found a tri-cornered hat, complete with beaded dreadlocks dangling from its leather brim. Perfect! Along with my plastic cutlass and scabbard, I was a near-clone of Capt. Jack Sparrow. I sauntered out into the bright sunlight to join my crewmates, scrambling over cannons and up ratlines like scurrilous pirates. St. Vincent and the Grenadines served as the primary filming location for "Pirates of the Caribbean" and a dozen years later, we found ourselves romping through several of the remaining movie sets at the town of Wallilabou, aka "Port Royal" in the popular movie series. It was just one of the many treasures we unearthed on a Sunsail flotilla cruise through the Windward Islands.
Our journey began at the northern end of St. Lucia, where Sunsail has a sizable base at the modern Rodney Bay Marina. After two beautiful days of voyaging south, we arrived in Bequia. Seven-square-mile Bequia is the second largest of the islands and the gateway to the Grenadines. Bequia's colorful capital of Port Elizabeth in Admiralty Bay is also a port of entry, with a thriving tourist trade. Charming shacks and tiny houses painted in brilliant hues were packed with crafts, artwork, clothes and foodstuff. Vividly painted, sturdy wooden workboats lined the beaches, where men hawked jewelry and carvings.
We devoured the town. Crewmates Rex and June searched for the best hot sauce, while others picked up spices, guava jam for our morning toast, and bargained for lobsters. Jane purchased a bottle of Tommy's Legendary Killer Rum Punch, a "secret blend of fruit juices and rums" said to "provide strength to the weak, back-bone to the spineless, courage to the fearful and voice to the mute." We dined on spicy dishes like conch t'ing, an acclaimed aphrodisiac, as a flock of beady-eyed Jamaican grackles schemed how to thieve our food.
Bob Grieser
After two nights we left Bequia for Tobago Cays. Like most of our runs, it was postcard-perfect, sailing beneath blue skies swept with stiff trade winds. We had chartered a Sunsail 444 catamaran that was spacious and comfortable, yet handled well in the gusty passages between the islands. Some of the six-person crew tucked away reading or lazing, others lay on the trampoline, whooping and hollering as brisk waves splashed over the deck.
"Tobago" is said to be the root of the word "tobacco" (or vice versa) but this small archipelago should be called "Tortuga Cays" after the Spanish term for turtle. It is home to a large population of green turtles, and as soon as we were moored off Baradal Island, we eagerly jumped in to join them.
The water was murky due to the lively seas, but our disappointment didn't last long. Floating in about 6 feet of water, where the bottom was sandy and dashed with sea grasses, a sphere-shaped shadow appeared in the blue. A turtle, about 3 feet in diameter, nonchalantly cruised by. Suddenly another intersected from the left, then two more from the right. We were surrounded, and we paused to watch as they tugged at the sparse grasses, swam gracefully to the next tuft and graze some more. Most of the Caribbean sea turtle species are on the endangered list, and this marine park was established to protect these animals and habitat. Safeguarded as such, they swam serenely in our presence—a rare and spiritual experience.
The Tobago Cays proved another idyllic location and we agreed to spend two nights. We nestled behind Horseshoe Reef, which was licked with white foam, delineating the dark smudge of Atlantic beyond. At night, it was the darkest dark.