See our feature story on chartering with a flotilla.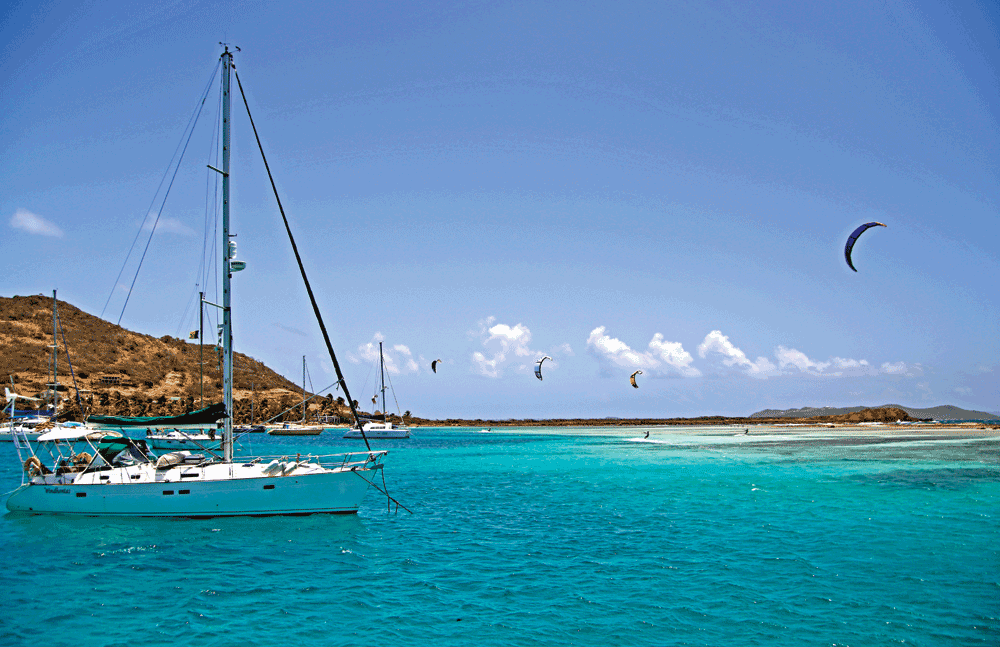 Bob Grieser
Flotilla sailing offers the benefit of a built-in group of friends, with many practical advantages as well. Daily weather reports, chart briefings and local knowledge, plus knowing a helping hand is not far away can set your mind at ease, whether you're a novice charterer, or old hand.
Flotilla sailing was first offered by Sunsail 40 years ago, and it has remained a leader in this field, with other charter companies and sailing clubs jumping onboard with flotillas offered worldwide either as a set program or available upon request.
For the rookie bareboat charterer, it's a no-brainer. In addition to navigation, seamanship and technical oversight, flotilla staff provide pointers on provisioning, fuel and water stops, even the top restaurants and sites to visit. Our leader escorted us to the various customs and immigration offices along our route, and helped fill out the paperwork. They pointed out the best places to swim, snorkel and anchor, and even saved a mooring can for us when we lagged.
"Their knowledge of each anchorage made landfall every evening a stress-free experience," said Rex Lundy, who sails his own boat in Redondo Beach, California. "The joy of entering a new anchorage where the staff were known to the locals, and accepted as professionals, made it entirely comfortable."
But veteran charterers benefit too. Whether we were traveling with the flock, or venturing out on our own, the lead boat was on call 24/7 via phone and radio, which was priceless in the event of a medical or mechanical problem. They even had a technician onboard, and the crew were happy to coach anyone who needed a little extra sail training.
And then there was the fun factor. "Cruising with a group means there is always someone ready for fun activities," June Marchigiani said.
"When I first heard we were going on a flotilla, I was concerned. I wanted it to be just us. But once we got to know the other boats, we looked forward to meeting up with them," Jane Cairns said.
Nightly rum punch gatherings, organized beach parties and dinghy adventures helped establish an esprit de corps among the yachts. And you can pick the right amount of togetherness during the week, whether you are social butterflies, or want to fly solo. Flotilla charters generally command a slight upcharge, and conformity to established schedules. But other than that, their advantage is an abundance of instant friends.
Sunsail offers flotillas in destinations around the globe, and can also arrange informal regattas and family activities. American Sailing Association hosts flotillas in the Mediterranean and Caribbean. Sail Superior offers a different take on cruising with the crowd with its Sunora rally for 5 to 15 charter boats. Another freshwater flotilla is available from Superior Charters, Inc. San Juan Charters offers flotillas spring, summer and fall. Go Cats and Ocean Voyages also offer custom flotilla charters.