The Gunboat 55 takes cruising to a higher level of innovation, speed and elegance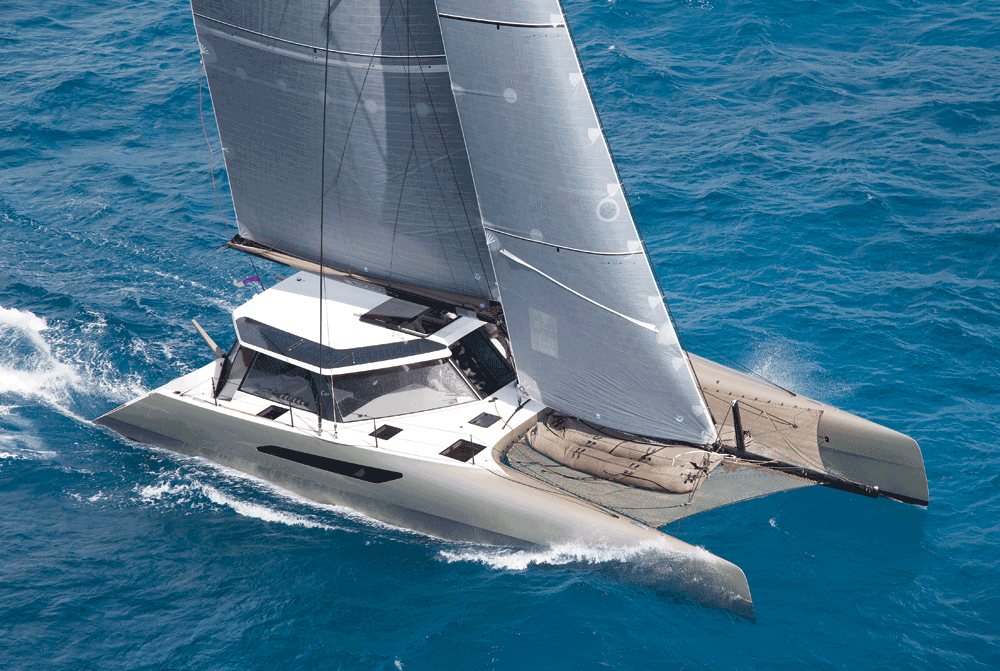 Jesus Renedo/Gunboat photo
The Gunboat 55 makes a powerful impact, but it is easy to get the wrong impression of this intriguing new model from Peter Johnstone and the crew at Gunboat International. Sure, the shapely hulls and stealthy deck lines cause necks to crane at boat shows. And it's a Nigel Irens design so there's no doubt it's a rocketship. The finely honed interior by Nauta Yachts based in Milan, Italy, is naturally elegant. So what's not to understand? Despite the fusion of design innovation and cutting-edge materials and manufacturing processes, the Gunboat 55 is a simple boat at heart.
"A talented couple can sail this boat around the world," Johnstone said. "We really believe in the less-is-more concept, and the 55 is designed for minimal maintenance and to be owner operated. This is a fast cruising boat. Think of it as Maserati for the milk run."
I sailed the Gunboat 55 in Annapolis last fall. It was a blustery afternoon, ideal conditions to see what the 55 was capable of, and I confess I was excited by the prospect of ripping along at 20 knots. The boat was easy to spot in the harbor. Photographer Bob Grieser maneuvered the chase boat alongside. I hopped onto the wide swim step and joked that I hoped he could keep up with his twin 100-horsepower outboards. Making my way to the saloon, I joined Johnstone and the boat's full-time skipper Chris Bailet. We quickly hoisted the main, courtesy of a hydraulic Lewmar 58 winch with toe controls at the helm station, raised the full-batten solent jib and sped off on a tight reach.
Our test boat was Rainmaker, the unlucky boat that would be dismasted in a microburst with hurricane force winds off Cape Hatteras a few months later. The crew, including new owner Brian Cohen and his son, abandoned the boat in a dramatic Coast Guard air rescue mission. Rainmaker was not recovered.