This German cruiser, a result of fresh thinking along with expert design and construction, is ready for the open ocean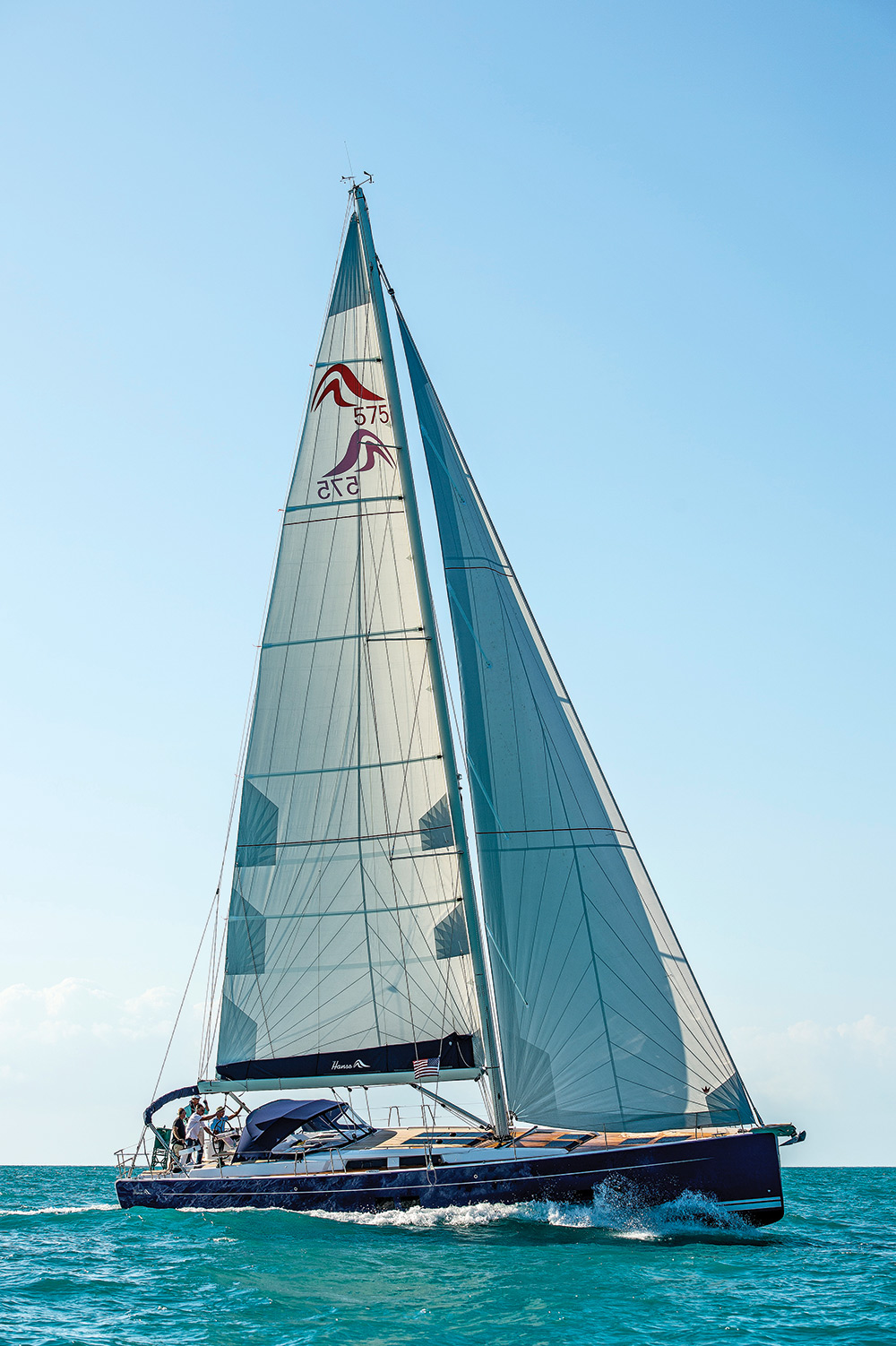 Walter Cooper photo
Down below
The 575 interior is all about versatility. Owners can choose woods, fabrics and one of six different layouts. The interior plans range from a five-cabin plus crew quarters arrangement, to a three-cabin plan with spacious owner's cabin forward, two doubles aft, three heads and showers and a deck accessed sail locker forward. This was the layout of the test boat.
All the plans have a similar saloon and galley arrangement, and the emphasis is on light, proportion and livability. Light is provided several ways, including through a choice of light wood finishes and also with numerous overhead opening hatches and sidelights that also provide terrific ventilation. Combined with enough headroom to make an NBA player feel at home, there's a sense of spaciousness that's truly remarkable. (There is so much headroom that cabins have a stepladder tucked away for opening hatches.) Livability is off the charts when it comes to sailboat interiors with copious space that makes it feel more like a Berlin apartment than a boat.
The longitudinal galley runs along the port side and includes a drawer style fridge and freezer, lots of counter space with substantial fiddles, storage lockers above and below, an optional dishwasher, flush-mounted microwave, wine cooler and a built-in cappuccino machine. At first glance it might seem challenging to cook on port tack, but there's a stand-up island that offers the cook hip support when heeling to starboard with extra work space on top. This island also conveniently houses the pop-up big screen television. And really, a boat like the 575 with a lot of beam stability is meant to be sailed flat, on its lines; excessive heel is a sure sign that it's time to reef.
The nav station is aft to starboard and Hanse calls it the office. It includes a large opening desk, several drawers and a comfy, well-supported swiveling chair. The electrical panels are outboard and there are areas for instrument repeaters and lockers for books and cruising guides. The saloon includes a large table that drops to form yet another bunk. Eight can sit comfortably for dinner but only six can watch the movie afterward. The saloon and galley flow well together, allowing the cook to be part of the conversation while meals are prepared. One complaint is the lack
of handholds.
The owner's cabin in the test boat was elegant with a centerline double berth and rich mahogany lockers above. There was a large hanging locker to starboard and a head and separate shower to port. The countertop washbasin was nice but I wonder how it will hold up in rough conditions. Electric heads are an option. The two aft cabins featured double berths, hanging lockers, shelves along the sides and en suite heads. The engine is accessed from behind the companionway and through the aft cabins.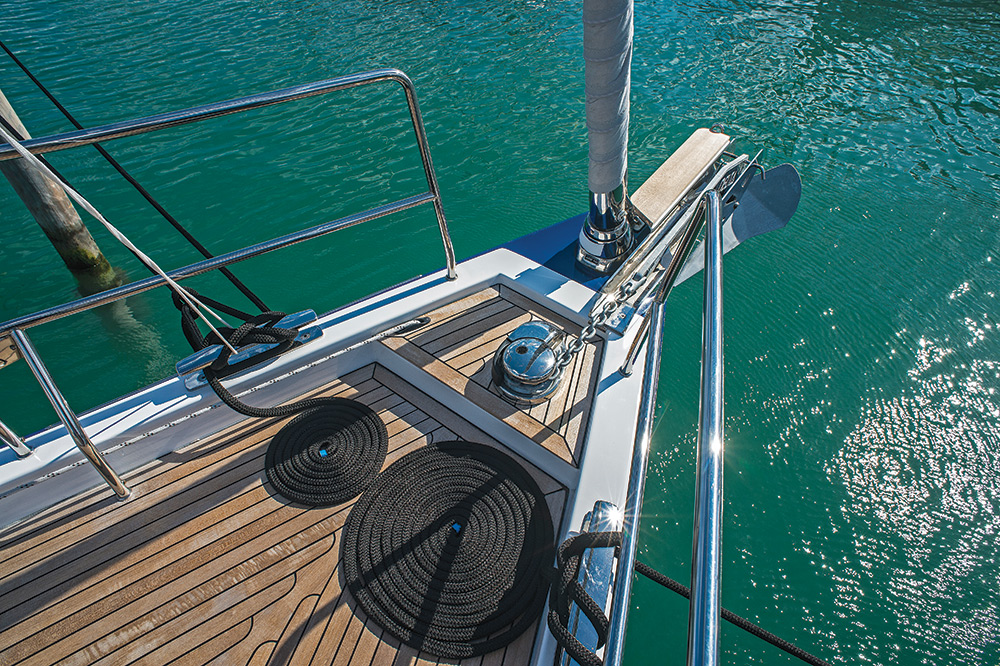 Walter Cooper photo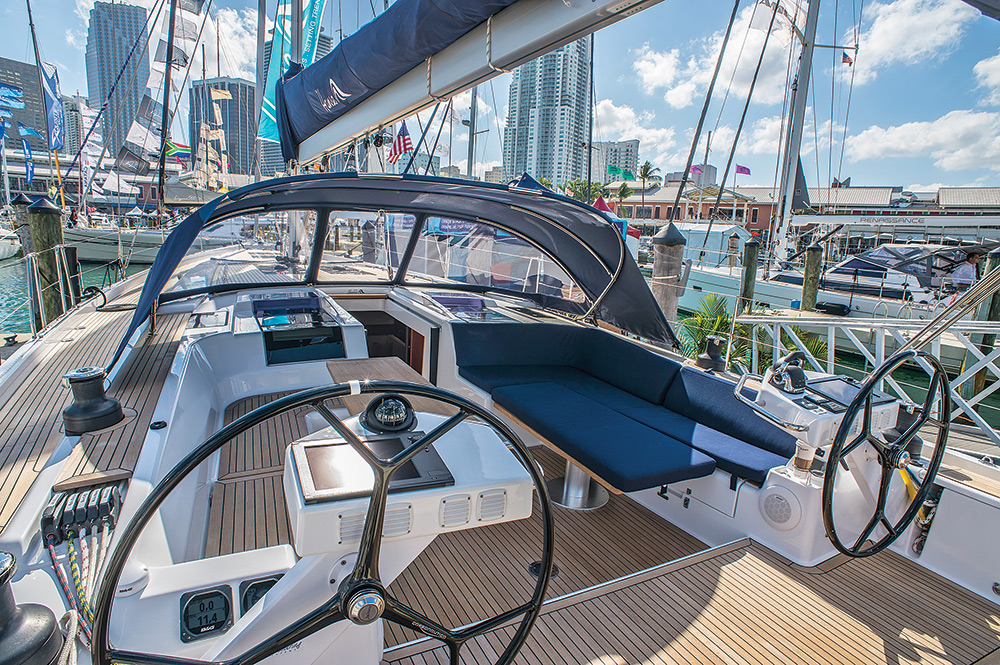 Walter Cooper photo
Under sail
Back on the ocean we were blasting along at 8 knots but it was clearly time for a reef in the main. This operation was a snap as we eased the halyard, eased the sheet, tensioned the first reef outhaul and downhaul, and then the halyard. The lazy bag captured the extra sail and we flattened out and sped up to 9 knots. The advantages of a small, self-tacking headsail were obvious in 25 knots as we executed several quick tacks. After each tack, the 575 accelerated smartly. The steering was easy and balanced, it was a pleasure to sail. I wonder if finding the necessary horsepower in light air will be more challenging, especially off the wind. However, the large main should keep the boat moving and the addition of an asymmetrical spinnaker and code 0 will provide the amps for light air reaching.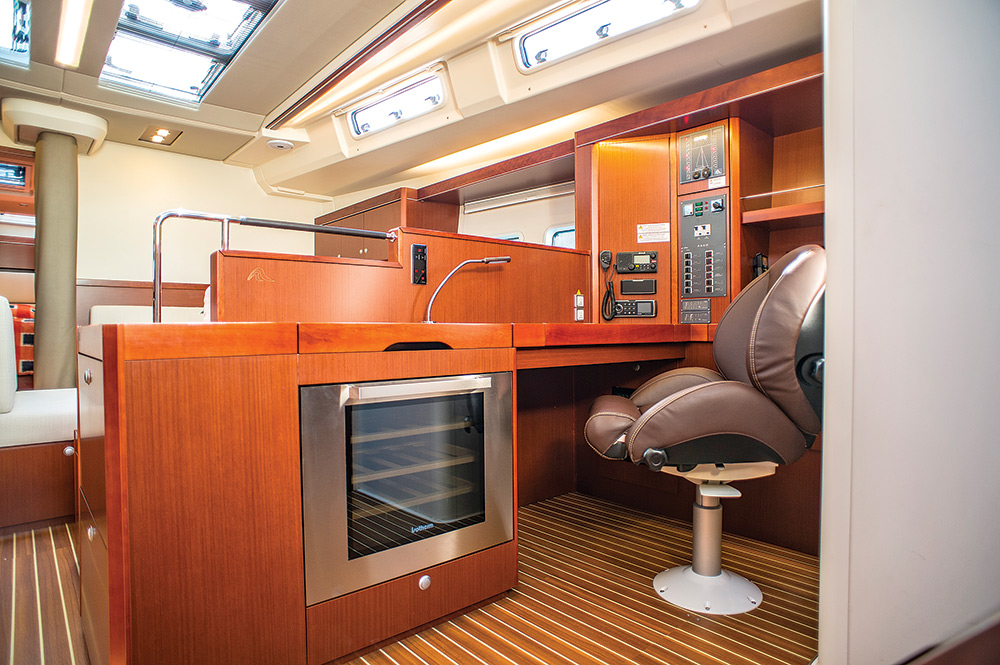 Walter Cooper photo
The Hanse 575 is a breakthrough. A couple or small family can safely and efficiently handle the easily managed sailplan, making the option of big boat cruising more realistic. The wide range of interior plans and emphasis on comfortable living spaces change the equation when it comes to living aboard, this is not a boat that requires sacrifice when moving aboard. Finally, Hanse has found a way to blend owner customization within the framework of production manufacturing. Take a look at the Hanse 575 and start dreaming big.