The 50th anniversary of the E-scow class Blue Ship Regatta brings the biggest names in sailing to Wisconsin's Pewaukee Lake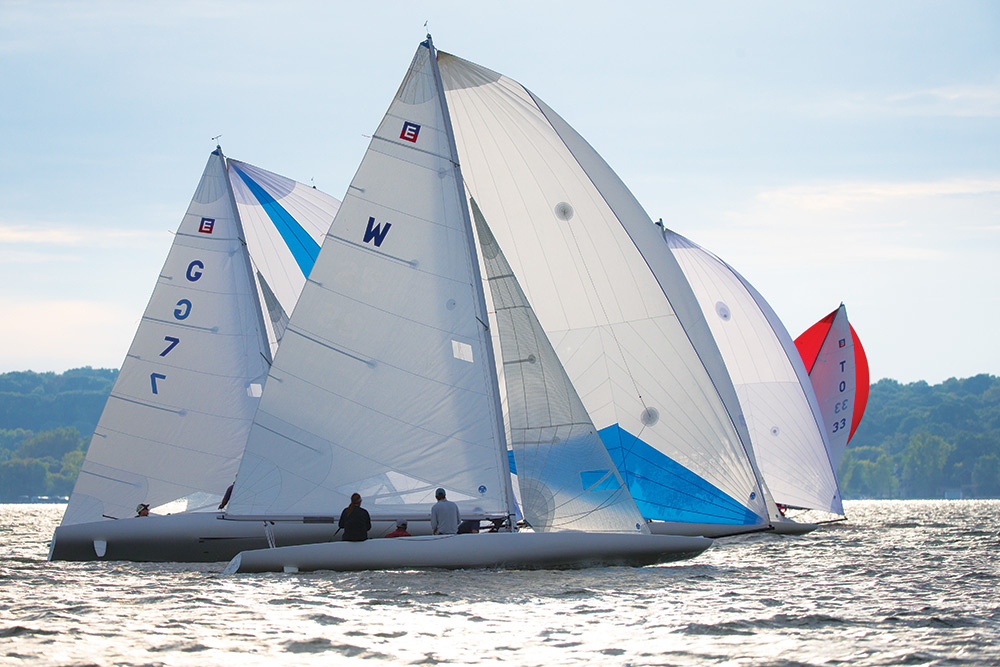 Sharon Green photo
Maybe it had something to do with the bounty of food and drink served. Maybe it was the chill in the early autumn air or something in the green-tinted lake water. Whatever the cause, Blue Chip Fever struck Pewaukee, Wisconsin, in late September. Kids missed school. Adults ditched work. It was highly contagious and it rapidly spread through the E-scow fleet as well as the world-class sailors and the army of volunteers gathered for the event.
Pewaukee Yacht Club has hosted the E-scow Blue Chip Regatta since 1966, with three days of competition featuring the best E-scow teams from around the country, plus an annual mystery guest, a noted sailor who joins one of the teams for the regatta. To celebrate the regatta's 50th anniversary, an all-star lineup of 24 previous mystery guests returned. World-class sailors like Paul Cayard, Gary Jobson, Dave Ullman, Betsy Allison, Bora Gulari, Peter Holmberg and more returned for another chance at Blue Chip gold. The two dozen "rock stars" boasted a mind-boggling number of Olympic medals and titles among them; and several kept time with Rolex watches, mementos of Yachtsman and Yachtswoman of the Year awards. Blue Chip Fever reached epidemic proportions, and it took upward of 150 volunteers to make it all happen.
"We have more volunteers than racers," said Pewaukee Y.C.'s Jim Campbell. "It's a fantastic effort, spanning four generations."
One of the driving forces behind the regatta, Campbell's enthusiasm was palpable and long-standing.
"I moved to Lake Pewaukee one month before Blue Chip No. 1. It was my 8th birthday—August 1966—and I've been around it my whole life. So many people have the Blue Chip in them," he said, including his daughter Katie, who worked with the media team, and his mother Karin, who served lunches. "One of the key aspects of the Pewaukee Y.C. culture is fantastic volunteerism, working like crazy to make it happen, but having a ton of fun while we do it."
And what they pulled off was amazing. Every mystery guest was met at the airport, hosted in a member's home and fed scrumptious meals at Pewaukee Y.C. They were paired up with E-scow teams who traveled from far and wide and drew straws to see which mystery guest would skipper their boat. Yes, that's right, the Blue Chip owners turn over the tillers of their boats to people they just met.
"The people couldn't be any nicer," said Cayard, who has skippered in the Olympics, Whitbread Round the World Race and the America's Cup. "They opened up their houses, gave us their boats—it's really what the camaraderie and spirit of sailing is all about."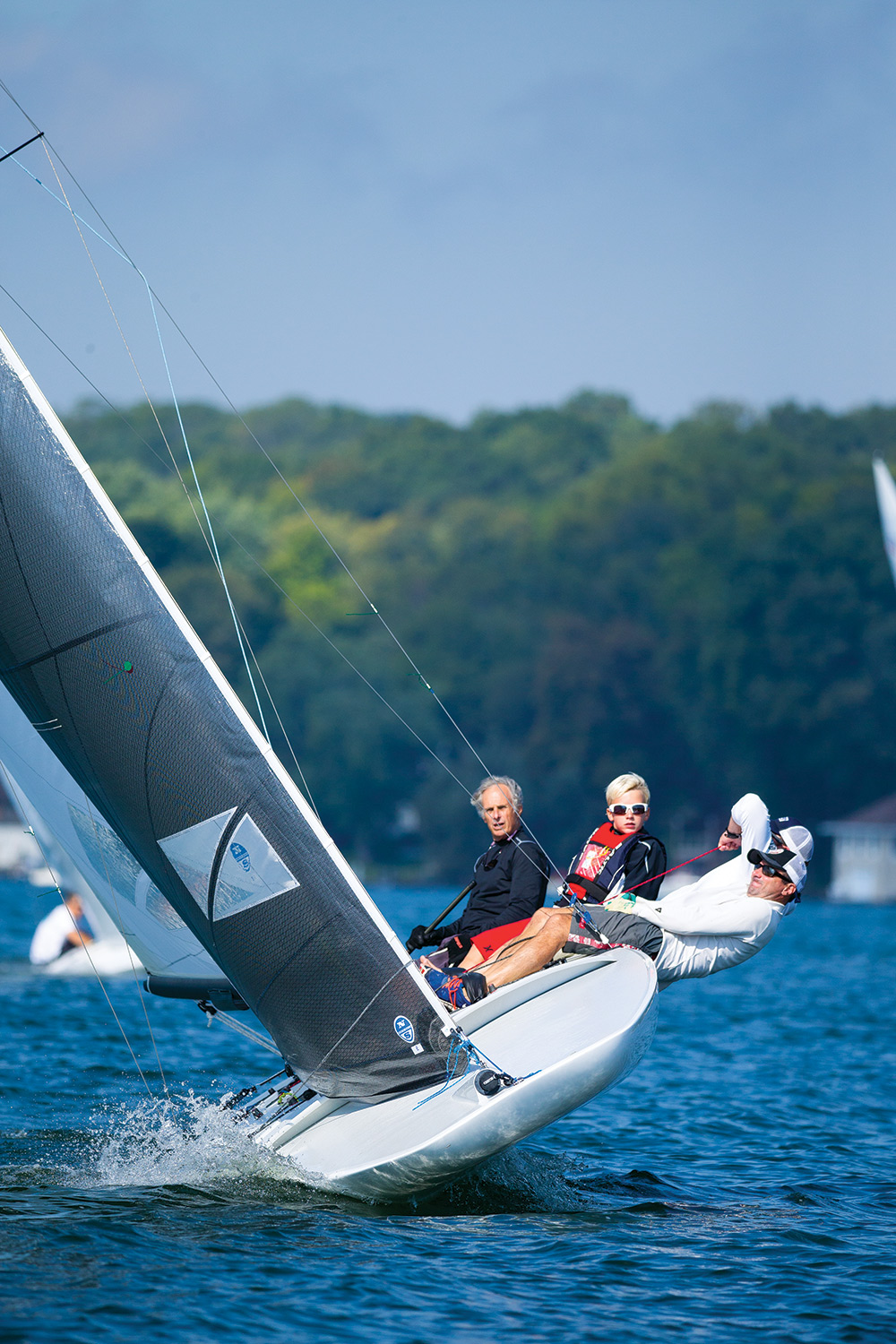 Sharon Green photo
Cayard was the first American skipper to win the Whitbread Race, yet he has little inland lake racing experience.
"I could count on one hand the amount of times I sailed in fresh water, and I'd never sailed scows before," Cayard said of his first experience as a mystery guest in 1992.
At 28 feet long with a 6-foot 9-inch beam, the E-scow was developed in Pewaukee almost 100 years ago as an alternative to the larger A-scow and B-scow boats. It's actively campaigned in just a handful of states on large inland lakes and protected bays. But it's the E-scow's distinctive blunt bow and flat bottom that are the secret to its speed. Sailors who haven't sailed one before are surprised at the speed and responsiveness.
"They're pretty funky and look like clunkers, but they go like a bat out of hell," Cayard said. "Yesterday afternoon the boats were ripping along. A couple tipped over; luckily we didn't. We had a great day yesterday, but struggled a little in the morning. But everyone's doing the same thing. If we were really campaigning and really worried about results, we'd be investing a lot more time—it's more about just being here and having fun."
The modest Pewaukee Y.C. clubhouse was augmented by a large party tent for the event and sailors and worker bees mustered by 9:30 a.m. as the morning fog lifted. The windward-leeward race course was set off the club on Pewaukee Lake's west arm, with the fleet tacking up the north shore so close the sailors could practically grab a seat in one of the Adirondack chairs lining the lake front. An armada of pontoons and sportboats lined the course, and spectators rafted up to cheer encouragement to the sailors. Anglers in small skiffs steadied themselves as the sailboats and spectator fleet paraded by. Locals piled into boats with binoculars and noise makers. Race organizers politely reminded spectators to keep the line clear, as the "racer chasers" all wanted a view of the action, but all were respectful of the competitors and kept a safe distance. With so many spectator boats loaded with children, it was easy to see why this was the highlight of the year for many sailing families in Pewaukee, a village of 13,000.