One small ball bearing, one giant leap for hardware
A quest for less friction changed the face of sailboat equipment and created one of the industry's thriving businesse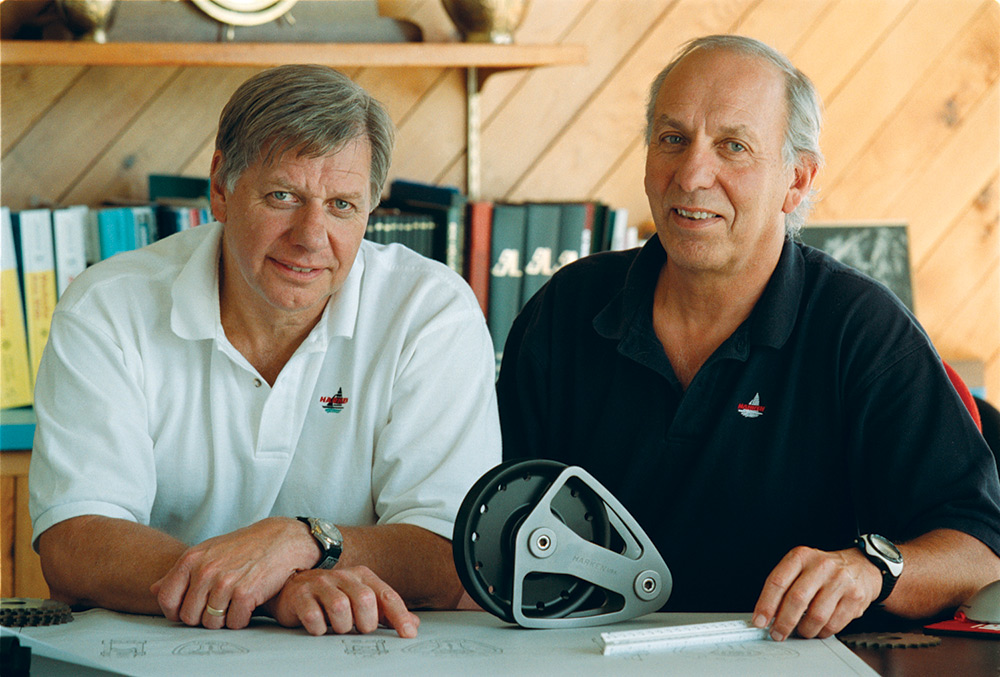 Revolutions aren't always noisy, colorful affairs. Sometimes they start with just a ripple, a whisper—or the sound of tiny plastic balls hitting the ground.
Sailors have always sought lighter, stronger hardware that would make powerful boats easier to handle. Yet until the 1960s, sailing hardware was heavy, clumsy and decidedly not user-friendly. One Wisconsin sailor recently recalled his youthful adventures aboard iceboats and E-scows more than a half-century ago.
"Iceboats have a lot of pulleys, and it was hard for the line to react fast," he said. "There was too much friction. And with the scows, if you were sailing downwind in light air, you had to push the big, long boom out. All that jostling around, instead of sitting quietly, slowed you down."
That sailor's name is Peter Harken, and he couldn't have known that one late night at his college job would transform not only his future and that of his brother, Olaf, but the entire world of sailing.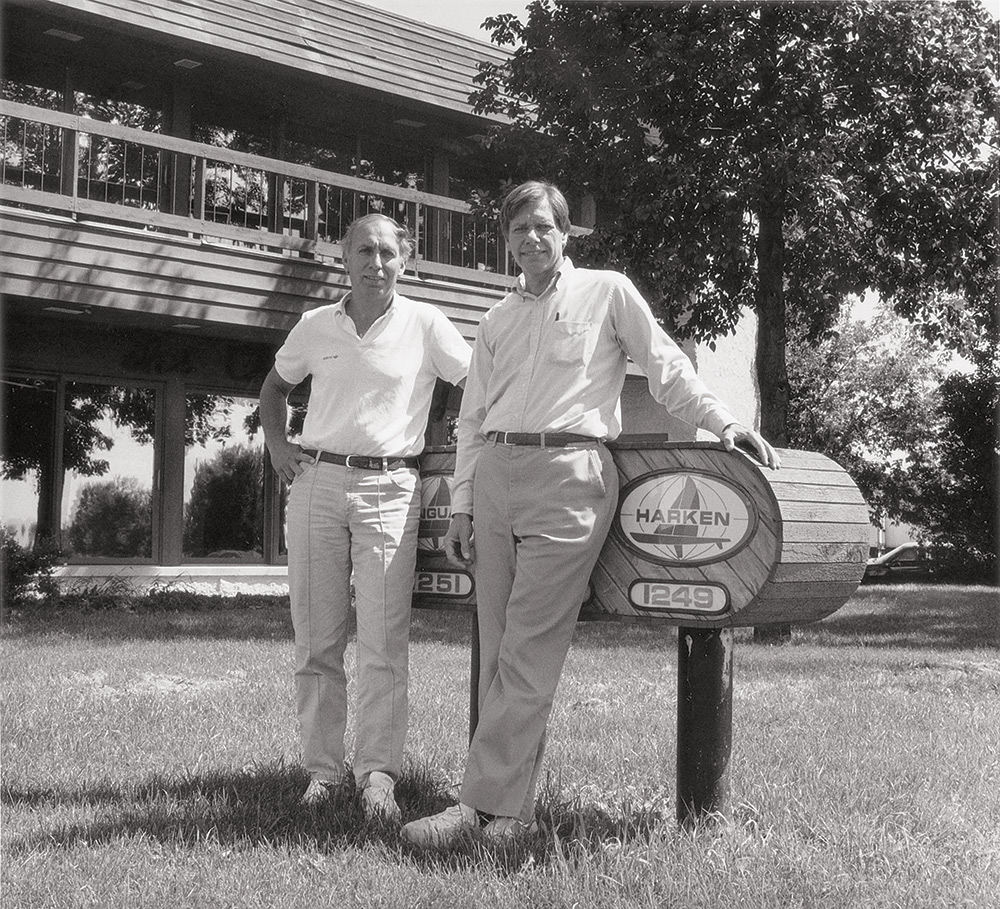 Born to Dutch and Swedish parents in Indonesia and raised in the Philippines, the Harken brothers decided to attend college in the United States. Olaf Harken headed for Georgia Tech in Atlanta, where he majored in industrial engineering. Peter Harken attended the University of Wisconsin at Madison, where he became deeply involved with the UW Hoofers sailing club and spent many happy hours sailing and iceboating on area lakes.
When his academic performance suffered, and his father withdrew his financial support, Harken spent some time ski-bumming in Colorado before returning to Madison for a second shot at higher education. He took a job at Gilson Medical Electronics in nearby Middleton to help pay for his schooling.
"(Dr. Warren) Gilson was a genius in his own right," Harken recalled. "He hired me as a designer in the development department. He liked sailing also and came down to Hoofers quite a bit, so he let me work on gear for my own boats. I was a student and had no money for that kind of thing."
The young sailor was busy working on a personal project at Gilson's headquarters one night when some of the company's plastic ball bearings rolled off the table.
"Those balls hit the floor, and I just thought, Jesus," Harken said. "The only thing I was decent at in school was physics because I enjoyed it. It was something I remembered, and it hit me: Geez, what if I put these white plastic balls in a block or sheave?"
Harken knew from years of experience that the metal roller bearings in a sailboat's blocks were a significant problem. Metal was heavy, and the blocks just weren't quick enough. The lighter plastic bearings, on the other hand, meant faster acceleration.
He sketched his idea for a new sailboat block on a napkin. And then he started making them.
"I was only going to make them for myself," he said. "For the E-scows and iceboats."
Other sailors started to notice.
"They saw I never had to push the boom out," he said, chuckling. "They'd ask, 'Where'd you get those? Any chance we could get some?' But they were handmade. It was $10 for a block, and it cost more to make the thing, with my hours!"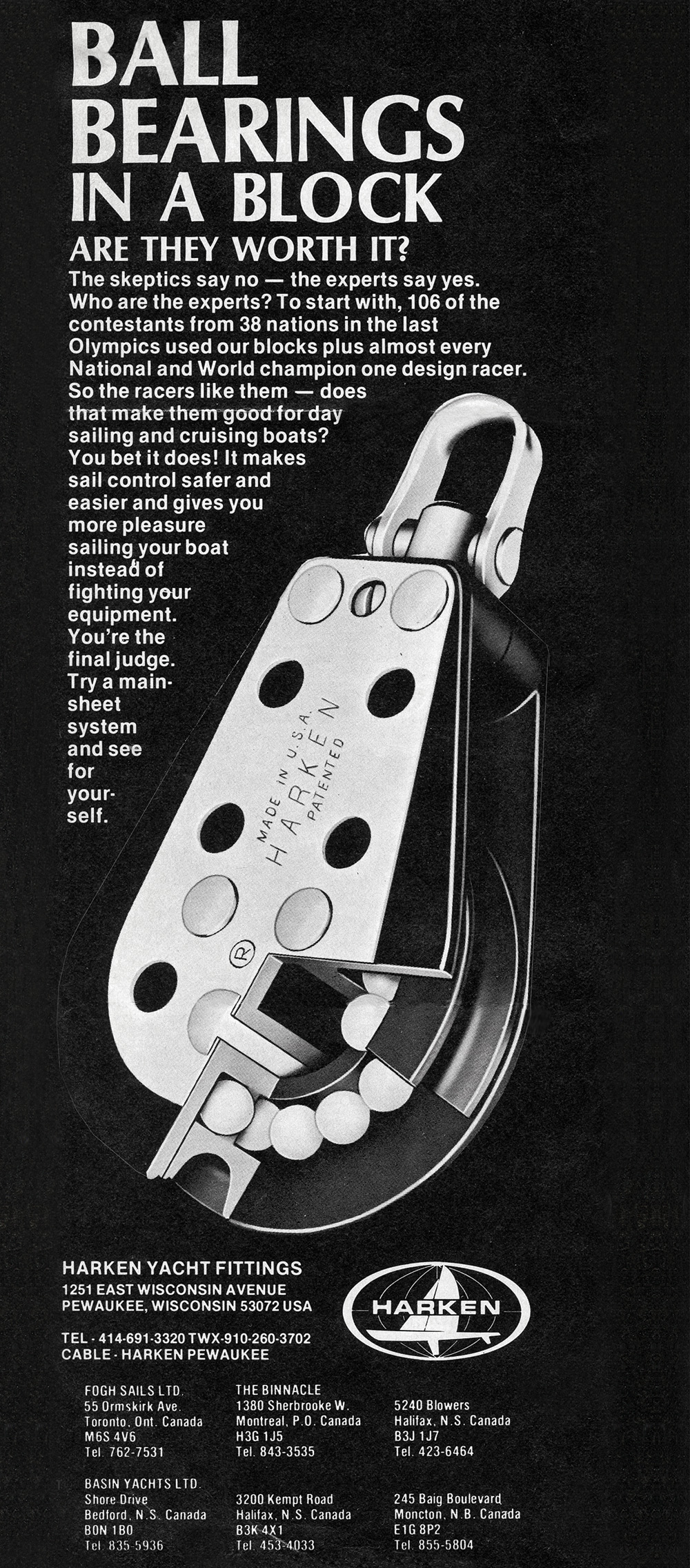 Harken knew he couldn't go into serious production without the capital required for injection-molding capabilities and the necessary tooling. So, instead, he and Olaf turned to boatbuilding, founding Vanguard Sailboats in Waukesha, Wisconsin, in 1967.
The Harkens adapted the MIT-designed Badger Tech dinghy to create a beginner-friendly, durable boat perfect for the Hoofers. They also produced collegiate sailboats like the Flying Junior and the 420.
Through it all, the Harken brothers continued making blocks for themselves and their friends. Then a critical twist of fate came along in the form of Gary Comer, founder of Lands' End, which at the time was a marine hardware supply company.
"He was a good Star sailor, and we were friends," Harken said. "He produced this black-and-white catalog and wrote all the descriptions himself. He was an old ad writer, so it was fun to read the stories. He invited us down to Chicago so he could see the blocks.
"We weren't ready at all, but we said OK. We brought them down in a cigar box. He took a hard look, played around with them and then said, 'Well, guys, you're getting a half-page in the catalog, so you'd better get going."
The brothers returned to Wisconsin in what Harken described as a state of total panic. They had no idea how to ramp up production—until salvation came from an unexpected quarter.
"Our landlords in Waukesha were two brothers, tool-and-die makers, and they started out like we did," Harken remembered. "They felt empathy for us, so they said, "We'll make the blocks for you.' They didn't know anything about sailing. We just figured, let's see what happens, and if it all goes to hell, it was a grand adventure."
In an interesting footnote, that no-contract arrangement, founded on just a handshake, would endure for more than four decades.
The Harkens' block business would soon catch on fire, thanks to the 1968 Olympic Games in Mexico City and the 1969 Lands' End catalog.
"There wasn't anything like it on the market," Harken said. "We made blocks for Lowell North (Star) and Buddy Friedrichs (Dragon). They both won gold medals."
Attention came from as far away as Europe. Then the Lands' End catalog hit, with Comer noting that U.S. Olympic trial sailors used more Harken blocks than any other single make. Bruce Kirby, editor of a magazine called One-Design and Offshore Yachtsman, weighed in as well.
"These diabolical devices are called Harken ball bearing blocks," Kirby wrote in a humorous op-ed piece, "and in my opinion, it will take years for yacht designers to come up with boats fast enough to stay under the sails."
By 1972, Harken blocks were the standard at Olympic sailing events. Thirty-four boats carried Harken gear at the 1972 Olympics in Germany, and that number skyrocketed to 106 at the 1976 games in Montreal. The company later became official equipment supplier for the 1984 games in Los Angeles and the 1992 games in Barcelona.
These original blocks are still available, although they're now considered "Classic," venerable elder siblings to the space-age Carbo AirBlocks that debuted in 1999.
Looking back, Harken identified two pivotal moments in the life of his family business. One was picking up the 470 from the French, because it allowed the company to expand from collegiate boats into hardcore racers. The other was that auspicious night in Middleton, with plastic ball bearings bouncing on the floor.
Those moments catapulted the brothers into the stratosphere, transforming their grassroots family operation into one of the world's top manufacturers of sailboat hardware and accessories. Still headquartered in Pewaukee, Wisconsin, Harken Inc. (the company sold off Vanguard in 1986) manufactures its products in the United States as well as in Italy, and it maintains offices in four states and eight countries around the world. Peter and Olaf remain with the company as global CEO and vice global CEO, although Olaf's challenges with Parkinson's Disease have impacted his travel schedule.
Peter Harken's long-ago eureka moment transformed sailing itself. "Peter came to Zenda (Wisconsin) with his new blocks, and we put them on our E-scows," remarked Buddy Melges at Harken's 40th anniversary celebration in 2007. "They made these powerful boats so much easier to sail. Without those blocks, where would small boat sailing be?"