Lively cruiser packs lots of comfort and style into an affordable 35-foot package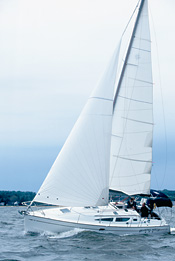 As we negotiated the twisting channel under sail, executing a series of controlled jibes, the new Jeanneau Sun Odyssey 35 demonstrated its easy maneuverability. A few minutes later, sailing smartly to weather in gusty conditions, it was easy to forget we were test sailing a boat with an LOA of just 35 feet, 3 inches, it felt and handled like a bigger boat, especially when the GPS inched toward 7 knots over the ground. A versatile Marc Lombard design, the Sun Odyssey 35 combines a lively hull shape and spacious interior with an easy to handle sailplan controlled from a comfortable aft cockpit. Yet, to find its most impressive design detail you'll have to work your way down to the bottom line on the spec sheet: A nicely equipped version of this handsome performance cruiser sells for a little more than $100,000, making the 35 one of the best values afloat.




The details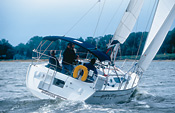 The Sun Odyssey 35 was inspired by the success of its big sister, the 37, and incorporates many of the same features, including a similar modern profile. To say the sheerline is subtle would be an overstatement and of course the bow is nearly plumb. However, a nicely sculpted trunkhouse flows naturally from the deck and together with the slight reverse transom, its look helps to soften the lines. There is no mystery as to why the Sun Odyssey 35 is a spacious boat, both on deck and below-it's a direct result of beam. While the overall beam of 11 feet, 5 inches is not excessive, designer Lombard carries the beam almost all the way aft, creating a wedge-shaped hull high in form stability that also scoots when sailing off the wind.

Below the waterline the Sun Odyssey sports a high-lift external iron keel and a balanced rudder. The standard draft is 6 feet-our test boat was fitted with the optional 4-foot, 9-inch shoal keel. If you sail in extra skinny waters, a lifting keel model is also available. This innovative option includes a wing keel that lifts straight up into the hull and twin canted rudders. If I sailed on the wide, shallow New Jersey bays or exclusively in the Abacos for example, I would look seriously at this keel plan, which has a keel up draft of just 3 feet, 1 inch.

For a design that is primarily aimed at casual cruising there is a surprising concentration on performance and wetted surface is kept to a minimum. A flat forefoot and shallow rocker undoubtedly contribute to the 35's quick acceleration but it also gives the boat a tendency to pound a bit in a chop. Looking in the opposite direction, the beefy deck-stepped spar includes double sweptback spreaders. An air draft of 50 feet, 5 inches means that few if any fixed bridges will stand in your way as you make your way out to sea.

Like all Jeanneaus, the new 35 is well engineered and constructed with the moodiness of Neptune firmly in mind. The hull is solid fiberglass, supported by a robust fiberglass grid that also absorbs the loads of the stainless steel keel bolts. Vinylester resin is used in the outer two laminate layers to prevent osmotic blistering. Bulkheads and furniture facings are fiberglassed in place, molded liners and prefabricated pieces are kept to a minimum. The rudder is fiberglass and foam over an inner stainless framework. The stock is also stainless. The fiberglass steering tube includes two self-aligning bearings. The 35's balsa-cored deck features Jeanneau's new resin infusion process called Prism, which accurately controls the laminate thickness and allows for an environmentally friendly dry layup.
On deck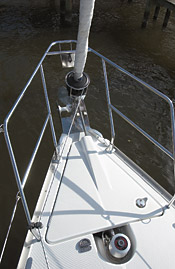 The steering console-it's not really just a pedestal-features Whitlock cable steering and molded pods for sailing instruments. The leather-covered wheel is large enough-35-inches in diameter-to provide leverage and nice touch but not too big to make it a squeeze as you make your way aft to the swim steps. The Harken 40.2 self-tailing primaries are easily reached from the helm.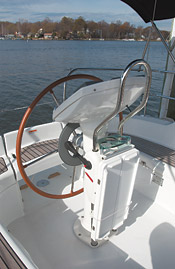 "I often sail singlehanded," explained owner Vic Marone, a retired engineer and former hardcore racer who accompanied us on the boat test. "This cockpit was one of the main reasons I bought the boat. It's large enough to take my grandson and his friends sailing but I can still handle the sails by myself." Most other sail controls are led aft through Spinlock jammers on the coachroof to a pair of Harken 32.2 winches.

The cockpit has a unique shape, it flares aft, which takes a bit of getting used to. Although it is quite roomy and the seat backs are shaped for comfort, it's also a bit wide and tough to find foot support when the boat is well heeled. There are large storage lockers port and starboard, with a dedicated perch for the liferaft to starboard. The propane locker is aft. The helm seat lifts to provide access to the stern step, which includes a fold-down stainless ladder and a hot and cold shower. A small teak deck on the step provides excellent nonskid.

Jeanneau's intricate molded nonskid provides good traction as you make your way about the deck. The side decks are relatively wide and the inboard chainplates not only provide close sheeting angles but also make it easy to maneuver on deck. A double stainless steel bow roller and Lofrans electric windlass are standard and nice features for a production cruiser. The external chain locker is big enough to accommodate serious ground tackle. The cleats and hatches are by Goiot.

Marone opted for the standard conventional mast, "I like the power of a big mainsail, I just don't like furling mains," he said. Still, most new 35s come equipped with an in-mast furling mainsail arrangement. The mast is deck stepped with a collar and lead blocks. Most deck gear is by Harken, including the midboom traveler arrangement and genoa tracks and leads. ProFurl headsail furling is standard. Our test boat was fitted with a 135-percent genoa and a partial full-batten mainsail, both by Elvstrom. An optional bowsprit is available for an asymmetrical spinnaker, another point demonstrating the versatility of the design.
Down below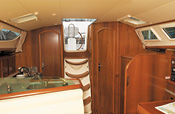 The interior of the Sun Odyssey 35 is an interesting departure for Jeanneau and clearly aimed at appealing to North American sailors. While two cabin plans are offered (a two- or three-cabin option) they apply only to the aft section of the interior. The two-cabin model opts for a large queen berth aft, while the three-cabin arrangement calls for two doubles separated by bulkhead.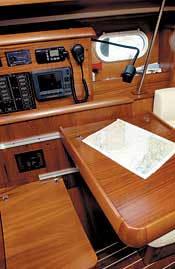 Both plans include a single, good-sized head and shower aft to port, which makes sense. There is no need to waste space in a 35-foot boat with two heads. After dropping below, the galley is to starboard. Unlike other French designs, which feature compact galleys, or place them amidships but off to the side, the Sun Odyssey 35 has a large L-shaped galley with plenty of storage and counter space. A clear panel separates the galley from the saloon but does not isolate the chef. Twin stainless sinks, rectangular instead of round, a two-burner stove and oven and 12-volt cold-plate refrigeration are standard. A halogen overhead light is well placed, complimented by a sky light that can be closed with a clever shade.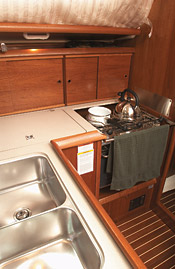 The chart table is quite unique but very functional. Forward facing and positioned off to port, the table slides when not in use to lengthen the port saloon settee. When in the conventional mode, there is a curved navigator's seat, a shelf for manuals, a clever adjustable spotlight, a panel for repeaters and access to the electrical panel. Speaking of electrical matters, one area to upgrade the standard 35 is in the battery department, the 70-amp house battery is undersized.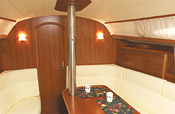 The saloon includes a C-shaped settee to starboard, draped around a handsome teak table that encompasses the stainless steel mast compression post. The table has three positions, it can be dropped to form a double berth, raised for cleaning, or left alone for serving up a nice meal. Storage is in sectioned lockers beneath the seats. Access to the water manifolds is behind the seat back. Halogen lighting is used throughout the boat. Headroom in the saloon ranges from 6 feet, 3 inches to just over 6 feet.

The forward cabin features a large berth, a hanging locker and dressing seat. The absence of a second head creates welcome elbow room. The single aft cabin, which was the way the test boat was set up, includes a huge bunk, a hanging locker and book shelves above the berth. This plan also offers a large locker to port, which is really a garage and very useful. There is excellent access to the engine and steering system through this cabin.

A three-cylinder 27-horsepower Yanmar diesel is standard, with a 34-gallon fuel tank that translates into a range of a 250 to 300 miles depending upon conditions. Access is from the aft cabin and primarily from behind the companionway. The engine room is soundproofed well and the Yanmar is a quiet engine by design. It was hard to hear the motor running from the cockpit. A dripless stuffing box is standard as are bronze through-hull valves on all below-the-waterline fittings. A fixed two-bladed propeller is standard, and while a feathering prop would be a nice upgrade, we charged along at 6-plus knots without much fanfare.
Under sail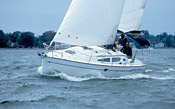 The conditions on the Chesapeake Bay were breezy, the winds were gusting more than 20 knots as we close reached south. With full sails set we were definitely a bit over canvassed but the sailing was great just the same. We accelerated rapidly with the boat speed steadying out in the high 6-knot range. At times the helm was overloaded, but once we spilled a bit of wind the boat was instantly under control. When the wind dropped to 15 knots true we found our stride and were well balanced and perfectly trimmed sailing 60 degrees off the wind. When it gusted above 20 knots, we knew that a reef in the main and a tuck in the jib were in order but instead we just fell off. Sailing on a beam reach we topped 7 knots and the boat had a solid feel in the water. My notes say, "No creaks or groans, the boat seems happy." I was also surprised how well we handled the building chop, the ride was surprisingly smooth.

As we reached back toward the dock, Marone, who's previous boat was a Ranger 29, explained his reasons for zeroing on the Sun Odyssey 35. "I wanted a fast boat, but not a racer, and I wanted shoal draft too," he said. "I like the prospect of sailing all day, finding a little creek and anchoring next to a cornfield. Also, this boat represents a lot of boat for the money, the value was what finally convinced me to write the check."