0906 Issue
As his first boat, this sturdy Alberg-design remains close to the author's heart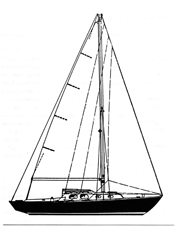 My first boat was a Bristol 27. OK, I'll admit that was 28 short years ago. Yikes. It was a 1966 model with a dreadful name, Lobster Mobster. I spotted it lying on the hard in a small boatyard up the Clinton River in Mount Clemens, Michigan. I had dropped out of college again and my future was not looking all that bright. My mother offered me a deal. Instead of wasting money on another semester of school she would match what I raised that summer as long as I put it into buying a sailboat. She knew the only thing I wanted to do was sail. There was one condition however: Once I had the boat I had to take off and go cruising. Not surprisingly I took the deal. I sold my car, washed windows and worked in a muffler shop. It was late October by the time I raised $5,000. She chipped in $4,000 and there was just enough left over to ship the boat to Florida. I took the bus south, met the boat in Miami and I have been sailing ever since.



I remember my Bristol 27 fondly. Designed by Carl Alberg, she was robustly constructed and nice to look at. I kept the boat for two years, sailing all over the Keys and Bahamas, and I mean sailing. The outboard engine died soon after the boat arrived in Florida and I could never afford another. I remember tacking up the Miami River raising seven bridges along the way; yikes again. Although I was naive, luck was with me, I couldn't have a picked a better boat to cut my teeth on.

Clint Pearson, who along with his brother Everett had founded Pearson Yachts, created Bristol Yachts after selling Pearson in the mid-1960s. One of the company's first boats was the 27, which was shamelessly copied from the successful Pearson Triton, but was a good quality boat. The first 27 was launched in 1965 and was an immediate success. More than 170 were sold the first two years and although nobody is quite sure how many were finally built, most estimates put the number between 300 to 350 before production ceased in the mid-1970s. There is always a decent selection of Bristol 27s on the market and most are listed for under $12,000, making them darned
good values.
First impressions
The Bristol 27 is a vintage Carl Alberg design. The hull shape has a short waterline with long overhangs, a sweet sheer, low freeboard and a stair step cabintrunk. It may not be a fast hull but it looks relaxed and quietly capable in the water. All of Alberg's designs have a DNA connection to the Scandinavian Folkboat, the small low-slung sea boat that emerged after the war and helped make sailing popular in Europe. Below the waterline the Bristol 27 features Alberg's classic cutaway full keel with an attached rudder that slopes aft. Draft is a moderate 4 feet. Inboard models house the prop in a completely protected aperture. The low-aspect sloop rig includes a deck-stepped spar, a long boom and a whopping total sail area of 340 square feet.
Construction
Much has been written about the heavy construction of the first fiberglass boats. While that may not always be accurate, it was certainly true with early Bristols. In the two years I owned my 27 I never pumped the bilge-honest. Granted I had no engine and a porta potty for a head, (the only through-hull fitting was for the sink discharge) but it didn't leak a drop. And I gave it plenty of opportunities by going aground all over the Keys and Bahamas. The hull was Kretschmer-proof. The construction wasn't fancy but it was strong. The boat never flexed or groaned in a seaway. The 27 was built with a solid fiberglass hull and deck through-bolted on deck clamp. The deck and coachroof were an integral mold. A fiberglass liner was used overhead in the interior. Bulkheads were well tabbed to the hull. The lead ballast was encapsulated in the
keel cavity.
What to look for
There were three different versions of the Bristol 27. The Weekender featured a long, 8-foot cockpit and was more of a daysailer with a very small interior. The standard model, sometimes called the cruising model, came with opposing settees and no table; that's the model I had. The dinette model included a table to starboard that eliminated the settee. The dinette model was the most popular. Early 27s also came standard with an outboard engine that was mounted in an enclosed well that was not the best idea. The lower unit remained in the water all the time and corroded quickly. Later boats offered inboards, usually an Atomic 4 or occasionally a one-cylinder, 10-horsepower Westerbeke diesel. Of the three, the diesel model is the most desirable. Look for a boat that has been recently repowered.

Other problems owners report include leaky hull-and-deck joints and gelcoat crazing. The hull-and-deck joint issue is not a surprise as most boats on the market are close to 40 years old. However, it is not an easy problem to solve short of pulling and rebedding each bolt, if you can get to them. Gelcoat cracks and crazes are not usually structural and can be filled and sanded when you repaint the deck. Surprisingly, many boats seem to be in near original condition, ranging from tiny sheet winches, to single lifelines, to plaid fabric on the seat cushions that belongs in a museum. Updating the boat can be costly.
On deck
The 27 has a 6-foot, 2-inch cockpit that seems more spacious because of tiller steering. I have a dear friend, he's in his 40s, and has been sailing 10 years, and he's never used a tiller. He's not unusual, just unfortunate. Steering with a tiller is an essential experience. From a practical standpoint, a pedestal and wheel takes up too much valuable space in a small, narrow boat like the Bristol 27. And besides, the wheel can't be large enough to offer much helming satisfaction. The cockpit includes lockers to port and starboard. The inboard models convert the large well aft into a welcome lazarette. Early models like mine had a stout bridgedeck. Later models reduced this to a small sill to make it easier to step over. I like the bridgedeck.

The side decks are narrow. Of course, the whole boat is narrow as the beam is only eight feet. Handholds are well placed on the cabintrunk but if it hasn't been done you should consider beefing up the stanchions and pulpits. The anodized spar, with an air draft of just over 36 feet is probably the original. It really is impressive how these aluminum sections on so many old boats have endured over the years. The boom featured roller reefing with a small worm gear at the gooseneck. If a slab reefing arrangement hasn't been added-do it immediately. Roller reefing never worked very well.
Down below
If you haven't been in a 1960s 27-foot boat in awhile, you are in for a surprise. There just isn't much room. A narrow beam, short waterline and relatively long cockpit all take space away from the interior. And to think I thought I was living in the lap of luxury; yikes again. The 27 does have decent headroom, at least in the saloon, which falls under the raised portion the coachroof, and the finish is workmanlike at best. While fairly large portlights help with natural light, ventilation is sketchy. There is a hatch in the V-berth and that's it. Adding dorades, or better still, another hatch and a few opening portlights is a big improvement.

When you step below the tiny galley is under foot and to port. It includes a sink, stove, small counter and storage bin. The icebox/nav center is opposite. A clever feature that was not very practical was an access hatch to the icebox from the cockpit. Insulation was poor to begin with and this didn't help. My boat had two sea berths/settees in the saloon with shelves above. Continuing forward there was a small enclosed head, with a hanging locker opposite and a V-berth. The water tank was under the V-berth. The dinette model featured a swinging table to port that was removable to form another double berth, upping the berth total to an absurd five. Some boats included a quarterberth, just in case you needed to stuff one more person below. The weekender interior is not really worth mentioning, it is more of a cuddy cabin.
Engine
Most early boats were outboards. Mine originally had a 15-horsepower Chrysler and, when it ran, I lumbered along at 4 knots. I wasn't sad to see it die. The inboard models are preferred, not only for the obvious motoring advantages but also because they provided an alternator to power a real, if simple, electrical system. The Atomic 4, 30-horsepower gas engine was the most common and did a fine job of pushing the 27 through a chop. The Westerbeke 10-horsepower diesel, sometimes called the Pilot, was a bit on the small side. Although my boat was an outboard it did have a 22-gallon fuel tank mounted under the cockpit sole. Access to either inboard is from behind and below the companionway steps. It helps to be very small and agile when working on the engine.
Underway
Like most Alberg designs, the Bristol 27 heels easily, some say too easily. However, it does dig in at a point, usually somewhere between 15 and 20 degrees and then it becomes quite stiff indeed. That's just the nature of the design. You can ease the heeling by reefing the main but that does tend to de-power the boat. The 27 is faster than you might think, partially because when it does heel the 19-foot, 9-inch waterline suddenly becomes a lot longer. I remember crossing the Gulf Stream to Bimini in a snotty norther and clipping along at close to 6 knots for 10 hours. I also remember reaching out to the Dry Tortugas, 65 miles from Key West, and making landfall before darkness. The 27 does have a bit of weather helm and she rolls off wind. She can hobbyhorse in a chop too. However, her overall sea motion is soft and she rarely pounds.
Conclusion
The Bristol 27 eliminates a prime excuse for not buying a boat-that sailing is too expensive. You can find a nice Bristol 27, possibly with a newer diesel, for somewhere between $10,000 to $15,000. That's not much to spend for a handsome, capable, safe boat with a proud pedigree. The Bristol 27 is one of the better values in a good old
used boat.