The commodore of the highest yacht club in North America found a love of sailing at altitude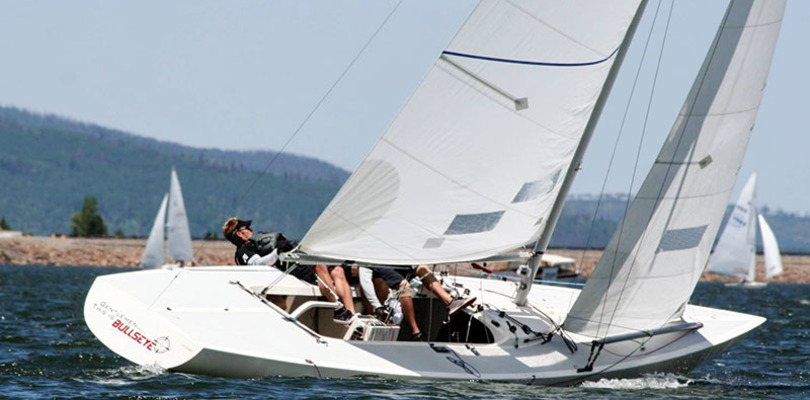 Sailors are an irrepressible lot. They won't let a pesky little thing like being landlocked prevent them from getting out on the water. There's always a way, and it just might prove to be a world-class experience.
Just ask Scott Snyder, commodore of Colorado's Dillon Yacht Club. The club has the unique distinction of being the highest yacht club in North America—nearly two miles above sea level. It's nestled against the Continental Divide, where Colorado's Blue, Ten Mile and Snake rivers converge to feed a dazzling mountain lake with 26 miles of shoreline and 3,300 acres of surface water.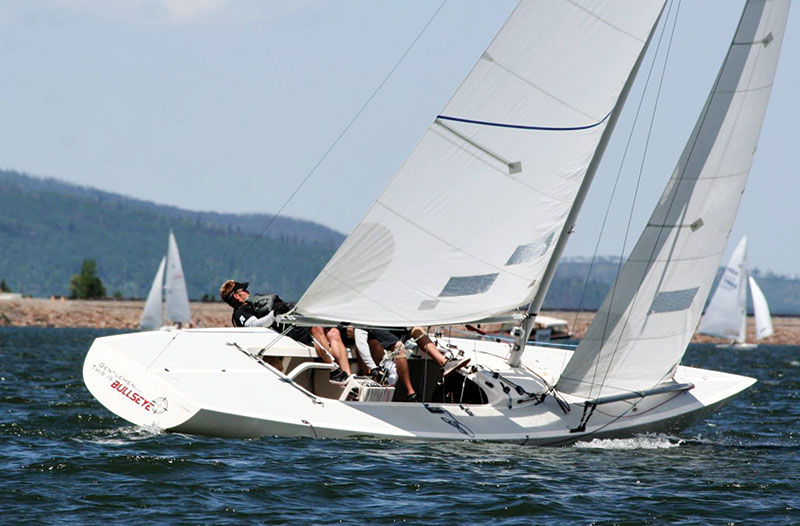 McKenna Russen photo
Welcome to Lake Dillon. Here, you'll also find the highest deep-water marina in the world, Dillon Marina, and a thriving sailing community that revels in its own distinct version of Rocky Mountain High.
Born and raised in Dixon, Illinois, Snyder learned to sail on Lake Monroe, Indiana's largest lake, located near the Indiana University campus.
"I lived there for three and a half years, and I was a lake sailor," he said. "I learned on a Catalina 27 and 30. But I really got hooked when I went on a sailing vacation with my boss out of Port Charlotte, Florida. I couldn't believe you could have that much fun at 4 or 5 mph!"
Twenty-two years ago, Snyder left the Midwest and headed for Colorado, where he lived in Bailey, Genesee and Keystone before settling down in Highlands Ranch, a Denver suburb. He ran his own advertising and marketing agency, and he discovered Lake Dillon.
"I couldn't stop looking at the mountains," he recalled of his first experience sailing at more than 9,000 feet. "I couldn't believe I was on a boat in that environment. I was freezing, by the way, and I was amazed at how much focus it required."
Indeed, it's common knowledge among sailors familiar with Lake Dillon that you'll find some of the most challenging sailing conditions on the planet right here in the Rocky Mountains. You have to know what you're doing; if you can sail here, Dillon old-timers say, you can sail anywhere.
They tell stories of uncontrolled jibes, microbursts, knockdowns, bizarre thermals and winds that will have a boat on one tack sailing in a circle, and two boats with spinnakers up sailing toward each other. Describing the lake as tempestuous is clearly an understatement.
"We have a fairly large contingency of Dillon Y.C. sailors who travel, and they tend to excel on the water in other places," Snyder said. "They may not have much experience with currents and tides, but due to the unique geographical position of the lake, you need to be super alert."
When asked why sailing is so tricky here, Snyder shook his head and grinned.
"We generally have two or three weather patterns colliding due to the Continental Divide," he said. "The wind patterns are nowhere near consistent. On other bodies of water, you might see wind shifts of 10 degrees and call those big shifts. Here, you'll see shifts of 40 to 50 degrees, or the wind will do a complete 180, with a shift back 20 seconds later.
"The velocity runs up and down quickly too; you can go from 5 to 25 knots in a heartbeat. It will definitely keep you on your toes. The good news is that there's no chop. The water's flat—breezy, but flat—so you can read the surface easily."
Then there's the water temperature. Even in midsummer, Lake Dillon's waters might only be in the 40s or 50s and in the 30s when you get a couple of feet down. Hypothermia is a real, immediate risk.
"That's why our yacht club places such a high emphasis on safety," Snyder said. "There have been accidents, and hypothermia happens quickly, especially early in the season."
Sailing on Lake Dillon officially starts on Memorial Day weekend, with the first races scheduled for Father's Day weekend. The late start to the racing season is due to the cold weather that frequently lingers at this altitude through early June. Snow is not unheard-of.
Snyder purchased his first boat, a Hunter 25, to sail on Lake Dillon during his early years in Colorado. Since then, he's had a Pearson 28, a used J/24, a new J/24 and an Etchells. He's currently on his second Etchells, and he remains an active racing sailor.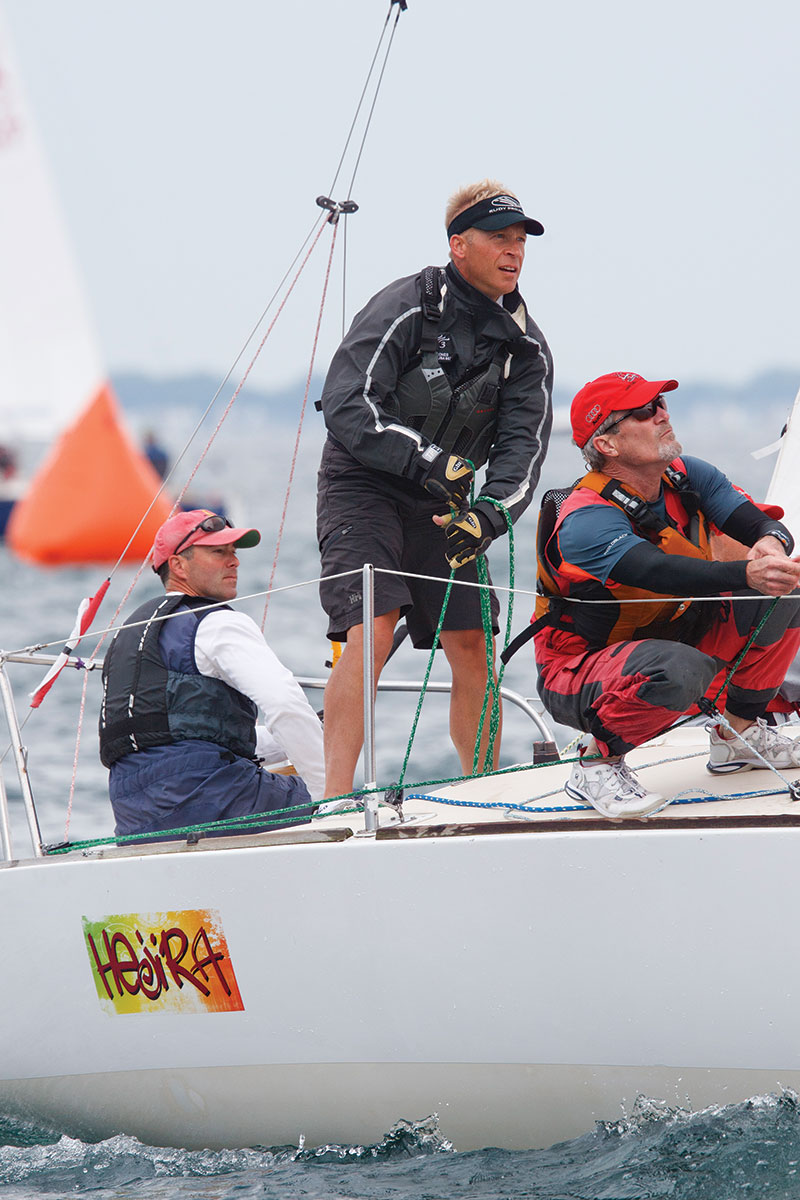 Tim Wilkes photo
"The Dillon Yacht Club really got me into racing," he said. "I quickly learned that racing does help you adapt more quickly and better anticipate what's coming.
"You never really master this lake though. Boy, it can throw you a few curve balls."
The lake's reputation among racing sailors has spread far and wide. Each year, Lake Dillon hosts the Dillon Open Regatta, the highest regatta in North America, as well as a variety of national and international championships. This summer, high-profile events included the Etchells Rocky Mountain Championship and the Buccaneer 18 North American Championship.
"Whenever we host a major event, we always hear, 'Do you ever get tired of this view?'" Snyder commented with a chuckle.
It's not all about the racing, though. The yacht club hosts a variety of social activities, from theme nights, to flotillas to Frisco for lunch, and it's developing more programming for boaters of every stripe, including powerboaters. As Snyder pointed out, Lake Dillon does have a great reputation as a racing lake, but it's so much more than that.
Because the lake is a Denver Water reservoir, swimming, waterskiing and personal watercraft are out (for sailors, the latter two are likely to be no great loss). But kayaking, canoeing and stand-up paddleboarding are in, and Lake Dillon is an ideal spot for daysailing and gunk holing.
"All summer you'll see people cruising, sunbathing and picnicking," Snyder said. "And beyond the main open area, there are a lot of islands and ridges; if you have swing-keel sailboat, you can tuck into all these great little gunk holes."
For those who want to create a bigger outdoor adventure, Lake Dillon has three campgrounds, and there's a bike path that goes all the way around the lake. Other major family-friendly highlights include the annual wooden and classic boat show at the Frisco Bay Marina, and the Fourth of July, which Snyder said is one of the best days of the year to be on the water.
"One year," he remembered, "we had 45 boats rafted together to watch the fireworks."
The yacht club's racing calendar winds down in late September, and the Dillon Marina closes by late October, but that leaves time for a special late-season hurrah. In late September, the club hosts the Changing of the Colors and Cruiser Fun regattas, and in conjunction with the Dillon Marina, it welcomes the public to Lake Dillon's Fall Festival.
Snyder said he encourages newbies to learn to sail at Lake Dillon—the Dillon Marina offers lessons, and the yacht club has a junior sail program — and he hopes visiting out-of-state sailors will give it a try, as well.
"If you haven't brought your own boat, the marinas have a supply of rental sailboats," he said. "And they do a great job of outlaying the good areas to sail. Just remember to bring sunscreen, and make sure to hydrate. People underestimate the effects of the sun and altitude."
Now in his second year as commodore at the Dillon Yacht Club, Snyder said he definitely enjoys off-season charter vacations with his family. Their favorite spots include St. Bart's, Mustique and St. Lucia. But his heart remains in the Colorado Rockies, and he's content to spend his summers on Lake Dillon.
"I think this is the most beautiful sailing venue in the world," he said. "There's nothing like it anywhere else."