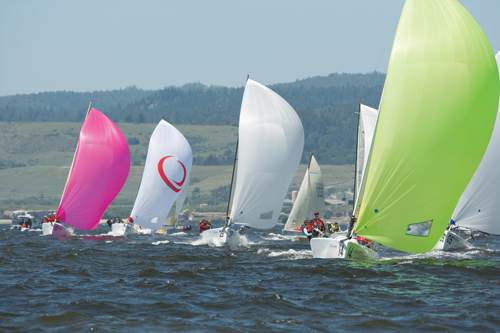 This high-performance one-design class attracts top talent, and for good reason
O ne-design racing gets us excited. There's nothing quite like duking it out on the course against identical boats to get the competitive juices flowing, where it is the skills of the skipper and crew that matter more than the boat's equipment or rating. And there's nothing quite as thrilling as racing neck-and-neck against a mirror-image boat to the finish line, knowing that the winner is the one that crosses the line first, and not the one with the better rating.

Combine the one-on-one competitiveness of one-design racing with white-knuckle speed and you double your fun. We've been racing in our local Tartan 10 fleet on Lake Michigan for years and while we greatly enjoyed the competition and camaraderie of the class, we were ready to add speed to the equation. It was time to look for something sleek, modern and fast, but still with a strong one-design fleet.

In our search for a hot new ride it didn't take us long to zero in on the Melges 24, a high-performance one-design racer with a very strong and very talented following around the globe. Not only would the 24 give us the speed we craved, it would provide entry into a highly competitive fleet that has attracted some of the world's top racers, including America's Cup veterans Terry Hutchinson and David Ullman. This is a boat that will certainly take our racing up to a whole different level. We would be playing with the big boys now, and we'd be doing it on the level playing field of strict one-design racing. Talk about exciting.

The Melges 24 was born of the America's Cup. Not coincidentally, the high-tech sport boat was designed by the firm of Reichel/Pugh in 1992, the same team that designed the boat in which Buddy Melges and Bill Koch won the America's Cup that same year in San Diego. The next year the 24 was officially launched during Key West Race Week and became an instant hit. Just two years later 60 boats would make it to the line in Key West, and by 1997 the class was holding its first World Championship with 98 boats competing in England. Today, more than 800 Melges 24s are sailed competitively in fleets found in North America, Europe, Australia and Asia, with developmental fleets taking root in South America.

In 1997 the 24 was designated an ISAF International Class, furthering its pedigree, and the class is administered by the International Melges 24 Class Association. Strict one-design rules and management by the IMCA provide a strong basis for fair and competitive racing in a continually popular class.

From their base in Zenda, Wisconsin, the Melges Performance Sailing team put together a boat using the latest in boatbuilding materials and design ideas. Unlike previous sport boats of its size, the hull is constructed of lighter, stronger S-glass fiber and vinylester resin. The mast, bowsprit, rudder and keel fin, meanwhile, are all made from carbon fiber. The result is a lightweight, 1,783-pound hull, which gives the 24 a displacement-to-length ratio of 57.58. Compare that to our T-10, which has a D/L of 152.

The boat's low weight combined with its relatively flat bottom and high-aspect-ratio keel fin produces a boat that wants to get up on a plane. Add in a 670-square-foot asymmetrical spinnaker, which was designed to pull the bow up and forward when sailing down wind, and you have an addicting ride.

Besides its speed characteristics and strong class backing, what attracted us to the 24 was its ease of use. Its retractable keel means we can easily trailer it to different venues and launching is a simple matter. It only takes two people to step the mast, although it is easier with three, with two people stepping the spar while another winches it up with the trailer winch. Likewise, the 24 is typically sailed with a crew of four or five, so rounding up a reliable crew will not be problematic.

We did some looking online for a gently used boat, starting with a search of the classified ads on the IMCA website, and were fortunate enough to find a likely candidate a few hours drive away in Michigan. It was an early hull, one of the first 100 built, but it was well maintained and in excellent shape-ready to race. The asking price was $22,000, but the motivated seller was eager to negotiate and we ended up towing it back home for $19,500. As a later hull model would easily go for more than twice that amount, and a new, race-ready 24 costs $70,000, we felt we found a good deal and an affordable entry into one of the hottest one-design fleets around.

Once home the first thing we did was go over the standing rigging. The upper and lower shrouds are 3/16-inch Dyform wire, and with the way the 24 is typically raced these will stretch out a bit over time. We found obvious signs of stretching and wear in the wire so we decided to replace both the upper and lower shrouds. We also dye-tested the older open turnbuckles and found a few hairline cracks. Nothing major, but we decided to replace them as well.

Chicago Yacht Rigging would replace both sets of upper and lower shrouds using new Ronstan calibrated turnbuckles. But following the advice of Kristian at CYR, we first decided to replace the older, original spreaders with new ones, a job we could do ourselves. Unlike the older spreaders used on the 24, these new spreaders from Southern Spars have small removable tips that allow the shroud to be removed from the spreader. This will make changing shrouds easier in the future, as with the older spreaders the only way to change them out was to cut the wire out and swage the new shrouds in with the spreader in place. We ordered from Melges the new set of Souther Spars spreaders, special ordered in white to match our older Omahundro mast, spreader bar, spacer bar and set of clevis pins. The total came to $889 for the spreader assembly, while the new Dyform shrouds with Ronstan turnbuckles came to $875 installed. We also ordered a new Vectran backstay from Melges for $98. The complete backstay included an eye-splice and thimble at the head, and a block and shackle for attachment to the lower bridle.

We next took a look at the headstay. In 2009 the class association decided to change from a removable to a fixed forestay. Besides providing better rig security when the boat is kept at the dock or on a mooring, some sailors feel the fixed forestay makes tuning the rig easier. Others, however, worry how the system, which uses a jib with a zipper luff, will affect their performance. Some even worry about the extra weight of the fixed stay, even though it is minimal. Melges offers a fixed forestay conversion kit for $575, and installing it is a fairly simple process that involves routing a new slot in the mast and inserting a backing plate in which the forestay's T-terminal sits.

After some consideration we decided to forgo the conversion until another year. Partly we decided to wait and see how others fared with the new forestay, taking a wait-and-see attitude. But moreover, we knew we wouldn't be replacing our jib this year, so didn't see the point in it. Instead we ordered a new 3/16-inch 7x19 wire halyard from Annapolis Performance Sailing for $101.

To tune our new standing rig we ordered a Loos tension gauge from West Marine for $95. With all the rig tweaking we'd be doing, not to mention the continual stepping and unstepping of the mast when trailering, a good tuning gauge would be a necessity.

We next turned our attention to the boat's lifelines. The Melges 24 class is unique in that the rules allow crew to hike out hard against the lines, which are loosely strung. For all intents and purposes, the lifelines are hiking straps, so it's not surprising that these lines get a lot of use. To keep our crew on the boat and comfortable, and thereby hiking hard, we replaced the original lines with a new set of Hutchinson Sport hiking lifelines from APS. The kit included padded straps, shock cord to keep the lines taut when not hiking, and pre-spliced Spectra lifelines. The cost was $295, port and starboard.

As mentioned, we decided not to replace the jib, or any of the other sails for the time being. The previous owner had replaced the main and jib less than two seasons back and the spinnaker, a North Sails Code 2A-1, was in good shape. These sails would serve us well as we tuned up our game and in the meantime we would save our allowance for a new suit down the road.

For our running rigging we ordered directly from Melges, purchasing a standard tapered jib sheet, mainsheet, and tapered spinnaker sheet. We also splurged on a new tapered main halyard. All together our running rigging ran us $890.

Following the advice of Melges Performance Sailboats President and Melges 24 Full Throttle team member Andy Burdick, we inspected the keel delrins to ensure they were not dry or cracked. They appeared in good condition, so we simply cleaned them with soap and water, and then sprayed them with Team McLube Sailkote. We also checked the rudder straps on the rudder, as well as the gudgeons, making certain the rudder pins fit well. We checked that all blocks were in working order and running smooth, also treating them with McLube. The keel was looked over to ensure the leading and trailing edges were fine, and the bow sprit seal was inspected to make sure it was in good condition as well. We lubricated the sprit and seal by rubbing them with a little Vaseline.

As a final treat to our new prize we gave the hull the spa treatment. We found a few scratches, which we rubbed out using 3M Super Duty Rubbing Compound followed by an application of 3M Marine Finesse-It II. For best results, we applied the rubbing compound in a back and forth motion, not circular, then applied the Finesse-It glaze circularly. We then polished the entire hull, stem to stern, with Star Brite Premium Marine Polish with PTEF, applying circularly with a clean cotton rag, letting it haze over, and then removing with a micro-fiber towel, buffing to a shiny finish. We may not be professional-level Melges racers yet, but we certainly were looking it.

Our boat was now ready to start mixing it up on the course. The only thing left to do was for our crew to begin dieting to get our weight within the class limitations, which would definitely be the most difficult part of our program.
---
Project list and
cost summary
1994 Melges 24: $19,500
Retrofit budget:
1. Shrouds and turnbuckles $875
2. Spreaders $889
3. Backstay $98
4. Wire jib halyard $101
5. Loos Model B rig
tension gauge $95
6. Hutchinson Sport
hiking lifelines $295
7. Running rigging $890
8. Team McLube Sailkote $10
9. 3M Super Duty Rubbing
Compound $16
10. 3M Marine Finesse-It ......$26
11. Star Brite Premium
Marine Polish $39

Total retrofit work $3,334
17% of purchase price
Grand total $22,834