After years of racing we are looking to slow down a little and do some cruising with a bit of weekend and beer can racing thrown in, but we are not willing to give up good performance. We are looking for a performance boat that we can comfortably cruise, but of course comfortable is a relative term. We target the IMS boats of the 1990s, as these were good-sailing seakindly boats.

Our search leads us to the Nelson/Marek 43 built by Carroll Marine. These boats are easy to sail well. They have an enormous mainsail and a small fractional jib, and in a pinch you can sail under main alone like a big dinghy. Even with a full jib, they can be handled by a pair of relatively skilled sailors. They are deep-drafted designs that will point high and stand up to a blow. A long, deep rudder makes for a great handling boat.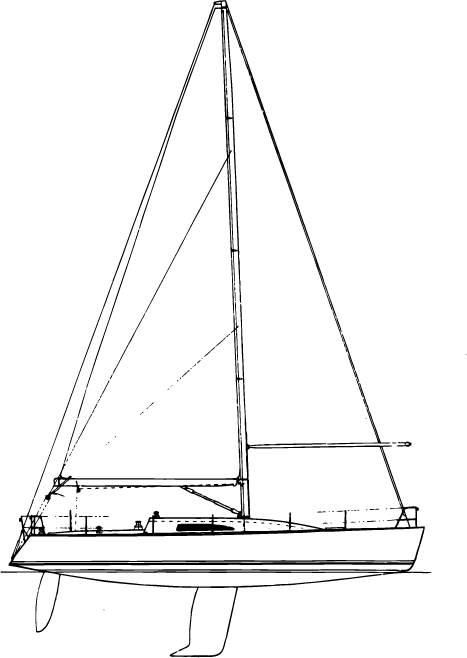 There are not a lot of these boats around, only nine were built. After a bit of a search we found a 1993 model in New York. We were able to pick up the boat for $75,000. It's a solid boat but needs some work.

We went after a boat that puts performance before creature comforts, so we start our refit with sails. Our boat had been raced hard over the years, so we were faced with an inventory of pretty tired racing sails. In addition those sails were tailored to the IMS rule, and since we were not going to race IMS, we could have the sailmaker take liberties to ensure we get the best performance that we can.

For expert guidance we turned to sailmaker Peter Grimm of Super Sailmakers in Fort Lauderdale, Florida. Grimm's first objective was to maximize our mainsail. The mainsails that were built for the boats in the 1990s were about 695 square feet and didn't have full battens because of a rating penalty. Our new sail has four full battens to support a full roach. When we measured for the new sail we made sure to measure the backstay placement in relation to the end of the boom and top of the mast. This allowed the new mainsail to be designed with a larger roach without overlapping the backstay. The two top full battens support the largest part of the roach. The added sail area up high helps the boat point higher and go faster in any breeze. Of course the added sail area improves the boat's reaching and downwind performance too. The sail area of the new sail is 745 square feet. Grimm said clients often ask if the increase in sail area will increase the weather helm, and surprisingly the answer is no. In fact, it will reduce it. The reason is that the top battens keep the top of the sail flatter so when the air flows over it the force helps drive the boat forward and not heel it over.

Our sail options were two reefs and four full battens, and Grimm said we did not need tapered battens or any fancy batten tensioners. The sail has a loose foot, fitments for a cunningham, draft stripes, sail numbers and slides. It was made of 9.6-ounce Dacron, specifically Dimension Polyant 410AP. The main cost us $6,100, including measurement and setup on the boat.

We were surprised slides worked on the mast. We had assumed that we'd need to use a track system, like Tides Marine Strong Track. Originally the boat had used a bolt-rope main, and while this is the preference for a fully crewed race boat we wanted the luxury of dropping the main and having it stay attached to the mast.

Even with slides, our big main is a handful to flake. After a few times sailing the boat, we found flaking the main was tough, and wrestling on the main cover was a 30-minute affair. We decided to add a Doyle Cradle Cover, which is essentially a mainsail cover integrated into a set of lazy jacks. You can compare it to a Doyle Stack Pack except it is not attached to the mainsail. The cover is great, we can just drop the main outside our anchorage and about 85% of the sail will fall right in, once we moor the boat we can tidy up the remainder and zip up the cover. The cover, complete with lazy jacks cost us $1,900.

Next on this list was a new headsail. Grimm recommended a 120% roller-furling genoa. His theory is that we can reef the sail in a blow and even with the resulting poor sail shape our great hull will allow the boat to point high. In light air we roll it all the way out, in heavier air we roll up the jib until the boat stands up.

Since we are roller reefing we need a luff pad and a UV cover. We chose a foam luff pad and a 4-ounce UV Dacron cover. The cover won't last as long as Sunbrella, but it is far lighter and moves in the same way as the rest of the sail cloth resulting in better sail shape. The headsail is made of 7.3-ounce Dimension Polyant 320 AP Dacron. This is a low-aspect cloth being used in a borderline high-aspect application, but we were trying to maximize the reefed sail shape with the low-aspect properties of the cloth. The sail cost us $3,900.

We learned a bit about leech cords on this refit. Traditionally a leech cord would be made from 5/32-inch braided Dacron for a boat like ours. This size cordage can be pretty elastic, especially with the loads it sees when stabilizing the leech on sails as large as ours. The problem comes in when using the leech cord in heavier wind, you need to put a lot of tension on it to tension the leech and to overcome the stretch in the cordage. When you store the sail with that much tension on it the leech can be prematurely fatigued, so we chose a Vectran leech cord in the same size. The Vectran is able to stabilize the leech at lower tensions, and the resulting lower tension won't be as damaging when the sail is stored. This was only a $25 upcharge per sail, and well worth it.

We decided to get an asymmetrical spinnaker for the boat. We won't fly it that often but it is good for reaching in light air and for downwind sailing. We chose 1.5-ounce nylon to make sure it is bulletproof-some of our jibes and take downs may be less than graceful when cruising shorthanded. The sail has a full radial panel layout for great shape and durability. We spliced a tackline directly to the sail and lead it back to a cockpit winch so we can play the tack underway. We added a Vectran luffcord to add stability to the luff and allow the sail to better stand up to fill-collapse situations. We were able to reuse an old dousing sleeve that we had aboard the boat. The best part of this sail is that it allows us to sail when we might otherwise need to power, our boat will sail nicely with 5 to 7 knots of wind off the beam. We chose to go with a little smaller size since we'll fly it with our huge main-it came in at just 1,100 square feet. The sail cost us $3,500 in total.

The bottom on our boat was a little crusty so we decided to sand and apply a couple coats of nice, slippery bottom paint. We invested a weekend and a couple cases of beer to some friends to help us sand the bottom. Once we were clean we rolled on two coats of Interlux VC-17m. Between the sanding disk, paint, material and beer, we spent $350.

Our running rigging was in pretty good shape, but our forward halyards were a little tired. We opted to replace a jib and spinnaker halyard. The hardware was in good shape so we re-use it on the new halyards. To reduce stretch, we chose Samson Warpspeed in 3/8-inch diameter. The two halyards cost $650 in total.

Our weekend speedster is ready to carry us on many cruising adventures, without breaking the bank. But, when the mood strikes, we can empty out the boat a bit and still be competitive on the beer can circuit.
Project list and cost summary
Budget
1993 Nelson Marek 43 $75,000
Project list:
1. Mainsail $6,100
2. Mainsail cover and lazy jacks $1,900
3. Roller furling genoa $3,900
4. Vectran leech cords $50
5. Asymmetrical spinnaker $3,500
6. Bottom paint and supplies $350
7. Halyards $650
Total retrofit cost: $16,450
22% of purchase price
Grand total: $91,450