The North Channel of Lake Huron has been calling, and it has been a longtime dream to spend a few summers exploring this great wilderness. We wanted a boat that was comfortable, capable and able to carry all of our cruising toys. The North Channel is mostly secluded wilderness, but it is fairly protected as well, so we were willing to trade the robustness of an offshore passagemaker for some of the creature comforts of a coastal cruiser.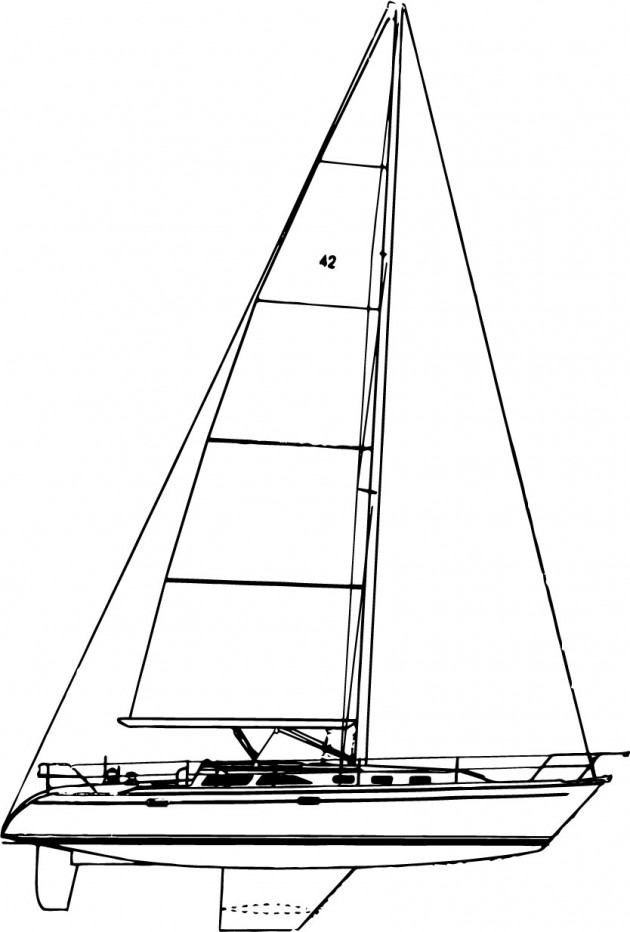 We looked around at bunch of late 1990s cruisers, a Beneteau 411, a couple Hunters, even an Island Packet. We finally found the best boat for our needs in a 2000 Catalina 42 mkII. The boat had been used exclusively in freshwater and stored indoors every winter, making the boat look only 5 years old rather than its actual 12 years. We ended up paying $145,000 for our very clean boat.

The boat was a two-cabin Pullman model, which offers a Pullman cabin forward and a large aft quarter cabin on starboard. It's not quite as sexy as the island queen berth forward but I think its a more practical layout for a boat that leaves the marina. A great plus of this layout is that the large protected galley is to starboard rather than in the saloon.

The boat was well equipped and in good shape. The Yanmar 4JH 50-horsepower engine had only 500 hours on it and it was very clean. The prior owner had replaced the wire standing rigging anticipating a trip to the Bahamas that never came to be, so we had no worries about the standing rigging. The electronics were functioning properly.

After some careful consideration of the budget we decided on the refit list. The plan is to spend a lot of time anchored out, so we wanted to maximize the comfort and fun at anchor. To us this meant adequate electric power without running the engine and a good system to use and store the dinghy. When not anchored we plan to sail. The distances between stops in the North Channel are relatively short, so we can sail, even slowly, and keep to our plans, although a part of the idea of this extended exploration of this great cruising ground was to get away from plans altogether. Still, no one wants to sail slowly when they don't have to, so I decided to spend a good part of the refit budget on creating a versatile sailplan.
We looked to Peter Grimm of Doyle Fort Lauderdale for help with sails, as we've worked with him in the past and have developed a good rapport. Our boat has an in-mast furling main, and we wanted that setup to be bulletproof. Grimm suggested the Doyle Rollaway mainsail that uses Dimension Polyant 350SF cloth (8.2 ounces per yard), a strong fill cloth that will hold its shape and furl smoothly. To make sure the sail furls well, Grimm had me take a few measurements to get the clew rise (the distance the clew rises above the boom when furling) correct. By setting this correctly the foot of the sail will smoothly spiral up the furler and not just pile up at the bottom, filling the mast. The sail was triple stitched, and the stitching was coated with a UV sealer that stretches the usable life of the sail. Grimm was careful to design a low-stretch leech cord to hold the shape of our sail. The main cost $3,000.

Wind on the Great Lakes tends to come in extremes-there is plenty of light air as big high pressure systems park over the lakes, but there are lots of opportunities for heavy air as fronts move in. To accommodate this, Grimm suggested a 140% genoa in Dimension Polyant 320AP (7.3 ounces per yard), which should work nicely in the light stuff. To help us reef when it does blow, Grimm added two reef marks on the foot and a padded luff. The big sail ran us $4,300 but should give the boat the horsepower it will need to get between anchorages.

An asymmetrical spinnaker rounded out the new inventory. Grimm suggested a Doyle APC in .75-ounce to fly up to about 12 knots apparent. It should be good for reaching in really light air, but still cut flat enough to fly up to up 65 degrees apparent and be useful for tacking downwind. The chute cost $3,100.
Flying a spinnaker is no fun if the crew is filled with dread when it comes time to douse it so I opted for the Profurl Spinex 2.5 top-down furler. Top-down furlers work a lot like jib furlers, but they furl from the top down, so the head wraps around the furler and the sail just spirals down the furler. It is a little difficult to describe, but through the magic of YouTube, you can see the furler in action. The furler works with a continuous loop of line on a small drum on the bottom of the furler. The Profurl unit is unique in that it has continuous plastic ball "bearings" on the torque line to keep the sail from jamming on it. It wasn't cheap at $3,000, but it should make life easy and just plain look cool as we effortlessly furl and unfurl our big chute.

The new sails cried out for some new running rigging so we did a few upgrades. Low-stretch halyards were first on the list, and we chose three new halyards made of New England Ropes VPC. VPC is very low stretch, easy handling and don't cost much more than normal Dacron halyards. It has a nice Dacron cover and a core made of a blend of Vectran and polypropylene. The three 7/16-inch halyards with new hardware cost $950. We also bought a sheet for the new asymmetrical. I chose to use just one sheet since I don't intend to jibe this sail because we can just furl it and walk the sheet around. We chose 60 feet of 7/16-inch New England Ropes StaSet for the sheet, costing $75.

With the sails and rigging under control my next stop was a dinghy storage system. I don't think storing a dinghy on davits is a good idea on an open water passage, but it will work great in the North Channel. I worked directly with Kato Marine in Annapolis to design a set of custom davits for the boat. The spec and installation was pretty easy-Kato has a great measurement system-and I was able to install them in a weekend. I plan to store the dinghy on deck when doing long passages, but the dinghy will live on the davits most of the time. The davits were not cheap, but beautifully implemented, and the total cost came to just over $2,500.

We had a great system for the dinghy but I sometimes like to paddle a kayak. I already have an old roto-molded boat but I needed a way to store it. I did not want to just lash it on deck, I wanted mounts to hang it outboard of the stanchions. Garhauer Marine makes just what I was looking for with its KR-1 kayak racks. These are essentially just cradle tubes that attach to the stanchions, again not a great plan for open-water passages, but perfect for the North Channel. The racks are a tremendous deal, at just $108 for a pair.

Finally, we got down to our alternative energy charging system. I wanted to keep the batteries topped off at anchor as much as possible. I basically had two choices-wind and solar-neither are great options in our area since it is not particularly windy or sunny in the North Channel. We ultimately chose solar because it's a quiet technology, and having a wind turbine whirring overhead was not particularly alluring to us.

The boat had a few nice places to mount panels, the support crossbar on the davits had room for one large panel, and we could squeeze two medium-sized panels on top of the bimini. The mount on the davits was pretty easy, as we opted out of a tilting mechanism and just hard mounted it right to the davit support bar. I had a local stainless fabricator make a little "roll bar" to ride just above the fabric of the bimini to hold the panels up there.

Our longtime preference in panels has been Kyocera but the company doesn't make boat-sized panels anymore, as it is concentrating on larger land-based systems. After consultation with eMarine Systems I chose Solarland panels-a 100-watt panel for the davits and two 85-watt panels for on top of the bimini. A BlueSky 2000E MPPT controller should steady the uncertain voltage from the panels and safely charge the batteries. We added a Victron Energy BMV battery monitor to the system to closely monitor the battery bank. The system cost us $1,700 in total for the panels, controller, monitor, fuses, cable, and terminals.

Our cruiser is all set to go, we can sail fast and live comfortably at anchor for days at a time. I can taste those sundowners already and can't wait for a paddle across the glass-smooth anchorage.
---
Project List and Cost Summary:

Catalina 42 $145,000
Sails (mainsail, genoa, spinnaker) $10,400
Spinex furler $3,000
Running rigging $1,025
Davits $2,500
Kayak rack $108
Solar charging system $1,700
Retrofit $18,733
(13% of the purchase price)

Grand Total $163,733
---
Resources
Doyle Sailmakers, 800-541-7601, www.doyleflorida.com; Kato Marine, 410-269-1218,www.katomarine.com; New England Ropes, 508-678-8200, www.neropes.com; Garhauer Marine, 909-985-9993, www.garhauermarine.com; eMarine, 877-432-2221, www.emarineinc.com; Profurl, 866-621-1062, www.profurl.com/english.html