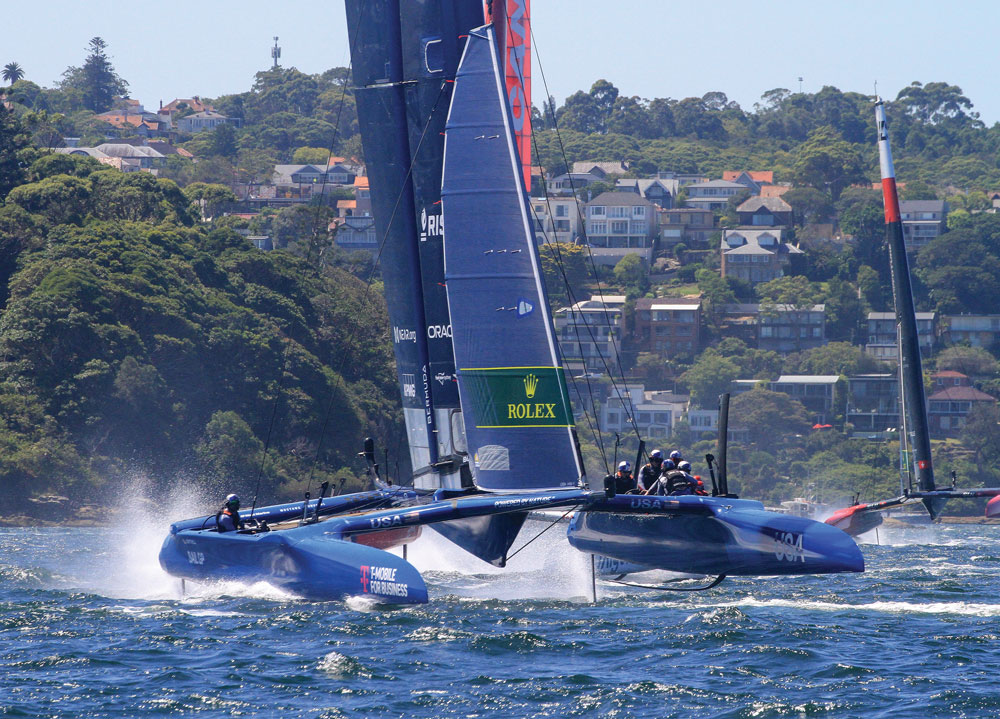 Craig Ligibel photo
This is the second year Dressler and Sinclair have been paired as grinders, and their pathways to SailGP started when they caught the eye of Spithill at the 36th America's Cup in Auckland.
"Jimmy saw us in action, liked what he saw, and when he got the job as CEO, he signed us up," Dressler said.
Both of the 6-foot-tall grinders weigh around 200 pounds, with lots of lean muscle and oxygenation levels off the charts. Another similarity the two share is a healthy sense of humor. They have been described as "a comedy act on the water."
"This is a serious job," Dressler said. "But we like to keep it light. It's a really good job that we enjoy. It pushes us every day. When we have downtime, we like to have fun and get the crew laughing."
On off weeks, the two grinders train 10 to 12 hours a week on stationary grinding machines. Dressler has signed onto the American Magic America's Cup campaign as a "cyclor," where the power is supplied the boat's hydraulics by bicycles instead of a winches. "It's a different gig for me," Dressler said. "Obviously I use a different set of muscles. But my cardio training and endurance stand me in good stead for cycling."
The duo's favorite target for their teasing is wing trimmer Paul Campbell-James.
"It's pretty easy to get his goat. We'll rag him about being British, make fun about tea breaks, anything to get a rise out of him," Dressler said."When he broke his leg and kept on sailing, and then when he came back after only six weeks, that was incredible."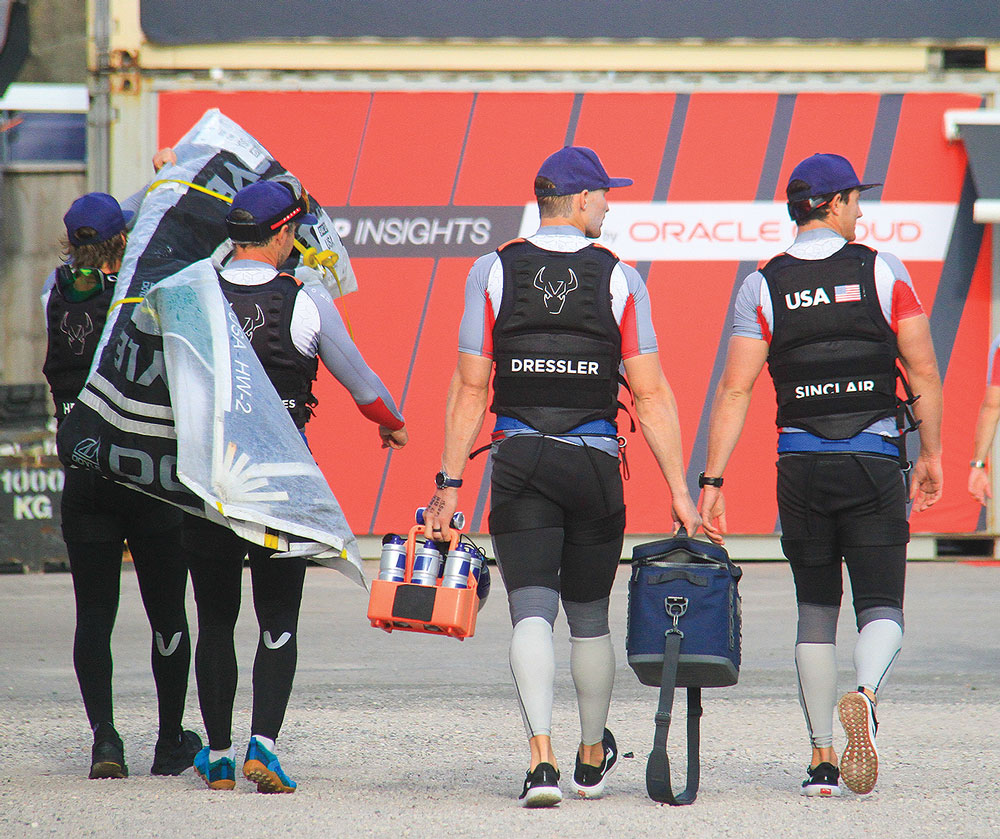 Spithill appreciates the high jinks of his high-spirited grinders.
"They keep us all on our toes. They make the boat go and they keep the team together when things get tough," he said.
Adding some additional levity to the team was the new addition of Aussie Lucy Copeland. Copeland joined the United States team in February, replacing Erika Reineke who broke her leg during a practice round on Sydney Harbour.
"Lucy fit right in," Spithill said. "In typical brassy Aussie fashion, she told the team at her first practice 'I'm Lucy Copeland. I'm here to help you win again.'"
It's hard to know if Lucy's tactical calls and wheel handling while the boat was tacking made the difference, but the U.S. boat finished in second place at the Sydney event, which was shortened after a freak storm ripped through the base camp.
"We did pretty good out there," Spithill said. "Having a couple of us on the boat who grew up sailing on Sydney Harbour does have its advantages."
The only day of racing at the Sydney event was marked by fluky, 20- to 30-knot winds with the threat of a thunderstorm hanging over the race course. The U.S. boat handled the conditions with ease, only setting down a couple of times and hardly even missing a beat at the tricky mark roundings. Needing a win to advance in the standings, the French team finished in first-place.
A freak weather event rumbled through the SailGP technical area just as the boats were being lifted out of the water. The U.S. boat and team were safely in their assigned shed, but the Canadian boat was caught with her 59-foot wing dangling from its supportive crane. A 40-knot gust whipped the wing around like a rag doll, causing extensive damage to it and the Canadian boat. Other boats suffered damage as well.
"In the end, Mother Nature was the winner," Spithill said. "Thank goodness no one
was injured."
The team packed up for the next stop in New Zealand, with hopes of gaining more ground on the leaders and inching up into that all important third place overall finish which would qualify them for the finals in San Francisco.
"We have to keep focused on the end game," Dressler said. "Until then, Alex and I will keep training hard and do all we can to keep the team spirits up. San Francisco here we come."