A wooden Etchells-built boat is revived by a novice to the class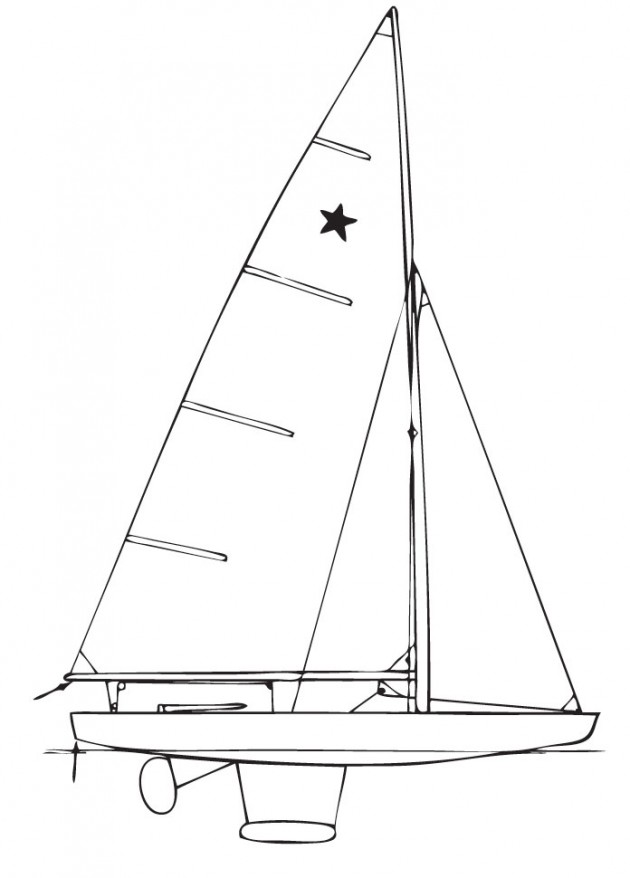 Few one-design boats boast the pedigree of the Star. Designed in 1911 by Francis Sweisguth, who later designed the Interlake dinghy, the sloop-rigged, two-person, 22-foot keelboat is one of the world's oldest one-designs. It's also the oldest Olympic-class vessel, participating in its first Olympic Games in 1932.

The history of Star sailors is littered with famous names, including Dennis Conner, Buddy Melges, Paul Elvstrom, Bill Buchan, Lowell North, Paul Cayard and Torben Grael. And, despite its 101-year-old lines, the boat remains competitive in the 21st century.

Admittedly, most Stars on the water today feature fiberglass hulls and aluminum masts, which began replacing the wooden versions in the 1970s. Yet the older wooden boats are not obsolete; you'll have to look carefully, as many wood hulls are painted, but you just might see a few around.

That's exactly what happened to Garrett Regner, although he didn't realize what he'd found at first. While attending the University of Northern Colorado in Greeley, Regner was searching local Craigslist ads for a new boatbuilding project. Although he was not a sailor, he did have experience building a 17-foot sea kayak on his own and a 27-foot V-Dory fishing boat with his dad.

Then he spotted an ad for a couple of boats, sitting unused at a mountain home not too far away. As Regner recalled, that was around 2004, and the owner was willing to sell him either boat or both. One was a "plastic daysailer." The other was a wooden Star.

"She was junk," Regner said matter-of-factly. "She was painted green, with cracked white fiberglass on top. She was pretty nasty and very close to being completely trashed."

He could have purchased the daysailer and gotten on the water that summer. But there was something about the Star's lines, something he couldn't quite put his finger on, that made him choose her.

The owner wanted $500, and on a college student's budget, Regner couldn't do it. So he went halvsies with his friend Dustin Wendling, who became what he called his "partner in crime." Together, the two would spend much of the next five years with this Star, before Wendling moved out of the country.

The project didn't seem to be much of an odyssey. Regner said he simply planned to repaint her. But then he started sanding, and everything changed. Before he knew it, he was restoring a classic wooden one-design racer on a shoestring budget.

"She would've been in the water three years earlier if I would've just repainted her," he said. "But when I saw the wood and saw how pretty it was, I had to keep going. It was so beautiful. It would've been a sin to cover it up again."

His first task was to strip the fiberglass, old paint and undercoating, which he noted was very difficult given the thick, two-part epoxy. So he spent a lot of quality time with paint strippers before he could start standing.

Serious, hardcore sanding.

"My sander was my best tool and my worst enemy," Regner said, laughing. "I think I sanded for four years! I sanded the sides and decking down to the wood, and I sanded the bottom."

After a pause, he exhaled and shook his head. "That sure was tough, under the hull, sanding the bottom. And I did it all myself."
As Regner embarked on what was quickly proving to be a massive undertaking, he also began looking for information on the boat's past. What he found surprised him.

"Skip Etchells built this boat in 1959," he remarked. "He took his own boat out of the same line. And in 1960, she won seventh at nationals."
That's perhaps unsurprising, as Etchells is known for building some of the fastest Stars in history during the middle of the last century. Regner's Star was a fine example of her kind.

As the laborious sanding process continued, Regner used strips of pine underneath the deck to reinforce the Star's planking. He fiberglassed the joints where the decking meets the boat's ribs. Then he used one layer of 4-ounce cloth and an extra-clear resin (that wouldn't turn yellow) over the woodwork and coated everything with an auto-clear UV protectant paint.

"She was all dried out, and I sanded so much of her off," he explained. "The glass strengthened her. For an old boat, she's super stable and strong.

"I suppose purists might not like that approach," he mused. "But the maintenance is much less than that of a regular wood boat, and the glass really locked in her beauty. She'll always look like this."

Regner replaced the Star's tiller with a handmade cedar one, which his brother crafted from a 4x4 cedar fence post. And he replaced the boom, finding an inexpensive replacement online for about $200. The rest of the rigging and hardware, he said, was in decent shape, as were the cast-iron keel and the majority of the sails.

After five years of hard work, first in Golden and later in Dillon, the Star was ready to splash. Regner said he was eager to try her out on Lake Dillon, an icy reservoir located at about 9,000 feet, in the shadow of the Continental Divide.

"She leaked," he said with a grin. "I was all ready to go, and then we had to pull her right away and do another day of work."

Regner and his labor of love finally hit the water on a user-friendly, light-air day in the Rockies, not a bad thing on a lake that's known for its disorganized winds and unpredictable temper. He said she broke him in easy. But it didn't last.

"I was scared the first couple of times," he declared, chuckling as he recalled his inexperience. "I definitely don't recommend the Star for beginners! I wondered a few times what the hell I was doing with an Olympic-class boat."

But he learned. And he finally became a sailor on the boat that had demanded so much of his time and attention for so many years.

"She's my baby," he said, running his fingers along the smooth, gleaming hull. "I don't take her out if it's blowing more than 20 knots. She's a very technical boat, and there's a lot of power in that big rig. If you don't do things right, you'll break something."

Looking at the Star today, it's hard to believe she ever was fixer-upper junk moldering away in a mountain yard. Not only is she aglow with rich wood hues, she reveals some distinctively old-school boatbuilding techniques.

"Look at this," Regner said, pointing to the starboard side. "Wood dowels. There are no screws in this boat. And here… " he continued, pointing to a dark line running vertically through the boat's side planks, "this is where they literally burned two pieces of wood together. You don't make boats like that anymore."

After so much experience with this particular Star, Regner has several tips for do-it-yourselfers who might want to tackle a similar project. First, he said, you need to figure out your process.

"Steps are important," he emphasized. "If you do one thing out of line, you'll have to redo it later."

He suggested making a map of the project and numbering all components that come off the boat.

"For everything you take off, you'll find five more things," he warned. "When a project takes years, you're not going to remember where every little thing goes.
"Also, be sure to measure everything," he added. "It's stressful to drill holes through your hull, so you don't want to mess up."

He noted that you absolutely must have a full respirator mask, which offers eye protection as well as respiratory protection. In the case of his Star, it wasn't just the chemicals that concerned him. He also worried about dust from the cedar-on-cedar hull, which is toxic.

One of the best things you can do is connect with other Star sailors, whether they're in your area or part of an online forum. As of 2011, Star Class membership stood at 2,200 sailors in more than 100 fleets in 38 countries. The United States boasts one of the largest concentrations, and Star sailors are known for their on-shore camaraderie as well as their race-course competitiveness.

Regner said there are five Stars in his local fleet, based at the Dillon Yacht Club, with two or three others active on the lake. He said all the owners have been so helpful and willing to share information and advice.

"Pick people's brains," he said. "You might think you have a great idea, but it might not be good for the boat. Take advantage of their experience."
A final tip: If your used Star comes with a trailer, pull the bearings and grease them before going anywhere. Regner is firm on this.

"I was towing the boat, and one of my tires passed me on the highway," he said. "I looked behind me and saw sparks showering all over this raw wood boat. It was awful."

At press time, Regner was preparing to store his Star for the winter. And he was making a mental list of his to-do list for spring. Priority items included replacing the rudder, reinforcing the deck a little more and perhaps replacing the running rigging. He said he'd also like to buff the bottom paint.

"They say the bottom will shine like a new penny," he said. "I chose Old Salem 1959 for the bottom paint. I thought that was kind of cool, since she's a 1959 boat."

But those items are more of a wish list than a to-do list, as the boat is in great sail-away condition as she is, and he's considering selling her. In the years since he bought her, he purchased a Catalina 22 that he's refurbishing, and he picked up a Coronado 15 for free.

"I guess I'm in the boat-restoration-and-selling business," said Regner, who lives in Dillon and works as a chef at Breckenridge's Ridge Street Kitchen. "It's really a hobby, because I don't own a shop."

He chuckled and added, "It's kind of hard with a condo."

---
Project List and Cost Summary:

1959 Star (Hull No. 4132) $500
3M 6800/6900 Full-Face Respirator $149.99
6-inch random-orbit sander: approximately $100
Paint strippers
Sandpaper!
Glass / epoxy resin
Auto-clear UV protection paint: approximately $200/gallon
Old Salem 1959 bottom paint $48.99/quart
Used boom $200

Owner's Best Estimate of Retrofit Cost $3,500
(700% of Purchase Price)

Grand Total $4,000

---
Resources
International Star Class Yacht Racing Association, Central Office, Annapolis, Maryland, 443-458-5733,
www.starclass.org
; Jamestown Distributors, 800-497-0010,
www.jamestowndistributors.com
; West Marine, 800-262-8464,
www.westmarine.com
; West System Epoxy, 866-937-8797,
www.westsystem.com