Making sailing a cottage industry
California sailor Paul Keever discovered sailing and found a career in helping others discover it
"They learn for three days, and then they have time to get out there and practice," he explained. "It takes time to get it, so it behooves you to stay on the property. I have 35 Catalina 22s now, and the boats—and Florida Bay—are right there."
Approximately 90% of guests during the winter months are sailors, Keever said. Most are repeat guests, as well.
"We get a lot of cruisers and racers, even folks who have done the America's Cup and the Mac (Chicago Yacht Club's Race to Mackinac)," he said. "In summer, we get fewer experienced sailors—and a lot of guests who want to take classes."
The club's offerings also include a multihull class, sailing and snorkeling charters, and sail-kayak trips that include a mangrove tour. Guests tie up their kayaks to the Catalina 22, sail to a hole in the mangroves, and then paddle to a hidden lake.
"There's a different trail on the way back with a rope swing," Keever said. "You also can sail 6 miles to an island in the Everglades that has a mineral mud bath; you can explore a bird sanctuary; and you can sail to an island with a sunken boat for snorkeling. We have a handful of really unique destinations, and you might see bottlenose dolphins and manatees along the way."
The evolution of an entrepreneur… and sailor
Over the years, Keever added to his property, which included the original house and two cottages. He purchased the parcel next door, which had a house and the old Key Largo country market, and he bought the parcel to the rear, which had several rental units. He also added classroom space for the sailing school.
One of the more recent additions is South Dade Marina & Eco Adventures, located at the tip of the Florida peninsula in Homestead. Keever purchased the 27-slip marina in 2017, noting that it meets two important needs.
"The marina facilities in the Keys all evolved out of sailing," he explained. "This is a sailboat-only marina. Now, during hurricane season, we have a place to put our boats that's safer than the bay; and we can offer one-way sailing adventures. I really like it. It's miles from anything, and there's so much wildlife."
The other recent purchase: Stars & Stripes 88, one of two catamarans built that would successfully defend the 1988 America's Cup. Yes, really.
"A buddy of mine said it was for sale," Keever said. "She was in rough shape; her mast had fallen down during Hurricane Irma. I negotiated a deal in early 2018. She sat on the hook in Key Largo for awhile, and then I brought her to the marina.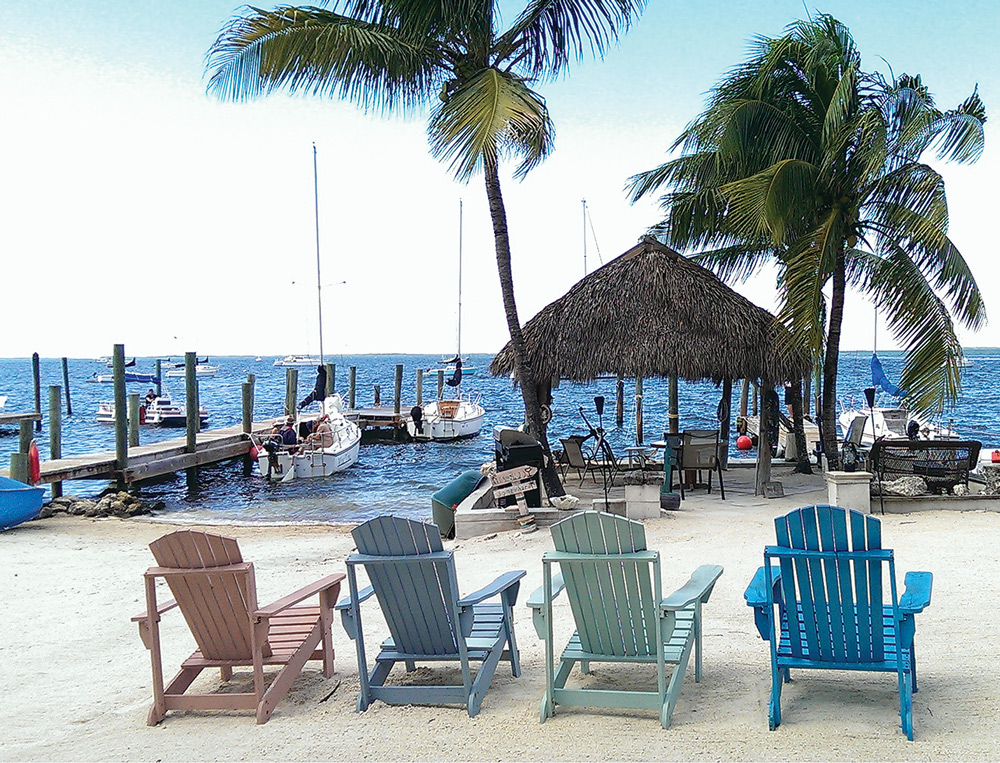 His plans for the celebrated cat include daysail adventures, team building and, eventually, the Conch Republic Cup race from Key West to Cuba. Keever admitted that he has a soft spot for catamarans.
"Years ago, when I got a MacGregor 36 catamaran, that's when I started to really love sailing," he reflected. "Flying a hull, I thought, yeah, I'm having fun now—speed again! I do have a heart for fast catamarans."
Although he's dabbled in racing and has competed in the Catalina and Hobie Wave national championships, Keever noted that he doesn't have nearly as much time for sailing as he'd like. His job description reads: "President, CEO, CFO, office manager, bookkeeper, advertising manager, sailing instructor, concierge, psychologist, ordained minister, eco tour guide, maintenance man, gardener, housekeeper … and to my kids: Father, Mr. Mom, Dr. Dad, want-to-be dentist, seamstress, maid, cook, ATM."
Ordained minister?
"What happened was, this couple was supposed to get married, and the minister didn't show," he said, chuckling. "So I got ordained with the $99 internet guys."
Keever apparently needs to add volunteer coordinator to his list, because along with his many other duties, he hosts volunteers from all over the world at the Key Lime Sailing Club. Two to six volunteers are on the property at any given time, maintaining the cottages, grounds and boats.
"We require a six-week minimum stay, and in return, we house them, feed them and offer our ASA 101 class," he said. "They're anywhere from 18 to their 70s, and they tell me they're tired of the rat race and want to learn how to sail."
When asked about his vision for what's next, Keever laughed. This entrepreneurial go-fast powerboat man's origin story indeed might be different from that of most other sailors, but his dream for the future is not.
"My vision is me and my boat, with me at the helm," he said. "Free enough to sail away."